Miller Class III root coverage with coronary tissue repositioning associate with conjunctive graft
Georgia Maria Granja Aureliano

Severino Alexandre Barbosa da Silva

Maria Michele Viana

Jaqueline Alves do Nascimento

Jefferson David Melo de Matos

Pedro Jacy Santos Diamantino

Jozely Francisca Mello Lima

Daniel Sartorelli Marques de Castro

Marco Antônio Bottino

John Eversong Lucena de Vasconcelos
Resumo
Introduction: Gingival Recessions (GR) are understood as processes of apical migration of periodontal tissues in relation to the cement-enamel junction, that is, they result in an inadequate positioning of the periodontium of protection, causing the consequent root exposure of the dental elements involved. Objective: The present study aims to report a case of Miller class III root coverage with coronary tissue repositioning associate with conjunctive graft. Case Report: A 50-year-old male, leucoderma, normossemic, sought care in a private clinic and presented as the main complaint the root exposition in element 41. After anamnesis, and before an accurate clinical examination and panoramic radiographic the presence of Miller's class III gingival recession, located on the buccal surface of the dental element 41, was diagnosed. The etiological factor includes a chronic periodontitis associated with bacterial plaque. Discussion: Regarding the collection of palatal connective tissue to be used as an autogenous graft material, the surgical technique adopted in this present case report provides a flap of adequate blood supply, whose nutrition will occur through the connective tissue and periosteum remnant of the surgical site of the recipient. Conclusion: The adopted therapeutic approach comprises a surgical technique of relative ease of execution, which seeks to minimize the postoperative discomfort of the patient and the existence of postoperative complications.
Descriptors: Periodontics; Guided Tissue Regeneration; Dentistry; Surgery Oral.
References
Jenabian N, Motallebnejad M, Zahedi E, Sarmast ND, Angelov N. Coronally advanced flap and connective tissue graft with or without plasma rich in growth factors (PRGF) in treatment of gingival recession. J Clin Exp Dent. 2018;10(5):e431-38. 
Rehan M, Khatri M, Bansal M, Puri K, Kumar A. Comparative Evaluation of Coronally Advanced Flap Using Amniotic Membrane and Platelet-rich Fibrin Membrane in Gingival Recession: An 18-Month Clinical Study. Contemp Clin Dent. 2018;9(2):188-94.
Pini Prato GP, Franceschi D, Cortellini P, Chambrone L. Long-term evaluation (20 years) of the outcomes of subepithelial connective tissue graft plus coronally advanced flap in the treatment of maxillary single recession-type defects. J Periodontol. 2018;89(11):1290-1299.
Miller PD Jr. A classification of marginal tissue recession. Int J Periodontics Restorative Dent. 1985;5(2):8-13.
Guttiganur N, Aspalli S, Sanikop MV, Desai A, Gaddale R, Devanoorkar A. Classification systems for gingival recession and suggestion of a new classification system. Indian J Dent Res. 2018;29(2):233-37.
Rasperini G, Acunzo R, Pellegrini G, Pagni G, Tonetti M, Pini Prato GP et al. Predictor factors for long-term outcomes stability of coronally advanced flap with or without connective tissue graft in the treatment of single maxillary gingival recessions: 9 years results of a randomized controlled clinical trial. J Clin Periodontol. 2018;45(9):1107-17.
Trombelli L, Simonelli A, Minenna L, Rasperini G, Farina R. Effect of a Connective Tissue Graft in Combination With a Single Flap Approach in the Regenerative Treatment of Intraosseous Defects. J Periodontol. 2017;88(4):348-56.
Tavelli L, Barootchi S, Nguyen TVN, Tattan M, Ravidà A, Wang HL. Efficacy of tunnel technique in the treatment of localized and multiple gingival recessions: A systematic review and meta-analysis. J Periodontol. 2018;89(9):1075-1090. 
George SG, Kanakamedala AK, Mahendra J, Kareem N, Mahendra L, Jerry JJ. Treatment of gingival recession using a coronally-advanced flap procedure with or without placental membrane. J Investig Clin Dent. 2018;9(3):e12340. 
Ramireddy S, Mahendra J, Rajaram V, Ari G, Kanakamedala AK, Krishnakumar D. Treatment of gingival recession by coronally advanced flap in conjunction with platelet-rich fibrin or resin-modified glass-ionomer restoration: A clinical study. J Indian Soc Periodontol. 2018;22(1):45-49.
Akram Z, Vohra F, Javed F. Low-level laser therapy as an adjunct to connective tissue graft procedure in the treatment of gingival recession defects: A systematic review and meta-analysis. J Esthet Restor Dent. 2018;30(4):299-306. 
Francetti L, Taschieri S, Cavalli N, Corbella S. Fifteen-Year Follow-Up of a Case of Surgical Retreatment of a Single Gingival Recession. Case Rep Dent. 2018;2018:3735162. 
Cairo F, Cortellini P, Tonetti M, Nieri M, Mervelt J, Pagavino G et al. Stability of root coverage outcomes at single maxillary gingival recession with loss of interdental attachment: 3-year extension results from a randomized, controlled, clinical trial. J Clin Periodontol. 2015;42(6):575-81.
Deepa D, Arun Kumar KV. Clinical evaluation of Class II and Class III gingival recession defects of maxillary posterior teeth treated with pedicled buccal fat pad: A pilot study. Dent Res J (Isfahan). 2018;15(1):11-6.
Culhaoglu R, Taner L, Guler B. Evaluation of the effect of dose-dependent platelet-rich fibrin membrane on treatment of gingival recession: a randomized, controlled clinical trial. J Appl Oral Sci. 2018;26:e20170278. 
Reino DM, Novaes AB Jr, Grisi MF, Maia LP, de Souza SL. Palatal harvesting technique modification for better control of the connective tissue graft dimensions. Braz Dent J. 2013;24(6):565-68. 
Apicella A, Heunemann P, Bolisetty S, Marascio M, Graf AG, Garamszegi L et al. The Influence of Arginine on the Response of Enamel Matrix Derivative (EMD) Proteins to Thermal Stress: Towards Improving the Stability of EMD-Based Products. PLoS One. 2015;10(12):e0144641. 
da Silva Neves FL, Silveira CA, Dias SB, Santamaria Junior M, de Marco AC, Kerbauy WD et al. Comparison of two power densities on the healing of palatal wounds after connective tissue graft removal: randomized clinical trial. Lasers Med Sci. 2016;31(7):1371-78.
Schmidlin P, Zobrist K, Attin T, Wegehaupt F. In vitro re-hardening of artificial enamel caries lesions using enamel matrix proteins or self-assembling peptides. J Appl Oral Sci. 2016;24(1):31-6.
Aguirre-Zorzano LA, García-De La Fuente AM, Estefanía-Fresco R, Marichalar-Mendía X. Complications of harvesting a connective tissue graft from the palate. A retrospective study and description of a new technique. J Clin Exp Dent. 2017;9(12):e1439-e45.
Arweiler NB, Auschill TM, Donos N, Sculean A. Antibacterial effect of an enamel matrix protein derivative on in vivo dental biofilm vitality. Clin Oral Investig. 2002;6(4):205-9.
Bhutda G, Deo V. Five years clinical results following treatment of human intra-bony defects with an enamel matrix derivative: a randomized controlled trial. Acta Odontol Scand. 2013;71(3-4):764-70.
Bajić MP, Danilović V, Prokić B, Prokić BB, Manojlović M, Živković S. Histological Effects of Enamel Matrix Derivative on Exposed Dental Pulp. Srp Arh Celok Lek. 2015;143(7-8):397-403.
Jaiswal GR, Kumar R, Khatri PM, Jaiswal SG, Bhongade ML. The effectiveness of enamel matrix protein (Emdogain(®)) in combination with coronally advanced flap in the treatment of multiple marginal tissue recession: A clinical study. J Indian Soc Periodontol. 2012;16(2):224-30.
Downloads
Não há dados estatísticos.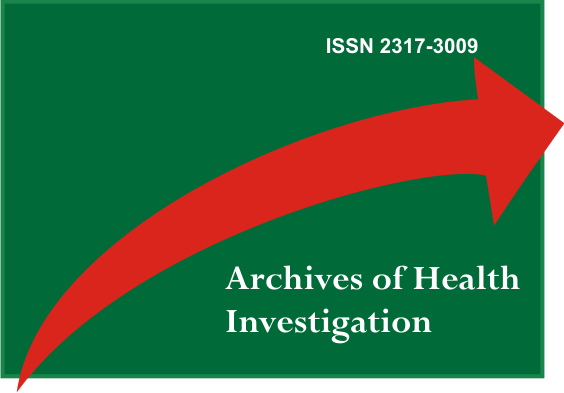 Como Citar
Maria Granja Aureliano, G., Barbosa da Silva, S. A., Michele Viana, M., Alves do Nascimento, J., de Matos, J. D. M., Santos Diamantino, P. J., Mello Lima, J. F., Marques de Castro, D. S., Bottino, M. A., & de Vasconcelos, J. E. L. (2020). Miller Class III root coverage with coronary tissue repositioning associate with conjunctive graft. ARCHIVES OF HEALTH INVESTIGATION, 9(2). https://doi.org/10.21270/archi.v9i2.4735