Rosmarinus officinalis L.: propriedades farmacológicas relacionadas à Odontologia
Palavras-chave:
Fitoterapia, Rosmarinus officinalis, Odontologia
Resumo
Introdução: Pesquisas na área de fitoterapia têm provado ser um método alternativo e eficaz contra diferentes agravos à condição de saúde humana, por isso, contribuições dela em diferentes áreas, como na Odontologia, tem grande importância como uma alternativa com menos efeitos colaterais comparados aos medicamentos sinteticamente fabricados, uma vez que as plantas medicinais têm demonstrado elevado poder de cura em estado natural. Objetivo: O presente trabalho objetivou apresentar uma revisão de literatura da espécie vegetal R. officinalis L. (Alecrim) em busca por novas possibilidades terapêuticas para a área da saúde, com ênfase na saúde bucal. Metodologia: O estudo trata-se de uma revisão bibliográfica narrativa, realizada no período de 18 de dezembro de 2017 à 28 de maio de 2018, utilizando artigos científicos em língua portuguesa, espanhola e inglesa, retirados das bases de dados Scielo, MedLine, Lilacs e Monografias. Discussão: Evidências científicas têm revelado que o extrato R. officinalis L possui grande poder antibacteriano, antifúngico, antiinflamatório e antioxidante, além de atuar efetivamente com reduções sob biofilmes polimicrobianos para área de Odontologia. Conclusão: Portanto, o efeito antimicrobiano produzido a partir de extratos do R. officinalis L tem sido positivo segundo relatos da literatura, todavia, mais pesquisas clínicos precisam ser realizados para enriquecer os atuais estudos, já que esta planta possui poder  fitoterápico no tratamento de diversas injúrias bucais como gengivite e periodontite causadas como consequência da atividade bacteriana.
Downloads
Não há dados estatísticos.
Referências
Severino VGP, Felixa MA, Silva MFGF, Lucarini R, Martins CHG. Chemical study of Hortia superba (Rutaceae) and investigation of the antimycobacterial activity of crude extracts and constituents isolated from Hortia species. Quím Nova. 2015;38:42-5.
Bardaji DK, Reis EB, Medeiros TC, Lucarini R, Crotti AE, Martins CH. Antibacterial activity of commercially available plant-derived essential oils against oral pathogenic bacteria. Nat Prod Res. 2015;13:1-4.
Newman DJ, Cragg GM. Natural products as sources of new drugs from 1981 to 2014. J Nat Prod. 2016;79:629-61.
Suleimen E, Ibataev ZH, Iskakova ZH, Ishmuratova M, Ross S, Martins CHG. Constituent composition and biological activity of essential oil from Artemisia terrae-albae. Chem Nat Compd. 2016;52:173-75.
Jardak M, Elloumi-Mseddi J, Aifa S, Mnif S. Chemical composition, anti-biofilm activity and potential cytotoxic effect on cancer cells of Rosmarinus officinalis L. essential oil from Tunisia. Lipids Health Dis. 2017;16(1):190.
Habtemariam S. The therapeutic potential of rosemary (Rosmarinus officinalis) diterpenes for Alzheimer's disease. Evid Based Complement Alternat Med. 2016,2680409.
Ferreira-Filho JCC, Gondim BLC, Cunha DA, Figueiredo CC, Valença AMG. Physical properties and antibacterial activity of herbal tinctures of Calendula (Calendula officinalis L.) and Cashew Tree (Anacardium occidentale L.). Pesqui Bras Odontopediatria Clin Integr.2014;14(1):49-53.
Raskovic A, Milanovic I, Pavlovic N, Cebovic T, Vukmirovic S, Mikov M. Antioxidant activity of rosemary (Rosmarinus officinalis L.) essential oil and its hepatoprotective potential. BMC Complement Altern Med. 2014.14:225.
Moura AR, Medeiros IC, Souza MJMF. Avaliação do teor de óleo essencial de rosmarinus sp. cultivado em dois níveis de luminosidade. REFACER. 2016;5(2).
Guimarães CC, Ferreira TC, Oliveira RCF, Simioni PU, Ugrinovich LA. Atividade antimicrobiana in vitro do extrato aquoso e do óleo essencial do alecrim (Rosmarinus officinalis L.) e do cravo-da-índia (Caryophyllus aromaticus L.) frente a cepas de Staphylococcus aureus e Escherichia coli. R bras Bioci. 2017;15(2):83-9.
Bernardo WM, Nobre MRC, Jatene FB. A prática clinica baseada em evidências. Parte II: buscando as evidências em fontes de informação. Rev Assoc Med Bras. 2004;50(1):1-9.
Hotwani K, Baliga S, Sharma K. Phytodentistry: use of medicinal plants. J Complement Integr Med 2014;11:233-251.
Aumeeruddy-Elalfi Z, Gurib-Fakim A, Mahomoodally MF. Chemical composition, antimicrobial and antibiotic potentiating activity of essential oils from 10 tropical medicinal plants from Mauritius. J Herb Med. 2016;6(2):88-95.
Aumeeruddy-Elalfi Z, Gurib-Fakim A, Mahomoodally F. Antimicrobial, antibiotic potentiating activity and phytochemical profile of essential oils from exotic and endemic medicinal plants of Mauritius. Ind Crops Prod. 2015;71:197-204.
Silva BN, Nakassugi LP, Faggion POJ, Kohiyama CY, Mossini SA, Grespan R, et al. Antifungal activity and inhibition of fumonisin production by Rosmarinus officinalis L. essential oil in Fusarium verticillioides (Sacc.) Nirenberg. Food Chem.2015;166:330-36.
Vanin AB. Produção, propriedades biológicas, antioxidantes e toxicidade do bioaromatizante obtido via esterificação enzimática de óleo essencial do cravo-da-índia (Caryophyllus aromaticus) [tese]. Erechim: Universidade Regional Integrada do Alto Uruguai e das Missões; 2014.
Badal-McCreath S, Delgoda R. Pharmacognosy: fundamentals, applications and strategies. Academic Press, London, UK, 2016.
Oliveira JR. Avaliação de atividades biológicas dos extratos de rosmarinus officinalis l. (alecrim) e thymus vulgaris l. (tomilho) [tese]. São José dos Campos: Instituto de Ciência e Tecnologia, UNESP - Univ Estadual Paulista; 2016.
Oliveira JR, Aguiar-Almeida RB, Vilela PGF, Oliveira FE, Rocha RF, Jorge AO, et al. Control of microorganisms of oral health interest with Arctium lappa L. (burdock) extract non-cytotoxic to cell culture of macrophages (RAW 264.7). Arch Oral Biol. 2014;59:808-14.
Fratini F, Casella S, Leonardi M, Pisseri F, Ebani VV, Pistelli L, et al. Antibacterial activity of essential oils, their blends and mixtures of their main constituents against some strains supporting livestock mastitis. Fitoterapia. 2014;96:1-7.
Silva AM, Machado ID, Santin JR, Melo IL, Pedrosa GV, Genovese MI et al. Aqueous extract of Rosmarinus officinalis L. inhibits neutrophil influx and cytokine secretion. Phytother Res 2015;29:125-33.
Razavi-Azarkhiavi K, Behravan J, Mosaffa F, Sehatbakhsh S, Shirani K, Karimi G. Protective effects of aqueous and ethanol extracts of rosemary on H2O2-induced oxidative DNA damage in human lymphocytes by comet assay. J Complement Integr Med. 2014;11:27-33.
Oliveira JF, Jesus D, Figueira LW, Oliveira FE, Soares CP, Camargo SEA, et al. Biological activities of Rosmarinus officinalis L. (rosemary) extract as analyzed in microorganisms and cells. Exp Biol Med (Maywood). 2017;242(6):625-34.
González-Vallinas M, Molina S, Vicente G, Zarza V, Martín-Hernández R, García-Risco MR, Fornari T, Reglero G, Ramírez de Molina A. Expression of microRNA-15b and the glycosyltransferase GCNT3 correlates with antitumor efficacy of Rosemary diterpenes in colon and pancreatic cancer. PLoS One. 2014;9(6):e98556.
Bonilla D.M, Mendoza Y, Moncada C.E, Murcia O, Rojas Á.P, Callen J, et al. Efecto del aceite esencial de Rosmarinus officinalis sobre Porphyromonas gingivalis cultivada in vitro, Rev Colomb Cienc Quím Farm. 2016;45(2):275-87.
Soto C, Abigail Y. Efecto inhibidor del aceite esencial de rosmarinus officinalis (romero) y clorhexidina al 0,12% sobre porphyromonas gingivalis. estudio in vitro [tese]. Lima: Universidad Privada Norbert Wiener Facultad de Ciencias de la Salud Escuela Académico Profesional de Odontología; 2015.
Gauch LM, Silveira-Gomes F, Esteves RA, Pedrosa SS, Gurgel ES, Arruda AC, et al. Effects of Rosmarinus officinalis essential oil on germ tube formation by Candida albicans isolated from denture wearers. Rev Soc Bras Med Trop. 2014;47(3):389-91.
Solano XK, Silva TJM, Gutiérrez MIZ. Inhibición del Streptococcus mutans, mediante el uso de extracto acuoso y oleoso de Rosmarinus officinalis "romero". Odontología. 2016;19(2):29-34.
Valones MAA, Higino JS, Souza PRE, Crovella S, Júnior AFC, Carvalho AAT. Dentifrice containing extract of Rosmarinus officinalis Linn.: an antimicrobial evaluation. Braz Dent J. 2016;27(5):497-501.
Tenorio LA. a avaliação clínica da atividade do dentifrício à base do extrato de rosmarinus officinalis linn. (alecrim) sobre o biofilme dental-um estudo preliminar [dissertação]. Recife: Programa de Pós-Graduação em Odontologia do Centro de Ciências da Saúde da Universidade Federal de Pernambuco (UFPE); 2014.
Oliveira JR, Jesus D, Oliveira LD. Rosmarinus officinalis l. (Rosemary) extract decreases the biofilms viability of oral health interest. Braz Dent Sci 2017;20(1):64-9.
Guerra-Boone L, Alvarez-Roman R, Salazar-Aranda R, Torres-Cirio A, Rivas-Galindo VM, Torres NW, et al. Antimicrobial and antioxidant activities and chemical characterization of essential oils of Thymus vulgaris, Rosmarinus officinalis and Origanummajorana from northeastern Mexico. Pak J Pharm Sci. 2015;28(1):363-69.
Irshaid FI, Tarawneh KA, Jacob JH, Alshdefat AM. Phenol content, antioxidant capacity and antibacterial activity of methanolic extracts derived from four Jordanian medicinal plants. Pak J Biol Sci. 2014;17(3):372-79.
Abuzeid N, Kalsum S, Koshy RJ, Larsson M, Glader M, Andersson H, et al. Antimycobacterial activity of selected medicinal plants traditionally used in Sudan to treat infectious diseases. J Ethnopharmacol. 2014;157:134-39.
Rocha J, Eduardo-Figueira M, Barateiro A, Fernandes A, Brites D, Bronze R, et al. Anti-inflammatory effect of rosmarinic acid and an extract of Rosmarinus officinalis in rat models of local and systemic inflammation. Basic Clin Pharmacol Toxicol. 2015;116(5):398-413.
Motlagh MK, Sharafi M, Zhandi M, Mohammadi-Sangcheshmeh A, Shakeri M, Soleimani M et al. Antioxidant effect of rosemary (Rosmarinus officinalis L.) extract in 11 soybean lecithin-based semen extender following freeze-thawing process of ram sperm. Cryobiology. 2014;69(2):217-22.
Dias LS, Menis ME, Jorge N. Effect of rosemary (Rosmarinus officinalis) extracts on the oxidative stability and sensory acceptability of soybean oil. J Sci Food Agric. 2015;95(10):2021-7.
Felicidade I, Lima JD, Pesarini JR, Monreal AC, Mantovani MS, Ribeiro LR, et al. Mutagenic and antimutagenic effects of aqueous extract of rosemary (Rosmarinus officinalis L.) on meristematic cells of Allium cepa. Genet Mol Res. 2014;13(4):9986-96.
Lin CY, Chen JH, Fu RH, Tsai CW. Induction of Pi form of glutathione S-transferase by carnosic acid is mediated through PI3K/Akt/NF-κB pathway and protects against neurotoxicity. Chem Res Toxicol. 2014;27(11):1958-66.
Wu CR, Tsai CW, Chang SW, Lin CY, Huang LC, Tsai CW. Carnosic acid protects against 6-hydroxydopamine-induced neurotoxicity in in vivo and in vitro model of Parkinson's disease: Involvement of antioxidative enzymes induction. Chem Biol Interact. 2015;225:40-6.
Li XL, Liu JX, Li P, Zheng YQ. Protective effect of rosmarinic acid onhypoxia/reoxygenation injury in cardiomyocytes. Zhongguo Zhong Yao Za Zhi. 2014;39(10):1897-901.
El-Demerdash FM, Abbady EA, Baghdadi HH. Oxidative stress modulation by Rosmarinus officinalis in creosote-induced hepatotoxicity. Environ Toxicol. 2016;31(1):85-92.
Sebai H, Selmi S, Rtibi K, Gharbi N, Sakly M. Protective effect of Lavandula stoechas and Rosmarinus officinalis essential oils against reproductive damage and oxidative stress in alloxan-induced diabetic rats. J Med Food. 2015;18(2):241-9.
Horvathova E, Navarova J, Galova E, Sevcovicova A, Chodakova L, Snahnicanova Z, et al. Assessment of antioxidative, chelating, and DNA-protective effects of selected essential oil components (eugenol, carvacrol, thymol, borneol, eucalyptol) of plants and intact Rosmarinus officinalis oil. J Agric Food Chem. 2014;62(28):6632-39.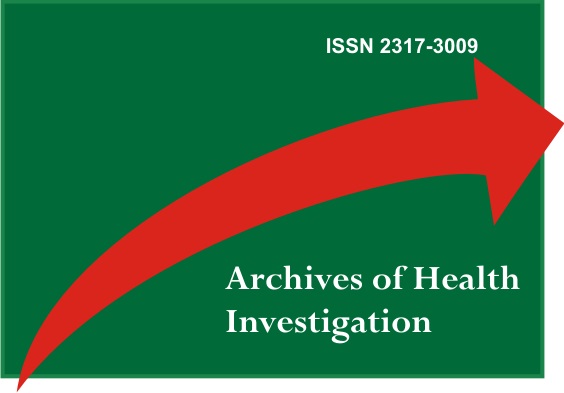 Downloads
Como Citar
Medeiros, M. A. de, Cruz, J. H. de A., Oliveira, H. M. B. F. de, Guênes, G. M. T., Alves, M. A. S. G., & Oliveira Filho, A. A. de. (2020). Rosmarinus officinalis L.: propriedades farmacológicas relacionadas à Odontologia. ARCHIVES OF HEALTH INVESTIGATION, 10(1), 24–30. https://doi.org/10.21270/archi.v10i1.3197