Late mandibular fracture after attempted third molar surgery: case report
Rodrigo Capalbo-Silva

Henrique Hadad

Jonathas Eduardo Virgilio Piassi

Luara Teixeira Colombo

Bruno Coelho Mendes

Fábio Roberto de Souza Batista

Idelmo Rangel Garcia Júnior

Francisley Ávila de Souza
Resumo
Removal of lower third molar corresponds to one of the most common procedures in oral surgery. The extraction can result in several intraoperative or postoperative complications, especially when fully impacted molars are involved. This case report describes a mandibular angle fracture following removal of a fully impacted lower third molar of a 41 years old male patient. The fracture occurred 3 days after the attempt to extract the tooth 38 by a dentist surgeon. Several factors influencing the possibility of fracture including gender, age, dental position, and angulation were reviewed and associated with the injury. A fracture line in the angular region of the jaw was observed in radiological and tomographic analysis, both essential to perform the diagnosis. Open reduction internal fixation treatment approach was realized to ensure the best patient's recovery. We conclude that the difficult to maintain a soft diet and the complete dentition factor could have been determinant to cause the fracture.
Descriptors: Mandibular Fractures; Fracture Fixation; Molar, Third.
References
Al-Belasy FA, Tozoglu S, Ertas U. Mastication and late mandibular fracture after surgery of impacted third molars associated with no gross pathology. J Oral Maxillofac Surg. 2009; 67(4):856-61.da
Bodner L, Brennan PA, McLeod NM. Characteristics of iatrogenic mandibular fractures associated with tooth removal: review and analysis of 189 cases. Br J Oral Maxillofac Surg. 2011;49(7):567-72.
Bouloux GF, Steed MB, Perciaccante VJ. Complications of third molar surgery. Oral Maxillofac Surg Clin North Am. 2007;  19(1):117-28.
Joshi A, Goel M, Thorat A. Identifying the risk factors causing iatrogenic mandibular fractures associated with exodontia: a systemic meta-analysis of 200 cases from 1953 to 2015. Oral Maxillofac Surg. 2016;20(4):391-96.
Libersa P, Roze D, Cachart T, Libersa JC. Immediate and late mandibular fractures after third molar removal. J Oral Maxillofac Surg. 2002;60(2):163-66.
Perry PA, Goldberg MH. Late mandibular fracture after third molar surgery: a survey of Connecticut oral and maxillofacial surgeons. J Oral Maxillofac Surg. 2000;58(8):858-61.
Pires WR, Bonardi JP, Faverani LP, Momesso GAC, Muñoz XMJP, Silva AFM et al. Late mandibular fracture occurring in the postoperative period after third molar removal: systematic review and analysis of 124 cases. Int J Oral Maxillofac Surg. 2017;46(1):46-53.
Krimmel M, Reinert S. Mandibular fracture after third molar removal. J Oral Maxillofac Surg. 2000;58(10):1110-12.
Wagner KW, Otten JE, Schoen R, Schmelzeisen R. Pathological mandibular fractures following third molar removal. Int J Oral Maxillofac Surg. 2005;34(7):722-26.
Ethunandan M, Shanahan D, Patel M. Iatrogenic mandibular fractures following removal of impacted third molars: an analysis of 130 cases. Br Dent J. 2012;212(4):179-84.
Ellis E 3rd. Management of fractures through the angle of the mandible. Oral Maxillofac Surg Clin North Am. 2009;21(2):163-74.
Pell GJ, Gregory GT. Report on a ten year study of a tooth division technique for removal of impacted teeth. Am J Orthodont Surg. 1942; 28:660-71.
Antoun JS, Lee KH. Sports-related maxillofacial fractures over an 11-year period. J Oral Maxillofac Surg. 2008;66(3):504-8.
Chrcanovic BR, Custódio AL. Considerations of mandibular angle fractures during and after surgery for removal of third molars: a review of the literature. Oral Maxillofac Surg. 2010; 14(2):71-80. 
Iizuka T, Tanner S, Berthold H. Mandibular fractures following third molar extraction. A retrospective clinical and radiological study. Int J Oral Maxillofac Surg. 1997;26(5):338-43.
Woldenberg Y, Gatot I, Bodner L. Iatrogenic mandibular fracture associated with third molar removal. Can it be prevented?. Med Oral Patol Oral Cir Bucal. 2007;12(1):E70-2.
Miyaura K, Matsuka Y, Morita M, Yamashita A, Watanabe T. Comparison of biting forces in different age and sex groups: a study of biting efficiency with mobile and non-mobile teeth. J Oral Rehabil. 1999;26(3):223-27.
Bezerra TP, Studart-Soares EC, Pita-Neto IC, Costa FW, Batista SH. Do third molars weaken the mandibular angle?. Med Oral Patol Oral Cir Bucal. 2011;16(5):e657-63.
Grau-Manclús V, Gargallo-Albiol J, Almendros-Marqués N, Gay-Escoda C. Mandibular fractures related to the surgical extraction of impacted lower third molars: a report of 11 cases. J Oral Maxillofac Surg. 2011;69(5):1286-90.
Downloads
Não há dados estatísticos.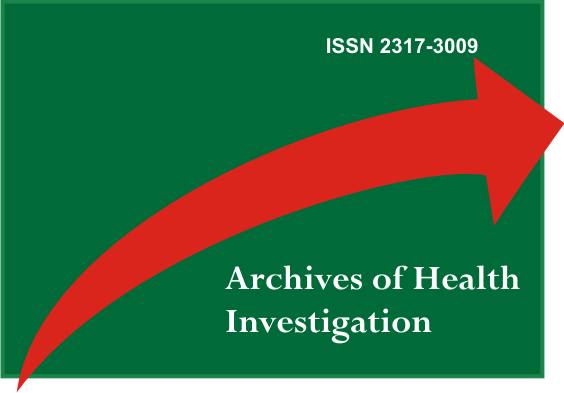 Como Citar
Capalbo-Silva, R., Hadad, H., Piassi, J. E. V., Colombo, L. T., Mendes, B. C., Batista, F. R. de S., Garcia Júnior, I. R., & Souza, F. Ávila de. (2020). Late mandibular fracture after attempted third molar surgery: case report. ARCHIVES OF HEALTH INVESTIGATION, 9(3). https://doi.org/10.21270/archi.v9i3.4673