Urgências, emergências médicas e terapêutica empregada no consultório odontológico
Júlio Leite de Araújo Júnior

Residência em Cirurgia e Traumatologia Bucomaxilofacial, do Hospital Universitário Lauro Wanderley, Universidade Federal da Paraíba 58037135, João Pessoa PB, Brasil

Elma Mariana Verçosa de Melo Silva

Residência em Cirurgia e Traumatologia Bucomaxilofacial, do Hospital Universitário Lauro Wanderley, Universidade Federal da Paraíba 58037135, João Pessoa PB, Brasil

Nathalie Murielly Rolim de Abreu

Curso de Graduação em Odontologia pela Universidade Federal da Paraíba- UFPB, 58051-790 João Pessoa – PB, Brasil

Artur Antônio Guedes Gurgel Filho

Residência em Saúde da Família pela Escola Saúde Pública do Ceará, 63560000 Juazeiro do Norte – CE, Brasil
Palavras-chave:
Emergências, Odontologia, Odontólogo
Resumo
Introdução: Urgência refere-se a uma dada intercorrência médica em que o paciente encontra-se sem risco de vida iminente, em que há tempo para planejamento terapêutico A Emergência, por outro lado, é estado imprevisto que requer uma ação imediata para a preservação da vida e da saúde, sob risco iminente de morte. Objetivo: Revisar as nuances sobre o tema, bem como a terapêutica empregada para cada situação. Material e Método: Realizou-se uma revisão da literatura por dois revisores independentes nas bases de dados do PubMed, Scopus e Web of Science utilizando como estratégia de busca os seguintes descritores: (Emergencies) and (Dentistry) and (Dentists). A pesquisa foi limitada a artigos científicos publicados no idioma inglês, desde 2000 até 2019. Totalizando 93 artigos encontrados, sendo incluídos nesse estudo 21. Conclusão: A prevalência de emergências médicas provavelmente está aumentando na prática odontológica, mediante ao aumento de expectativa de vida, sendo assim torna-se imprescindível à adoção de treinamentos e simulações para SBV e orientações, que informem os profissionais de odontologia sobre as mais prevalentes emergências médicas, seus sintomas, terapêutica a ser empregada.
Downloads
Não há dados estatísticos.
Referências
Lawson L. Medical Emergency Preparedness in Dental Practice. RDH. 2017;37(6):47-59.
Greenwood M. Medical emergencies in dental practice. Prim Dent J. 2014;3(1):4-5.
Wald DA, Wang A, Carroll G, Trager J, Cripe J, Curtis M. An office-based emergencies course for third-year dental students. J Dent Educ. 2013;77(8):1033-41.
Rayner C, Ragan MR. Are You Ready for Emergency Medical Services in Your Oral and Maxillofacial Surgery Office? Oral Maxillofac Surg Clin North Am. 2018;30(2): 123-35.
Roy E, Quinsat VE, Bazin O, Lesclous P, Lejus-Bourdeau C. High-fidelity simulation in training dental students for medical life-threatening emergency. Eur J Dent Educ. 2018;22(2): e261-68.
Kufta K, Saraghi M, Giannakopoulos H. Cardiovascular considerations for the dental practitioner. 2. Management of cardiac emergencies. Gen Dent. 2018;66(1):49-53.
Al-Hassan M, AlQahtani S. Preparedness of dental clinics for medical emergencies in Riyadh, Saudi Arabia. Saudi Dent J. 2019; 31(1):115-21.
Marks LA, Van Parys C, Coppens M, Herregods L. Awareness of dental practitioners to cope with a medical emergency: a survey in Belgium. Int Dent J. 2013;63(6):312-16.
Alotaibi O, Alamri F, Almufleh L, Alsougi W. Basic life support: Knowledge and attitude among dental students and Staff in the College of Dentistry, King Saud University. Saudi J Dent Res. 2016;7(1):51-6
ASA physical status classification system. [s.l.]: ASA, 2014. Available in: https://www.asahq.org/resources/clinical-information/asa-physical-status-classification-system. Accessed in: 09 jun. 2019.
Čuković-Bagić I, Hrvatin S, Jeličić J, Negovetić Vranić D, Kujundžić Tiljak M, Pezo H et al. General dentists' awareness of how to cope with medical emergencies in paediatric dental patients. Int Dent J. 2017;67(4):238-43.
Maher N, de Looze, J, Hoffman G. Anaphylaxis: an update for dental practitioners. Aust Dent J. 2014;59(2):142-48.
Al-Iryani GM, Ali FM, Alnami NH, Almashhur SK, Adawi MA, Tairy AA. Knowledge and Preparedness of Dental Practitioners on Management of Medical Emergencies in Jazan Province. Open Access Maced J Med Sci. 2018;6(2):402-5.
Smereka J, Aluchna M, Aluchna A, Szarpak Ł. Preparedness and attitudes towards medical emergencies in the dental office among Polish dentists. Int Dent J. 2019;69(4):321-28.
de Bedout T, Kramer K, Blanchard S, Hamada Y, Eckert GJ, Maupome G, John V. Assessing the Medical Emergency Preparedness of Dental Faculty, Residents, and Practicing Periodontists: An Exploratory Study. J Dent Educ. 2018;82(5):492-500.
Johnson TM, Kurt-Gabel C. Compliance with and attitudes towards the management of medical emergencies in general dental practice. Prim Dent J. 2014;3(1):41-5.
Skapetis T, Gerzina T, Hu W. Management of dental emergencies by medical practitioners: recommendations for Australian education and training. Emerg Med Australas. 2011;23(2): 142-52.
Speca SJ, Boynes SG, Cuddy MA. Allergic reactions to local anesthetic formulations. Dent Clin North Am 2010; 54(4):655-64.
Vaughan M, Park A, Sholapurkar A, Esterman A. Medical emergencies in dental practice - management requirements and international practitioner proficiency. A scoping review. Aust Dent J. 2018;63(4):455-66.
Dym H, Barzani G, Mohan N. Emergency drugs for the dental Office. Dent Clin N Am. 2016; 60(2): 287-94.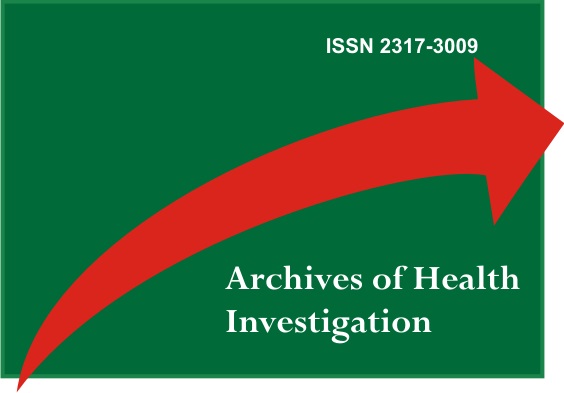 Como Citar
Araújo Júnior, J. L. de ., Silva, E. M. V. de M., Abreu, N. M. R. de, & Gurgel Filho, A. A. G. (2021). Urgências, emergências médicas e terapêutica empregada no consultório odontológico. ARCHIVES OF HEALTH INVESTIGATION, 10(3), 402-407. https://doi.org/10.21270/archi.v10i3.4710