Múltiplos dentes supranumerários em paciente não sindrômico
Júlio Leite de Araújo Júnior

Residência em Cirurgia e Traumatologia Bucomaxilofacial, Hospital Universitário Lauro Wanderley, Universidade Federal da Paraíba (UFPB) 58051-900 João Pessoa - PB, Brasil

Nathalie Murielly Rolim de Abreu

Curso de Graduação em Odontologia pela Universidade Federal da Paraíba (UFPB), 58037135 João Pessoa - PB, Brasil

Lorenzo Bernardi Berutti

Curso de Graduação em Odontologia pela Universidade Federal da Paraíba (UFPB), 58037135 João Pessoa - PB, Brasil
Palavras-chave:
Cirurgia Bucal, Dente Supranumerário, Terapêutica
Resumo
Introdução: A hiperdontia, ou presença de dentes supranumerários, é uma alteração numérica no desenvolvimento dentário. Objetivo: Revisar as nuances sobre o tema, bem como a incidência e tratamento empregado. Material e Método: Realizou-se uma revisão da literatura por dois revisores independentes nas bases de dados do PubMed, Scopus e Web of Science utilizando como estratégia de busca os seguintes descritores: Cirurgia Oral; Dentes Supranumerários; Tratamento Cirúrgico . A pesquisa foi limitada a artigos científicos publicados no idioma inglês, desde 2000 até 2019. Totalizando 75 artigos encontrados, sendo incluídos nesse estudo 21. Conclusão: O tratamento cirúrgico imediato demonstra ser uma medida eficaz de sucesso em longo prazo na conduta de dentes supranumerários, controlando alterações no desenvolvimento natural da dentição devido à presença dos dentes supranumerários impactados.
Downloads
Não há dados estatísticos.
Referências
Ferrés-Padró E, Prats-Armengol J, Ferrés-Amat E. A descriptive study of 113 unerupted supernumerary teeth in 79 pediatric patients in Barcelona. Med Oral Patol Oral Cir Bucal. 2009;14(3):E146-52.
Syriac G, Joseph E, Rupesh S, Philip J, Cherian SA, Mathew J. Prevalence, Characteristics, and Complications of Supernumerary Teeth in Nonsyndromic Pediatric Population of South India: A Clinical and Radiographic Study. J Pharm Bioallied Sci. 2017;9(Suppl 1):S231-36.
Ata-Ali F, Ata-Ali J, Peñarrocha-Oltra D, Peñarrocha-Diago M. Prevalence, etiology, diagnosis, treatment and complications of supernumerary teeth. J Clin Exp Dent. 2014;6(4):e414-18.
Shah A, Gill DS, Tredwin C, Naini FB. Diagnosis and management of supernumerary teeth. Dent Update. 2008;35(8):510-2, 514-6, 519-20.
Sarne O, Shapira Y, Blumer S, Finkelstein T, Schonberger S, Bechor N, Shpack N. Supernumerary Teeth in the Maxillary Anterior Region: The Dilemma of Early Versus Late Surgical Intervention. J Clin Pediatr Dent. 2018;42(1):55-61.
Cruz CV, Soares AL, Braga DN, Costa MC. Diagnosis and Surgical Management of Nonsyndromic Nine Supernumerary Teeth and Leong's Tubercle. Case Rep Dent. 2016;2016:8641867.
Amarlal D, Muthu MS. Supernumerary teeth: review of literature and decision support system. Indian J Dent Res. 2013;24(1):117-22.
Torrres PF, Simplício AH de M, Luz ARCA, Lima M de DM de, Moura L de FA de D, Moura MS de. Anomalias dentárias de número em pacientes ortodônticos. Rev Odontol UNESP. 2015; 44(5): 280-84.
Trakinienė G, Ryliškytė M, Kiaušaitė A. Prevalence of teeth number anomalies in orthodontic patients. Stomatologija. 2013;15(2):47-53.
Valente NA, Soares BM, Santos EJC, Silva MBF. A importância da TCFC no diagnóstico e localização de dentes supranumerários. Rev Bras Odontol. 2016;73(1):55-9.
Singh VP, Sharma A, Sharma S. Supernumerary teeth in Nepalese children. ScientificWorldJournal. 2014;2014:215396.
Gurler G, Delilbasi C, Delilbasi E. Investigation of impacted supernumerary teeth: a cone beam computed tomograph (cbct) study. J Istanb Univ Fac Dent. 2017;51(3):18-24.
Sawai MA, Faisal M, Mansoob S. Multiple supernumerary teeth in a nonsyndromic association: Rare presentation in three siblings. J Oral Maxillofac Pathol. 2019;23(1):163.
Lu X, Yu F, Liu J, Cai W, Zhao Y, Zhao S, Liu S. The epidemiology of supernumerary teeth and the associated molecular mechanism. Organogenesis. 2017;13(3):71-82.
Rajab LD, Hamdan MA. Supernumerary teeth: review of the literature and a survey of 152 cases. Int J Paediatr Dent. 2002;12(4):244-54.
Finkelstein T, Shapira Y, Pavlidi AM, Schonberger S, Blumer S, Sarne O, Shpack N. Prevalence and Characteristics of Supernumerary Teeth in Israeli Orthodontic Patients. J Clin Pediatr Dent. 2019;43(4):244-51.
Haghanifar S, Moudi E, Abesi F, Kheirkhah F, Arbabzadegan N, Bijani A. Radiographic Evaluation of Dental Anomaly Prevalence in a Selected Iranian Population. J Dent (Shiraz). 2019;20(2):90-4.
Bamgbose BO, Okada S, Hisatomi M, Yanagi Y, Takeshita Y, Abdu ZS, Ekuase EJ, Asaumi JI. Fourth molar: A retrospective study and literature review of a rare clinical entity. Imaging Sci Dent. 2019;49(1):27-34.
Kaya GŞ, Yapıcı G, Ömezli MM, Dayı E. Non-syndromic supernumerary premolars. Med Oral Patol Oral Cir Bucal. 2011;16(4):e522-25.
Patil S, Pachori Y, Kaswan S, Khandelwal S, Likhyani L, Maheshwari S. Frequency of mesiodens in the pediatric population in North India: A radiographic study. J Clin Exp Dent 2013;5(5):e223-26.
Mahabob MN, Anbuselvan GJ, Kumar BS, Raja S, Kothari S. Prevalence rate of supernumerary teeth among non-syndromic South Indian population: An analysis. J Pharm Bioallied Sci 2012;4(Suppl 2):S373-75.
Santos BM, Carros R. Dente supranumerário. Arch Health Invest 2018;7 (Special Issue 4):51.
Silva LP, Salzedas LMP, Ikuta CRS. Fusão entre o dente 12 e um supranumerário: um desafio diagnóstico. Arch Health Invest 2018;7 (Spec Iss 3):237.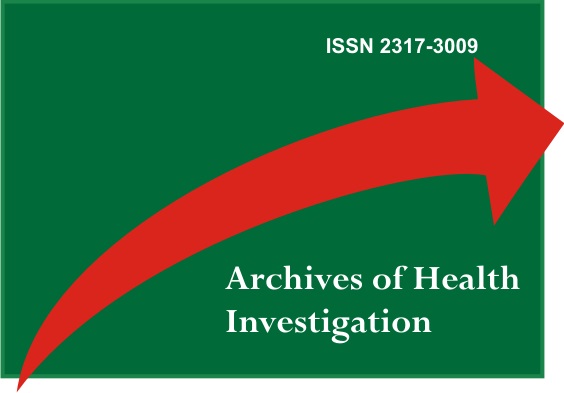 Como Citar
Araújo Júnior, J. L. de, Abreu, N. M. R. de, & Berutti, L. B. (2021). Múltiplos dentes supranumerários em paciente não sindrômico. ARCHIVES OF HEALTH INVESTIGATION, 10(3), 501-504. https://doi.org/10.21270/archi.v10i3.4741