Halitosis and its influence on the quality of life
Kátia Nunes

Alexandre Conde

Juliane Pereira Butze
Resumo
Objectives: To describe the patients' perception of their own breath and verify that halitosis can lead to loss of quality of life of patients with this condition. Methods: A consecutive sample was formed from patients who sought treatment at the Dentistry Screening Service of FSG Centro Universitário, between the months of August 2015 and September 2015, where they answered a questionnaire with objective questions about their perception of breath, and attitudes related to social situations where the breath can be influential. Results: Participated in this survey a total of 102 patients. Of these, 27 (26.5%) were male and 75 (73.5%) were female. When asked about the importance and concern for their breath, 95 (94.1%) participants reported that the smell of breath has great importance in their lives and 96 of these patients (95%) have a high concern for the own breath. Conclusion: On patients' perceptions, halitosis affects the quality of life of people. However, other studies should be conducted in order to evaluate the influence of halitosis in the quality of life of patients with this condition.
Descriptors: Halitosis; Quality of Life; Health Education.
References
Pham TA, Ueno M, Zaitsu T, Takehara S, Shinada K, Lam P.H, Kawahuchi Y. Clinical trial of oral malodor treatment in patients with periodontal diseases. J Periodontal Res. 2011;46(6):722-29.
Moreno T, Hass NA, Castro GD, Winter R, Oppermann RV, Rosing CK. Tratamento da periodontite agressiva e alterações nos compostos sulfurados voláteis. Rev Odonto Ciência. 2005; 20(49):217-21.
Domingos PAS, Abreu AC, Dantas AAR, Oliveira ALBM. Halitose: limitando a qualidade de vida. Rev. Odontol. Univ. São Paulo. 2011;23(2):171-81.
Zalewska A. et al. Halitosis-a common medical and social problem. Acta Gastroenterol Belg. 2012; 75(3):300-9.
Rosenberg M. Clinical Assessment of bad breath: current concepts. J Am Dent Assoc.1996;127:475-82.
Morita M, Wang HL. Association between oral malodor and adult periodontitis: a review. J Clin Periodontol. 2001;28(9):813-19.
Figueiredo LC, Rosetti EP, Marcantonio E JR, Marcantonio RA, Salvador SL.  The relationship of oral malodor in patients with or without periodontal disease. J Periodontol. 2002;73(11):1338-42.
Gorender M, Kolbe A. Correlação entre halitose e esquiva social. Rev Bras Neurol Psiquiat. 2004; 8(2):68.
Scully C, Greenman J. Halitology: Breath odour: a etiopathogenesis and management. Oral Dis. 2012;18(4):333-45.
Calil C, Tarzia O, Marcondes F. Qual a origem do mau hálito? Rev Odontol UNESP. 2006;35(2):185-90.
Cartaxo RO, Ferreira DAH, Padilha WWN. Influência social da qualidade do hálito. Rev Inic Cien Odontol.2008;6(2).
Associação Brasileira de Halitose (ABHA/ABPO). 2008.
Elias MS, Ferriani MD.  Historical and social aspects of halitosis. Rev Lat Am Enfermagem. 2006;14(5):821-23.
Nadanovsky P, Carvalho LB, Ponce de Leon A. Oral malodour and its association with age and sex in a general population in Brazil. Oral Dis. 2007;13(1):105-9.
Almas K, Albaker A, Felembam N. Knowledge of dental health and disease among dental patients: a multicenter study in Saudi Arabia. Indian J Dent Res.2000;11(4):145-55.
Sopapornamorn P, Ueno M, Shinada K, Vachirarojpisan T, Kawaguchi Y. Clinical application of a VSCs monitor for oral malodour assessment. Oral Health Prev Dent. 2006;4(2):91-7.
Eli I, Baht R, Koriat H, Rosenberg M. Self-perception of breath odor. J Am Dent Assoc. 2001;132(5):621-26.
Manual da Organização Mundial da Saúde, 1998. Who. The World Health Organization Quality of Life assessment (WHOQOL): position paper from the World Health Organization. Soc Sci Med. 1995;41(10):1403-9.
Downloads
Não há dados estatísticos.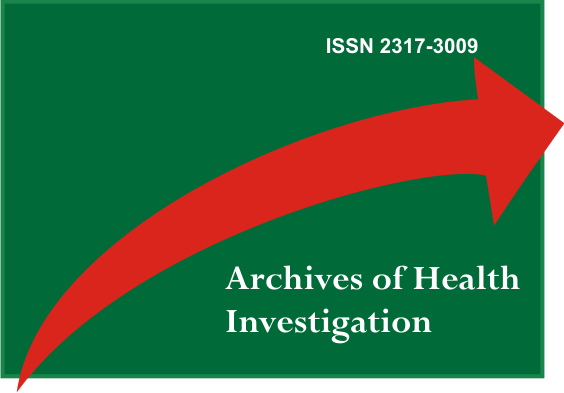 Como Citar
Nunes, K., Conde, A., & Butze, J. P. (2020). Halitosis and its influence on the quality of life. ARCHIVES OF HEALTH INVESTIGATION, 9(2). https://doi.org/10.21270/archi.v9i2.4756