Cirurgia virtual guiada, uma potente aliada na reabilitação estética e funcional
Luana Sauvesuk

Leonardo Alan Delanora

Gustavo Antonio Correa Momesso

Tiburtino José de Lima Neto

Marcos Tadeu Adas Saliba

Centro Universitário de Adamantina

Jean Paulo Rodolfo Ferreira

Lilian Merino Rodolfo Saito

Leonardo Perez Faverani
Resumo
O uso do planejamento virtual na implantodontia tem sido cada vez mais empregado devido à obtenção de resultados satisfatórios, trazendo benefícios tanto para o paciente como para o cirurgião dentista. Desse modo, o objetivo deste trabalho foi relatar um caso de reabilitação bimaxilar com implantes dentários e próteses do tipo protocolo na qual o guia cirúrgico foi confeccionado através do planejamento virtual, subsidiado pelo exame tomográfico do próprio paciente. Paciente do sexo feminino, 70 anos de idade, leucoderma, procurou atendimento para reabilitação com implantes dentários, após o exame clínico e imaginológico observou-se boa condição óssea e ausência de comorbidades sistêmicas. Dessa forma, optou-se pela realização da instalação de seis implantes maxilares (hexágono externo) e cinco implantes mandibulares (hexágono externo), que seriam suportes para as próteses do tipo protocolo com carregamento imediato. As posições exatas de instalação dos implantes ocorreram através da confecção do guia virtual tomando-se como referência os cortes tomográficos durante duplo escaneamento, seguido pelo planejamento e adaptação virtual. O paciente encontra-se com 1 ano de acompanhamento, sem sinais ou sintomas de infecção ou queixas funcionais e estéticas. A cirurgia virtual guiada se mostra uma ferramenta valiosa para desafios clínicos de reconstruções maxilares e mandibulares, onde o cirurgião-dentista, por meio da sua experiência clínica, do conhecimento adquirido e da literatura consolidada, deve discernir quando é indicado utilizar a cirurgia virtual guiada e quais procedimentos serão conduzidos para obter a reabilitação estética e funcional, trazendo uma maior previsibilidade e conforto para o paciente.
Descritores: Implantes Dentários; Reabilitação Bucal; Técnicas de Planejamento; Cirurgia Bucal.
Referências
van Steenberghe D, Glauser R, Blombäck U, Andersson M, Schutyser F, Pettersson A, Wendelhag I. A computed tomographic scan-derived customized surgical template and fixed prosthesis for flapless surgery and immediate loading of implants in fully edentulous maxillae: a prospective multicenter study. Clin Implant Dent Relat Res. 2005;7(Suppl 1):S111-20.
Ganz SD. Presurgical planning with CT-derived fabrication of surgical guides. J Oral Maxillofac Surg. 2005;63(9 Suppl 2):59-71.
Laleman I, Bernard L, Vercruyssen M, Jacobs R, Bornstein MM, Quirynen M. Guided implant surgery in the edentulous maxilla: a systematic review. Int J Oral Maxillofac Implants. 2016;31(Suppl):s103-17.
Di Giacomo GA, da Silva JV, da Silva AM, Paschoal GH, Cury PR, Szarf G. Accuracy and complications of computer-designed selective laser sintering surgical guides for flapless dental implant placement and immediate definitive prosthesis installation. J Periodontol. 2012;83(4):410-19.
Johansson B, Friberg B, Nilson H. Digitally planned, immediately loaded dental implants with prefabricated prostheses in the reconstruction of edentulous maxillae: a 1-year prospective, multicenter study. Clin Implant Dent Relat Res. 2009;11(3):194-200.
Schiroli G, Angiero F, Silvestrini-Biavati A, Benedicenti S. Zygomatic implant placement with flapless computer-guided surgery: a proposed clinical protocol. J Oral Maxillofac Surg. 2011;69(12):2979-89.
Sunitha RV, Sapthagiri E. Flapless implant surgery: a 2-year follow-up study of 40 implants. Oral Surg Oral Med Oral Pathol Oral Radiol. 2013;116(4):e237-43. 
Arisan V, Karabuda CZ, Ozdemir T. Implant surgery using bone- and mucosa-supported stereolithographic guides in totally edentulous jaws: surgical and post-operative outcomes of computer-aided vs. standard techniques. Clin Oral Implants Res. 2010;21(9):980-8.
Chrcanovic BR, Albrektsson T, Wennerberg A. Flapless versus conventional flapped dental implant surgery: a meta-analysis. PLoS One. 2014;9(6):e100624.
De Bruyn H, Atashkadeh M, Cosyn J, van de Velde T. Clinical outcome and bone preservation of single TiUnite™ implants installed with flapless or flap surgery. Clin Implant Dent Relat Res. 2011;13(3):175-83. 
Van de Velde T, Glor F, De Bruyn H. A model study on flapless implant placement by clinicians with a different experience level in implant surgery. Clin Oral Implants Res. 2008;19(1):66-72. 
Romero-Ruiz MM, Mosquera-Perez R, Gutierrez-Perez JL, Torres-Lagares D. Flapless implant surgery: A review of the literature and 3 case reports. J Clin Exp Dent. 2015;7(1):e146-52. 
Sclar AG. Guidelines for flapless surgery. J Oral Maxillofac Surg. 2007;65(7 Suppl 1):20-32.
Sarment DP, Sukovic P, Clinthorne N. Accuracy of implant placement with a stereolithographic surgical guide. Int J Oral Maxillofac Implants. 2003;18(4):571-77.
Widmann G, Widmann R, Widmann E, Jaschke W, Bale RJ. In vitro accuracy of a novel registration and targeting technique for image-guided template production. Clin Oral Implants Res. 2005;16(4):502-8. 
Wittwer G, Adeyemo WL, Schicho K, Birkfellner W, Enislidis G. Prospective randomized clinical comparison of 2 dental implant navigation systems. Int J Oral Maxillofac Implants. 2007;22(5):785-90. 
Papaspyridakos P, Lal K. Flapless implant placement: a technique to eliminate the need for a removable interim prosthesis. J Prosthet Dent. 2008;100(3):232-35. 
Daas M, Assaf A, Dada K, Makzoumé J. Computer-Guided Implant Surgery in Fresh Extraction Sockets and Immediate Loading of a Full Arch Restoration: A 2-Year Follow-Up Study of 14 Consecutively Treated Patients. Int J Dent. 2015;2015:824127.
Sanna AM, Molly L, van Steenberghe D. Immediately loaded CAD-CAM manufactured fixed complete dentures using flapless implant placement procedures: a cohort study of consecutive patients. J Prosthet Dent. 2007 Jun;97(6):331-39.
Szmukler-Moncler S, Salama H, Reingewirtz Y, Dubruille JH. Timing of loading and effect of micromotion on bone-dental implant interface: review of experimental literature. J Biomed Mater Res. 1998;43(2):192-203.
Berdougo M, Fortin T, Blanchet E, Isidori M, Bosson JL. Flapless implant surgery using an image-guided system. A 1- to 4-year retrospective multicenter comparative clinical study. Clin Implant Dent Relat Res. 2010;12(2):142-52.
Becker W, Goldstein M, Becker BE, Sennerby L. Minimally invasive flapless implant surgery: a prospective multicenter study. Clin Implant Dent Relat Res. 2005;7(Suppl 1):S21-7.
Campelo LD, Camara JR. Flapless implant surgery: a 10-year clinical retrospective analysis. Int J Oral Maxillofac Implants. 2002;17(2):271-76.
Crespi R, Capparè P, Gherlone E, Romanos GE. Immediate occlusal loading of implants placed in fresh sockets after tooth extraction. Int J Oral Maxillofac Implants. 2007;22(6):955-62.
Barone A, Rispoli L, Vozza I, Quaranta A, Covani U. Immediate restoration of single implants placed immediately after tooth extraction. J Periodontol. 2006;77(11):1914-20.
Barbier L, Abeloos J, De Clercq C, Jacobs R. Peri-implant bone changes following tooth extraction, immediate placement and loading of implants in the edentulous maxilla. Clin Oral Investig. 2012;16(4):1061-70.
Meloni SM, Tallarico M, De Riu G, Pisano M, Deledda A, Lolli FM, Massarelli O, Tullio A. Guided implant surgery after free-flap reconstruction: Four-year results from a prospective clinical trial. J Craniomaxillofac Surg. 2015;43(8):1348-55.
Widmann G, Bale RJ. Accuracy in computer-aided implant surgery--a review. Int J Oral Maxillofac Implants. 2006;21(2):305-13.
Downloads
Não há dados estatísticos.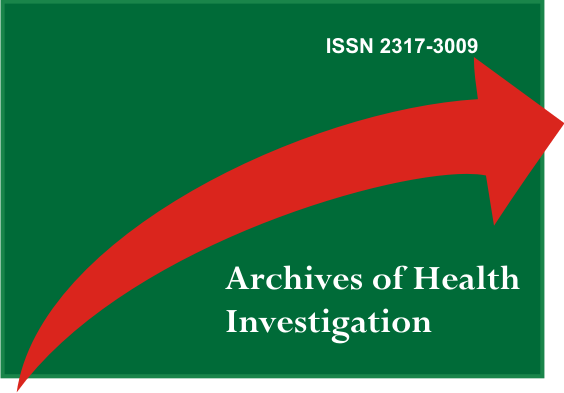 Como Citar
Sauvesuk, L., Delanora, L. A., Momesso, G. A. C., Neto, T. J. de L., Saliba, M. T. A., Ferreira, J. P. R., Saito, L. M. R., & Faverani, L. P. (2020). Cirurgia virtual guiada, uma potente aliada na reabilitação estética e funcional. ARCHIVES OF HEALTH INVESTIGATION, 9(4). https://doi.org/10.21270/archi.v9i4.4760