Prosthetic resolution of malpositioned dental implants with 5-year follow-up
Danila Oliveira

Járede Carvalho Pereira

Pedro Henrique Silva Gomes-Ferreira

Aline Beatriz Kottwitz
Resumo
The poor positioning of dental implants directly influences the functional and esthetic result of the implant-supported prosthesis. And as an alternative to correcting the positioning, prosthetic components such as prefabricated and customized abutments may be used. The current study aims to present an alternative resolution for malpositioned dental implants, with the hopes of minimizing damage to osseointegration and gingival tissues. A 53-year-old female patient had two implants in regions 11 and 21 with a height discrepancy of approximately 7 mm between them. The following treatment plan was proposed: the manufacture of two metal-free crowns and the use of a customized abutment to correct the height of the implant. A metal UCLA (Universal Long Castable Abutment) was used as a healer. The case includes 5 years of follow-up. It can be concluded that the use of a customized abutment as a prosthetic solution for an implant installed far below the cervical region of the tooth presented satisfactory esthetic and functional results with peri-implant bone maintenance and long-term gingival health.
Descriptors: Dental Implantation; Dental Prosthesis, Esthetics, Dental.
Referências
Goodacre CJ, Bernal G, Rungcharassaeng K, Kan JY. Clinical complications with implants and implant prostheses. J Prosthet Dent. 2003;90(2):121-32.
Branemark PI, Hansson BO, Adell R, Breine U, Lindström J, Hallén O, et al. Osseointegrated implants in the treatment of the edentulous jaw. Experience from a 10-year period. Scand J Plast Reconstr Surg Suppl. 1977;16:1-132.
Simensen AN, Bøe OE, Berg E, Leknes KN. Patient knowledge and expectations prior to receiving implant-supported restorations. Int J Oral Maxillofac Implants. 2015;30(1):41-7.
Hyland R, Ellis J, Thomason M, El-Feky A, Moynihan P. A qualitative study on patient perspectives of how conventional and implant-supported dentures affect eating. J Dent. 2009;37(9):718-23.
Arunyanak SP, Pollini A, Ntounis A, Morton D. Clinician assessments and patient perspectives of single-tooth implant restorations in the esthetic zone of the maxilla: A systematic review. J Prosthet Dent. 2017;118(1):10-17.
 Higginbottom FL. Implants as an option in the esthetic zone. J Oral Maxillofac Surg. 2005;    63(9 Suppl 2):33-44.
Moráguez OD, Vailati F, Belser UC. Malpositioned implants in the anterior maxilla: a novel restorative approach to reestablish peri-implant tissue health and acceptable esthetics. Part II: Case report and discussion. Int J Esthet Dent. 2015;10(4):522-32.
Pelekanos S, Pozi di G, Kourtis S. Restoration of divergent implants with a 2-piece screw-retained fixed, complete dental implant prostheses. J Prosthet Dent. 2016;115(4):389-92.
DeFuria C, Weber HP, Kudara Y, Papaspyridakos P. Management of a Malpositioned Implant in the Anterior Maxilla. Compend Contin Educ Dent. 2017;38(3):e9-e12.
Scutellà F, Weinstein T, Lazzara R, Testori T. Buccolingual implant position and vertical abutment finish line geometry: two strictly related factors that may influence the implant esthetic outcome. Implant Dent. 2015;24(3):343-8.
Funato A, Salama MA, Ishikawa T, Garber DA, Salama H. Timing, positioning, and sequential staging in esthetic implant therapy: a four-dimensional perspective. Int J Periodontics Restorative Dent. 2007;27(4):313-23.
Pjetursson BE, Asgeirsson AG, Zwahlen M, Sailer I. Improvements in implant dentistry over the last decade: comparison of survival and complication rates in older and newer publications. Int J Oral Maxillofac Implants. 2014;29 Suppl:308-24.
Fuentealba R, Jofré J. Esthetic failure in implant dentistry. Dent Clin North Am. 2015;59(1):227-46.
Kim DG, Elias KL, Jeong YH, Kwon HJ, Clements M, Brantley WA, et al. Differences between buccal and lingual bone quality and quantity of peri-implant regions. J Mech Behav Biomed Mater. 2016;60:48-55.
Arai K, Takeda Y, Mori Y, Terauchi R, Furumori T, Tanaka S, et al. Analysis of factors associated with maintenance discontinuation in implant patients. Springerplus. 2015;12;4:767.
Downloads
Não há dados estatísticos.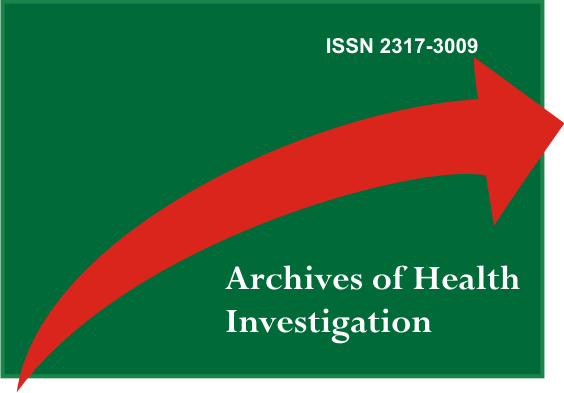 Como Citar
Oliveira, D., Pereira, J. C., Gomes-Ferreira, P. H. S., & Kottwitz, A. B. (2020). Prosthetic resolution of malpositioned dental implants with 5-year follow-up. ARCHIVES OF HEALTH INVESTIGATION, 9(5), 457-459. https://doi.org/10.21270/archi.v9i5.4761