Semidirect vital tooth onlay restoration: a case report
Rodrigo Barros Esteves Lins

Marina Rodrigues Santi

Luís Roberto Marcondes Martins
Resumo
In the loss of much of the coronary structure, either through caries or a fracture, it is indicated to perform restorative laboratory techniques in order to re-establish the patient's health, function and aesthetics, through conservative and minimally invasive techniques. The aim of this manuscript is to report on a clinical case of a posterior restoration using a semidirect composite resin onlay restoration. Initially, a direct morphological reconstruction of bulk-fill resin was performed, followed by cavity preparation with diamond tips. Alginate melding and a model of elastomer-based material were performed. The professional made the onlay piece in micro-hybrid composite resin in the model incrementally. Cementation was performed with dual resin cement following manufacturer's recommendations. Finally, the occlusal adjustment was performed in the maximum habitual intercuspal position and during eccentric mandible movements. We conclude that the semidirect restorative technique in composite resin is as effective as direct and indirect restorations; however, the correct indication of these restorative procedures will define the clinical prognosis.
Descriptors: Dental Restoration; Permanent; Molar. Rehabilitation.
References
Angeletaki F, Gkogkos A, Papazoglou E, Kloukos D. Direct versus indirect inlay/onlay composite restorations in posterior teeth. A systematic review and meta-analysis. J Dent. 2016;53:12-21.
Morimoto S, Rebello de Sampaio FB, Braga MM, Sesma N, Özcan M. Survival Rate of Resin and Ceramic Inlays, Onlays, and Overlays: A Systematic Review and Meta-analysis. J Dent Res. 2016;95:985-94.
Spreafico RC, Krejci I, Dietschi D. Clinical performance and marginal adaptation of class II direct and semidirect composite restorations over 3.5 years in vivo. J Dent. 2005;33:499-507.
Lins R, Vinagre A, Alberto N, Domingues MF, Messias A, Martins LR, Nogueira R, Ramos JC. Polymerization Shrinkage Evaluation of Restorative Resin-Based Composites Using Fiber Bragg Grating Sensors. Polymers (Basel). 2019a;11;E859.
Lins RBE, Aristilde S, Osório JH, Cordeiro CMB, Yanikian CRF, Bicalho AA, Stape THS, Soares CJ, Martins LRM. Biomechanical behaviour of bulk-fill resin composites in class II restorations. J Mech Behav Biomed Mater. 2019b;2:255-261.
Opdam NJM, Roeters FJM, Feilzer AJ, Verdonschot EH. Marginal integrity and postoperative sensitivity in Class 2 resin composite restorations in vivo. J. Dent. 1998;26: 555-62.
Bicalho AA, Valdívia AD, Barreto BC, Tantbirojn D, Versluis A, Soares CJ. Incremental filling technique and composite material–part II: shrinkage and shrinkage stresses. Operat. Dent. 2014;39:E83–E92.
Soares CJ, Faria-E-Silva AL, Rodrigues MP, Vilela ABF, Pfeifer CS, Tantbirojn D, Versluis A. Polymerization shrinkage stress of composite resins and resin cements - What do we need to know? Braz Oral Res. 2017;28:e62.
van Dijken JW. A 6-year evaluation of a direct composite resin inlay/onlay system and glass ionomer cement-composite resin sandwich restorations. Acta Odontol Scand. 1994;52:368-76.
Ferracane JL, Stansbury JW, Burke FJ. Self-adhesive resin cements - chemistry, properties and clinical considerations. J Oral Rehabil. 2011;38:295-314.
Bacelar-Sá R, Sauro S, Abuna G, Vitti R, Nikaido T, Tagami J, Ambrosano GMB, Giannini M. Adhesion Evaluation of Dentin Sealing, Micropermeability, and Bond Strength of Current HEMA-free Adhesives to Dentin. J Adhes Dent. 2017;19:357-364.
Alharbi A, Rocca GT, Dietschi D, Krejci I. Semidirect composite onlay with cavity sealing: a review of clinical procedures. J Esthet Restor Dent. 2014;26:97-106.
Hirata R, Kabbach W, de Andrade OS, Bonfante EA, Giannini M, Coelho PG. Bulk Fill Composites: An Anatomic Sculpting Technique. J Esthet Restor Dent. 2015;27:335-43.
Fron Chabouis H, Prot C, Fonteneau C, Nasr K, Chabreron O, Cazier S, Moussally C, Gaucher A, Khabthani Ben Jaballah I, Boyer R, Leforestier JF, Caumont-Prim A, Chemla F, Maman L, Nabet C, Attal JP. Efficacy of composite versus ceramic inlays and onlays: study protocol for the CECOIA randomized controlled trial. Trials. 2013;3:278.
Torres CRG, Zanatta RF, Huhtala MFRL, Borges AB. Semidirect posterior composite restorations with a flexible die technique: A case series. J Am Dent Assoc. 2017;148:671-676.
Marcondes M, Souza N, Manfroi FB, Burnett LH Jr, Spohr AM. Clinical Evaluation of Indirect Composite Resin Restorations Cemented with Different Resin Cements. J Adhes Dent. 2016;18:59-67.
Liu X, Fok A, Li H. Influence of restorative material and proximal cavity design on the fracture resistance of MOD inlay restoration. Dent Mater. 2014;30:327-33.
Fruits TJ, Knapp JA, Khajotia SS. Microleakage in the proximal walls of direct and indirect posterior resin slot restorations. Oper Dent. 2006;31:719-27.
Downloads
Não há dados estatísticos.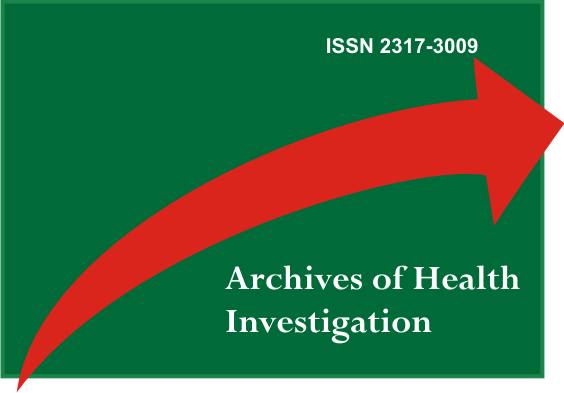 Como Citar
Lins, R. B. E., Santi, M. R., & Martins, L. R. M. (2020). Semidirect vital tooth onlay restoration: a case report. ARCHIVES OF HEALTH INVESTIGATION, 9(3). https://doi.org/10.21270/archi.v9i3.4781