A tomografia computadorizada de feixe cônico como exame complementar na Endodontia: relato de caso
Resumo
Introdução: A tomografia computadorizada de feixe cônico (TCFC) consiste em um moderno sistema de imagens radiográficas criado especificamente para a análise do complexo maxilofacial. Devido às limitações apresentadas pelas radiografias convencionais, esse exame mostra-se de grande importância para o diagnóstico endodôntico, pois apresenta diversas vantagens como melhor qualidade de imagem, reconstrução tridimensional e as doses de radiação mais baixas. Objetivo: Enfatizar, por meio de um relato de caso, a importância da TCFC como método auxiliar de diagnóstico na localização de canais radiculares. Relato de caso: Paciente do sexo feminino, 25 anos de idade, procurou atendimento odontológico com queixa de dor à mastigação no dente 14, que já havia sido tratado endodonticamente há um ano e retratado há seis meses. Após realização de radiografia periapical, observou-se uma imagem radiolúcida envolvendo o ápice do dente 14. Diante disso, realizou-se uma TCFC, a qual revelou a presença de um canal não obturado. Com bases nos achados, optou-se por uma nova intervenção endodôntica em duas sessões, sendo que, na segunda sessão, a paciente encontrava-se assintomática e sem edema na região. Após um ano de proservação, a paciente não relatou sintomatologia dolorosa e nenhum sinal de infecção foi observado. Conclusão: Dessa forma, foi possível concluir que a TCFC constituiu-se como um método preciso para auxiliar no diagnóstico, pois permitiu a visualização de um canal radicular não instrumentado, além de permitir um melhor direcionamento do plano de tratamento.
Descritores: Tomografia Computadorizada de Feixe Cônico; Endodontia; Complicações Intraoperatórias.
Referências
Durack C, Patel S. Cone beam computed tomography in endodontics. Braz Dent J. 2012;23(3):179-91.
Falcão CA, Albuquerque VC, Amorim NL, Freitas SA, Santos TC, Matos FT, Ferraz MA. Frequency of the mesiopalatal canal in upper first permanent molars viewed through computed tomography. Acta Odontol Latinoam. 2016;29(1):54-9.
Dalili Kajan Z, Taramsari M, Khosravi Fard N, Kanani M. Accuracy of Cone-beam Computed Tomography in Comparison with Standard Method in Evaluating Root Canal Morphology: An In Vitro Study. Iran Endod J. 2018;  13(2):181-87. 
Cardona-Castro JA; Fernández-Grisaies R. Root anatomy, a view from the microsurgery endodontic: review. CES odontol. 2015;28(2):70-99.
Aminoshariae A, Kulild JC, Syed A. Cone-beam computed tomography compared with intraoral radiographic lesions in endodontic outcome studies: a systematic review. J Endod. 2018;44(11):1626-31. 
Li YH, Bao SJ, Yang XW, Tian XM, Wei B, Zheng YL. Symmetry of root anatomy and root canal morphology in maxillary premolars analyzed using cone-beam computed tomography. Arch Oral Biol. 2018;94:84-92.
Rajasekhara S, Sharath Chandra S, Parthasarathy LB. Cone beam computed tomography evaluation and endodontic management of permanent mandibular second molar with four roots: A rare case report and literature review. J Conserv Dent. 2014;17(4):385-88. 
Shetty A, Hegde MN, Tahiliani D, Shetty H, Bhat GT, Shetty S. A three-dimensional study of variations in root canal morphology using cone-beam computed tomography of mandibular premolars in a South Indian population. J Clin Diagn Res. 2014;8(8):ZC22-4. 
Ahmad IA, Alenezi MA. Root and Root Canal Morphology of Maxillary First Premolars: A Literature Review and Clinical Considerations. J Endod. 2016;42(6):861-72. 
Sagale AA, Ramugade MM, Ganga R. Endodontic Management of Mandibular Second Premolar with Type IX Canal Configuration Using Cone-Beam Computed Tomography as a Diagnostic Aid: A Rare Case Report. Contemp Clin Dent. 2018;9(Suppl 1):S180-84. 
Martins JNR, Gu Y, Marques D, Francisco H, Caramês J. Differences on the Root and Root Canal Morphologies between Asian and White Ethnic Groups Analyzed by Cone-beam Computed Tomography. J Endod. 2018; 44(7):1096-104. 
Balakasireddy K, Kumar KP, John G, Gagan C. Cone Beam Computed Tomography Assisted Endodontic Management of a Rare Case of Mandibular First Premolar with Three Roots. J Int Oral Health. 2015;7(6):107-9.
Ugur Z, Akpinar KE, Altunbas D. Maxillary first premolars with three root canals: two case reports. J Istanb Univ Fac Dent. 2017;51(3):50-4.
Razumova S, Brago A, Khaskhanova L, Howijieh A, Barakat H, Manvelyan A. A Cone-Beam Computed Tomography Scanning of the Root Canal System of Permanent Teeth among the Moscow Population. Int J Dent. 2018; 2018:2615746.
Pan JYY, Parolia A, Chuah SR, Bhatia S, Mutalik S, Pau A. Root canal morphology of permanent teeth in a Malaysian subpopulation using cone-beam computed tomography. BMC Oral Health. 2019 Jan 14;19(1):14.
Senan EM, Alhadainy HA, Genaid TM, Madfa AA. Root form and canal morphology of maxillary first premolars of a Yemeni population. BMC Oral Health. 2018;18(1):94.
Fan L, Yuan K, Niu C, Ma R, Huang Z. A cone-beam computed tomography study of the mesial cervical concavity of maxillary first premolars. Arch Oral Biol. 2018;92:79-82. 
de Lima CO, de Souza LC, Devito KL, do Prado M, Campos CN. Evaluation of root canal morphology of maxillary premolars: a cone-beam computed tomography study. Aust Endod J. 2019;45(2):196-201. 
Ball RL, Barbizam JV, Cohenca N. Intraoperative endodontic applications of cone-beam computed tomography. J Endod. 2013;39(4):548-57. 
Kaur A, Logani A. Usefulness of cone beam computed tomography in perplexing endodontic cases. Endodontology. 2018;30:187-93.
Downloads
Não há dados estatísticos.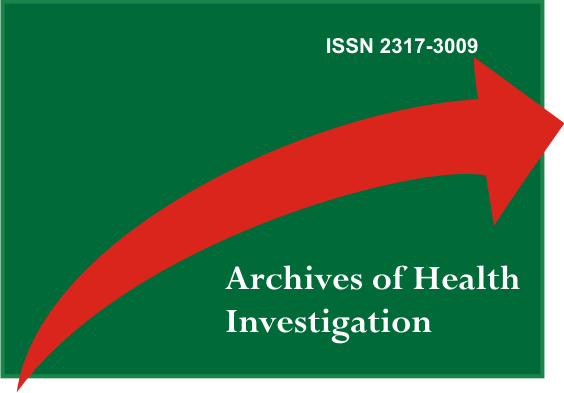 Como Citar
Galvão, C. M. A., Ribeiro, P. J. T., Neves, G. de V., Silva, D. F. B., Freitas, G. A. de, & Gomes, D. Q. de C. (2020). A tomografia computadorizada de feixe cônico como exame complementar na Endodontia: relato de caso. ARCHIVES OF HEALTH INVESTIGATION, 9(5), 439-443. https://doi.org/10.21270/archi.v9i5.4783