Enucleação como alternativa de tratamento cirúrgico para o adenoma pleomórfico: relato de caso
Palavras-chave:
Adenoma Pleomorfo, Cirurgia Bucal, Glândulas Salivares
Resumo
O adenoma pleomórfico é um tumor benigno que acomete as glândulas salivares tendo maior incidência na glândula parótida. Seu tratamento é motivo de discussão entre os profissionais devido a sua particularidade na abordagem de acordo com o nervo facial. Este relato de caso demonstra a enucleação como uma técnica cirúrgica conservadora que buscou remover o tumor, através de um acesso retromandibular, visando reduzir complicações transcirúgicas e pós-operatórias.
Downloads
Não há dados estatísticos.
Referências
Shehata EA. Extra-capsular dissection for benign parotid tumours. Int J Oral Maxillofac Surg. 2010;39(2):140-44.
Langdon JD. Complications of parotid gland surgery. J Maxillofac Surg. 1984;12(5):225-29.
Silva DN, Guimarães KB, Ferraro-Bezerra M, Heitz C. Enucleação de adenoma pleomórfico: considerações terapêuticas e relato de caso. . Rev Cir Traumatol BucoMaxilo-Fac. 2007;7(4):25-30.
Chang EZ, Lee WC. Surgical treatment of pleomorphic adenoma of the parotid gland: report of 110 cases. J Oral Maxillofac Surg. 1985;43(9):680-82.
Westra WH. The surgical pathology of salivary gland neoplasms. Otolaryngol Clin North Am. 1999;32(5):919-43.
Laskawi R, Schott T, Mirzaie-Petri M, Schroeder M. Surgical management of pleomorphic adenomas of the parotid gland: a follow-up study of three methods. J Oral Maxillofac Surg. 1996;54(10):1176-79.
Gnepp DR. Malignant mixed tumors of the salivary glands: a review. Pathol Annu. 1993;28 Pt 1:279-328.
Piekarski J, Nejc D, Szymczak W, Wronski K, Jeziorski A. Results of extracapsular dissection of pleomorphic adenoma of parotid gland. J Oral Maxillofac Surg. 2004;62(10):1198-202.
Henriksson G, Westrin KM, Carlsöö B, Silfverswärd C. Recurrent primary pleomorphic adenomas of salivary gland origin: intrasurgical rupture, histopathologic features, and pseudopodia. Cancer. 1998;82(4):617-20.
Martis C. Parotid benign tumors: comments on surgical treatment of 263 cases. Int J Oral Surg. 1983;12(4):211-20.
Smith SL, Komisar A. Limited parotidectomy: the role of extracapsular dissection in parotid gland neoplasms. Laryngoscope. 2007;117(7):1163-67.
Dallera P, Marchetti C, Campobassi A. Local capsular dissection of parotid pleomorphic adenomas. Int J Oral Maxillofac Surg. 1993;22(3):154-57.
Giannone N, Lo Muzio L, Politi M. Extracapsular lumpectomy and SMAS flap for benign parotid tumours: an early outcome in a small number of cases on Frey's syndrome and facial nerve dysfunction. J Craniomaxillofac Surg. 2008;36(4):239-43.
Yoel J. Pathology and surgery ofthe salivary glands. Charles C. Thomas, Springfield; 1975, pp. 406-431.
Leverstein H, van der Wal JE, Tiwari RM, van der Waal I, Snow GB. Surgical management of 246 previously untreated pleomorphic adenomas of the parotid gland. Br J Surg. 1997;84(3):399-403.
Brusati R, Bozzetti A, Chiapasco M, Facil Nerve and Parotid Surgery. J. Cranio-Max. Fac. Surg. 1987;15:278-80.
Touquet R, Mackenzie IJ, Carruth JA. Management of the parotid pleomorphic adenoma, the problem of exposing tumour tissue at operation. The logical pursuit of treatment policies. Br J Oral Maxillofac Surg. 1990;28(6):404-8.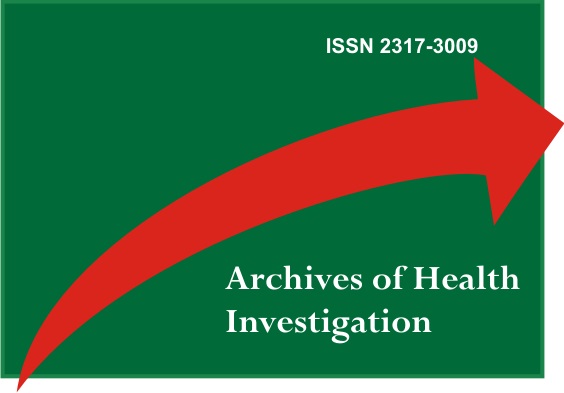 Downloads
Como Citar
Pereira, R. dos S., Ribeiro, J. da S., & Guerra, R. C. (2020). Enucleação como alternativa de tratamento cirúrgico para o adenoma pleomórfico: relato de caso. ARCHIVES OF HEALTH INVESTIGATION, 10(1), 55–58. https://doi.org/10.21270/archi.v10i1.4826