Therapeutic applications and antibacterial and antifungal activities of Syzygium cumini (L.) Skeels extracts: a systematized literature review focusing on dental applications
Palavras-chave:
Extratos Vegetais, Medicina Tradicional, Antibacterianos, Antifúngicos, Odontologia
Resumo
Medicinal plants are an important source of curative substances for the treatment of diseases. Investigations are focusing particularly on medicinal plants used to treat affections of the oral cavity. Among these species, there is evidence of potential applications of Syzygium cumini to dentistry. The objective of this systematized literature review was to synthesize the evidence on the antimicrobial activity of this plant, as well cite some as the traditional uses of its extracts for dental purposes. The data indicate that the extracts prepared from different parts of the plant have antibacterial and antifungal effects on different pathogenic microorganisms of the oral microbiota and/or those that can potentially cause oral diseases, demonstrating a promising therapeutic potential for indication and use in Dentistry to prevent and/or treat oral affections.
Downloads
Não há dados estatísticos.
Referências
Migliato KF, Baby AR, Zague V, Velasco MVR, Corrêa MA, Sacramento LVS, et al. Ação farmacológica de Syzygium cumini (L.) Skeels. Acta Farm Bonaerense 2006;25(2): 310-14.
Höfling JF, Anibal PC, Obando-Pereda GA, Peixoto IA, Furletti VF, Foglio MA et al. Antimicrobial potential of some plant extracts against Candida species. Braz. J. Biol. 2010;70(4):1065-68
Migliato KF, Moreira RRD, Mello JCP, Sacramento LVS, Corrêa MA, Salgado HRN. Controle da qualidade do fruto de Syzygium cumini (L.) Skeels. Rev bras farmacogn. 2007;17(1):94–101.
Duraipandiyan V, Ayyanar M, Ignacimuthu S. Antimicrobial activity of some ethnomedicinal plants used by paliyar tribe from Tamil Nadu, India. BMC Complementary and Alternative Medicine 2006; 6:35
Kaneria M, Baravalia Y, Vaghasiya Y, Chanda S. Determination of antibacterial and antioxidant potential of some medicinal plants from saurashtra region, India. Indian J Pharm Sci. 2009;71(4):406-12.
Bag A, Bhattacharyya SK, Pal NK, Chattopadhyay RR. In vitro antibacterial potential of Eugenia jambolana seed extracts against multidrug-resistant human bacterial pathogens. Microbiol Res. 2012;167(6):352-7.
Noldin VF, Cechinel Filho V, Monache FD, Benassi JC, Christmann IL, Pedrosa RC, et al. Composição química e atividades biológicas das folhas de Cynara scolymus L. (alcachofra) cultivada no Brasil. Quím. Nova 2003; 26(3):331-334.
Oliveira GF, Furtado NAJC, Silva-Filho AA, Martins CHG, Bastos JN, Cunha WR, et al. Antimicrobial activity of Syzygium cumini (Myrtaceae) leaves extract. Braz. J. Microbiol. 2007;38(2):381-384.
Pereira CA, Vilela PGF, de Oliveira LD, Jorge AOC. Ação antimicrobiana in vitro de extratos glicólicos de Psidium guajava L., Syzygium cumini L. e Pimpinella anisum L. Rev Inst Adolfo Lutz 2009; 68(1):102-108.
Ayynamar M, Subash-Babu P. Syzygium cumini (L.) Skeels: A review of its phytochemical constituents and traditional uses. Asian Pac J Trop Biomed. 2012;2(3):240-246.
Srivastava S, Chandra D. Pharmacological potentials of Syzygium cumini: a review. J Sci Food Agric. 2013;93(9):2084-93.
Chagas VT, França LM, Malik S, Paes AM. Syzygium cumini (L.) skeels: a prominent source of bioactive molecules against cardiometabolic diseases. Front Pharmacol. 2015;6:259.
Baliga MS, Fernandes S, Thilakchand KR, D'souza P, Rao S. Scientific Validation of the Antidiabetic Effects of Syzygium jambolanum DC (Black Plum), a Traditional Medicinal Plant of India. J Altern Complement Med. 2013;19(3):191-197.
Atale N, Chakraborty M, Mohanty S, Bhattacharya S, Nigam D, Sharma M, Rani V. Cardioprotective role of Syzygium cumini against glucose-induced oxidative stress in H9C2 cardiac myocytes. Cardiovasc Toxicol. 2013;13(3):278-89.
Ribeiro TG, Chávez-Fumagalli MA, Valadares DG, Franca JR, Lage PS, Duarte MC et al.Antileishmanial activity and cytotoxicity of Brazilian plants. Exp Parasitol. 2014;143:60-68.
Bitencourt PE, Cargnelutti LO, Stein CS, Lautenchleger R, Ferreira LM, Sangoi M, Denardi L, Borges RM, Boligon A, Moresco RN, Cruz L, Zanette RA, Alves SH, Moretto MB. Nanoparticle formulation increases Syzygium cumini antioxidant activity in Candida albicans-infected diabetic rats. Pharm Biol. 2017;55(1):1082-88.
Priya SH, Prakasan N, Purushothaman J. Antioxidant activity, phenolic-flavonoid content and high-performance liquid chromatography profiling of three different variants of Syzygium cumini seeds: A comparative study. J Intercult Ethnopharmacol. 2017;6(1):107–14.
Ajiboye BO, Ojo OA, Akuboh OS, Abiola OM, Idowu O, Amuzat AO. Anti-Hyperglycemic and Anti-Inflammatory Activities of Polyphenolic-Rich Extract of Syzygium cumini Linn Leaves in Alloxan-Induced Diabetic Rats. J Evid Based Integr Med. 2018;23:2515690X18770630.
Loguercio AP, Battistin A, Vargas AC, Henzel A, Witt NM. Atividade antibacteriana de extrato hidro-alcoólico de folhas de jambolão (Syzygium cumini (L.) Skells). Cienc. Rural 2005;35(2):371-376.
Ulla A, Alam MA, Sikder B, Sumi FA, Rahman MM, Habib ZF, Mohammed MK, Subhan N, Hossain H, Reza HM. Supplementation of Syzygium cumini seed powder prevented obesity, glucose intolerance, hyperlipidemia and oxidative stress in high carbohydrate high fat diet induced obese rats. BMC Complement Altern Med. 2017;17(1):289.
Costa ACBP, Pereira CA, Freire F, Junqueira JC, Jorge AOC. Atividade antifúngica dos extratos glicólicos de Rosmarinus officinalis Linn. e Syzygium cumini Linn. sobre cepas clínicas de Candida albicans,Candida glabrata e Candida tropicalis. Rev odontol UNESP 2009;38(2):111–16.
Gowri SS, Vasantha K. Phytochemical screening and antibacterial activity of Syzygium cumini (L.) (Myrtaceae) leaves extracts. Int.J. PharmTech Res. 2010;2(2):1569-1573.
Borde VU, Pawar DP, Shelar SR, Apturkar RM. Antimicrobial activity of some medicinal plants. Science Research Reporter 2013;3(1):33-37
Chandrasekaran M, Venkatesalu V. Antibacterial and antifungal activity of Syzygium jambolanum seeds. J Ethnopharmacol. 2004;91(1):105-108.
Saha RK, Zaman NM, Roy P. Comparative evaluation of the medicinal activities of methanolic extract of seeds, fruit pulps and fresh juice of Syzygium cumini in vitro. Journal of Coastal Life Medicine 2013;1(4):300-308.
Shad AA, Ahmad S, Ullah R, AbdEl-Salam NM, Fouad H, Ur Rehman N, Hussain H, Saeed W. Phytochemical and biological activities of four wild medicinal plants. ScientificWorldJournal. 2014;2014:857363.
Migliato KF, Mello JCP, Higa OZ, Rodas ACD, Corrêa MA, Mendes-Giannini MJS, et al. Antimicrobial and cytotoxic activity of fruit extract from Syzygium cumini (L.) Skeels. Lat. Am. J. Pharm. 2010;29(5):725-730
Priya SSL, Devi PR, Eganathan P, Kingsley J. In vitro antimicrobial activity of Syzygium cumini fruit peel and identification of anthocyanins. Afr. J. Pharm. Pharmacol. 2013;7(25):1719-1728
Shafi PM, Rosamma MK, Jamil K, Reddy PS. Antibacterial activity of Syzygium cumini and Syzygium travancoricum leaf essential oils. Fitoterapia 2002;73(5):414-416.
Bhargava S, Bhargava P, Jain UK. Evaluation of ulcer-protective and antimicrobial activity of Syzygium cumini (linn.) Skeels leaves. Pharmacology online 2009;3:266-74.
Kaneria M, Chanda S. Evaluation of antioxidant and antimicrobial capacity of Syzygium cumini L. leaves extracted sequentially in different solvents. Journal of Food Biochemistry 2011;37(2):168-176.
Elansary HO, Salem MZM, Ashmawy NA, Yacout MM. Chemical composition, antibacterial and antioxidant activities of leaves essential oils from Syzygium cumini L., Cupressus sempervirens L. and Lantana camara L. from Egypt. JAS. 2012;4(10):144-152.
Tahir L, Ahmed S, Hussain N, Perveen I, Rahman S. Effect of leaves extract of indigenous species of Syzygium cumini on dental caries causing pathogens. Int J Pharm Bio Sci 2012; 3(3):1032-1038.
Mohamed AA, Ali SI, El-Baz FK. Antioxidant and antibacterial activities of crude extracts and essential oils of Syzygium cumini leaves.PLoS ONE 2013; 8(4):e60269.
Elfadil AG, Abualhassan AM, Hamid AA, Sabahelkhier MK. Antimicrobial activities of Syzygium cumini leave extracts against selected microorganisms. Nova Journal of Medical and Biological Sciences 2015; 4(2).
Bajracharya AM, Yami KD, Prasai T, Basnyat SR, Lekhak B. Screening of some medicinal plants used in Nepalese traditional medicine against enteric bacteria. Scientific World 2008; 6(6):107-110.
Bouzada MLM, Fabri RL, Nogueira M, Konno TUP, Duarte GG, Scio E. Antibacterial, cytotoxic and phytochemical screening of some traditional medicinal plants in Brazil. Pharm Biol. 2009;47(1):44-52.
Jadhav N, Kulkarni S, Mane A, Kulkarni R, Palshetker A, Singh K, Joshi S, Risbud A, Kulkarni S. Antimicrobial activity of plant extracts against sexually transmitted pathogens. Nat Prod Res. 2015;29(16):1562-6.
Viera TI, Gondim BLC, Santiago BM, Valença AMG. In vitro antibacterial and non-stick activity of extracts from leaves of Psidium guineense Sw. and Syzygium cumini (L.) Skeels on oral microorganisms. Rev Gaúcha Odontol 2012; 60(3):359-365.
Chanudom L, Bhoopong P, Khwanchuea R, Tangpong J. Antioxidant and antimicrobial activities of aqueous & ethanol crude extracts of Thai Traditional Plants. Int J Curr Microbiol App Sci. 2014;3(1):549-58.
Pereira NLF, Aquino PEA, Júnior JGAS, Cristo JS, Vieira Filho MA, Moura FF, et al.Antibacterial activity and antibiotic modulating potential of the essential oil obtained from Eugenia jambolana in association with led lights. J Photochem Photobiol B. 2017;174:144-149.
Yadav SS, Meshram GA, Shinde D, Patil RC, Manohar SM, Upadhye MV. Antibacterial and Anticancer Activity of Bioactive Fraction of Syzygium cumini L. Seeds. HAYATI Journal of Biosciences 2011; 18(3):118-122
Yadav AK, Saraswat S, Sirohi P, Rani M, Srivastava S, Singh MP et al. Antimicrobial action of methanolic seed extracts of Syzygium cumini Linn.on Bacillus subtilis. AMB Expr 2017;7:196
Jasmine R, Selvakumar BN, Daisy P, Ignacimuthu S. Activity of Eugenia jambolana, an ethnomedical plant, against drug-resistant bacteria. Pharm Biol. 2010;48(4):405-10.
Mariselvam R, Ranjitsingh AJA, Selvakumar PM, Krishnamoorthy R, Alshatwi AA. Eco friendly natural dyes from Syzygium cumini (L) (Jambolan) fruit seed endosperm and to preparation of antimicrobial fabric and their washing properties.Fibers Polym 2017;18:460
Prabhakaran S, Gothandam KM, Sivashanmugam K. Phytochemical and antimicrobial properties of Syzygium cumini an ethanomedicinal plant of Javadhu hills. Research in Pharmacy 2011;1(1):22-32.
Cartaxo-Furtado NADEO, Sampaio TO, Xavier MA, Medeiros ADDE, Pereira JV. Perfil fitoquímico e determinação da atividade antimicrobiana de Syzygium cumini (L.) Skeels (Myrtaceae) frente a microrganismos bucais. Rev. bras. plantas med. 2015;17(4,suppl.3):1091-1096.
Pereira JV, Freires IA, Castilho AR, da Cunha MG, Alves H da S, Rosalen PL. Antifungal potential of Sideroxylon obtusifolium and Syzygium cumini and their mode of action against Candida albicans. Pharm Biol. 2016; 54(10):2312-2319.
Khan S, Imran M, Imran M, Pindari N. Antimicrobial activity of various ethanolic plant extracts against pathogenic multi drug resistant Candida spp. Bioinformation. 2017;13(3):67-72.
Braga FG, Bouzada ML, Fabri RL, de O Matos M, Moreira FO, Scio E et al. Antileishmanial and antifungal activity of plants used in traditional medicine in Brazil. J Ethnopharmacol. 2007;111(2):396-402.
Prabhakar K, Kumar LS, Rajendran S, Chandrasekaran M, Bhaskar K, Sajit Khan AK. Antifungal Activity of Plant Extracts against Candida Species from Oral Lesions. Indian J Pharm Sci. 2008;70(6):801-3.
Atale N, Jaiswal A, Chhabra A, Malhotra U, Kohli S, Mohanty S, et al. Phytochemical and antioxidant screening of Syzygium cumini seed extracts: a comparative study. Journal of Pharmacy Research 2011; 4(12):4530-4532
Soobrattee M, Neergheen VS, Luximon-ramma A, Aruoma OI, Bahorun T. Phenolics as potential antioxidant therapeutic agents: mechanism and actions. Mutation Research 579;(2005):200-213.
Aiyelaagbe OO, Osamudiamen PM. Phytochemical screening for active compounds in Mangifera indica leaves from Ibadan, Oyo State. Plant Sci Res. 2009;2(1):11-13.
Morais MI, Pinto ME, Araújo SG, Castro AH, Duarte-Almeida JM, Rosa LH, Rosa CA, Johann S, Lima LA. Antioxidant and antifungal activities of Smilax campestris Griseb. (Smilacaceae). Nat Prod Res. 2014;28(16):1275-9.
Oliveira DM, Silva TFR, Martins MM, de Morais SAL, Chang R, de Aquino FJT, et al. Antifungal and cytotoxicity activities of Banisteriopsis argyrophylla leaves. J Pharm Pharmacol.2018; 70(11):1541-1552.
Salhi N, Mohammed Saghir SA, Terzi V, Brahmi I, Ghedairi N, Bissati S. Antifungal Activity of Aqueous Extracts of Some Dominant Algerian Medicinal Plants. Biomed Res Int. 2017;2017:7526291.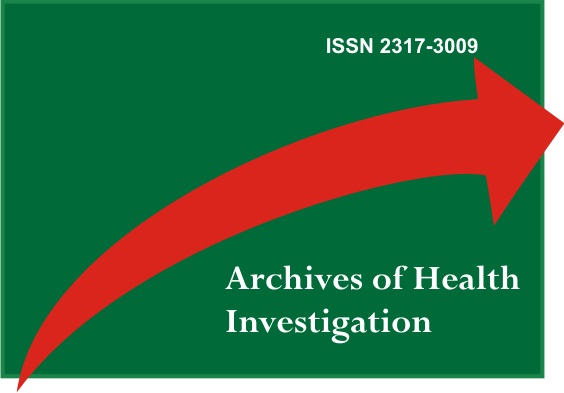 Como Citar
Figueirêdo Júnior, E. C., Costa, B. P., Freire, J. C. P., Melo, W. O. de S., Ferreira de Araújo, C. R., Costa, E. M. M. de B., & Pereira, J. V. (2021). Therapeutic applications and antibacterial and antifungal activities of Syzygium cumini (L.) Skeels extracts: a systematized literature review focusing on dental applications. ARCHIVES OF HEALTH INVESTIGATION, 10(4), 547-553. https://doi.org/10.21270/archi.v10i4.4841