Tratamento conservador em reabilitação oral através da interação entre Odontologia Restauradora e Prótese Dentária
Palavras-chave:
Prótese Dentária, Prótese Dentária Fixada por Implante, Reabilitação Bucal
Resumo
Este estudo teve como objetivo, apresentar por meio de um relato de caso a interação entre odontologia restauradora e prótese dentária, orientando ao clínico uma opção de conduta clínica minimamente invasiva no tratamento de reabilitação oral. Paciente do sexo masculino, 49 anos, com queixa principal de mobilidade nos dentes anteriores superiores que sustentavam uma prótese fixa e insatisfação estética do sorriso. O exame clínico foi realizado e constatou-se situação periodontal comprometida de todos os dentes superiores, periodontite com grau 2 de mobilidade e reabsorção óssea vertical severa nos dentes 31, 32, 37 e 42, ausência dos elementos 36 e 41 e mobilidade grau 2 nos demais dentes inferiores em função da má oclusão. Foi planejada extração dentária dos dentes superiores, seguida de levantamento de seio bilateral e instalação de seis implantes para prótese do tipo protocolo de Banemärk. No arco inferior, raspagem e alisamento radicular, extração dos dentes 31, 32, 37 42, instalação de implantes nas regiões dos dentes 32, 36 e 42 e instalação de prótese implantosuportada. Considerando a necessidade de reestabelecer a oclusão, a condição periodontal comprometida dos dentes inferiores posteriores e a necessidade de melhorias estéticas, foi optado pela realização de restaurações em resina composta do tipo BulkFill® através da técnica do carimbo modificado, reproduzindo a anatomia oclusal dos elementos. Dessa forma, podemos concluir que a interação da odontologia restauradora e a prótese dentária pode ser uma alternativa interessante para casos em que há necessidade de tratamento reabilitador conservador, visando obter resultado de excelência na reabilitação oral
Downloads
Não há dados estatísticos.
Referências
Attin T, Filli T, Imfeld C, Schmidlin PR. Composite vertical bite reconstructions in eroded dentitions after 5•5 years: a case series. J Oral Rehabil. 2012;39(1):73-9.
Johansson A, Johansson AK, Omar R, Carlsson GE. Rehabilitation of the worn dentition. J Oral Rehabil. 2008;35(7):548-66.
Assaf C, Fahd JC, Sabbagh J. Four-Year Follow-up of Increased Vertical Dimension of Occlusion using Resin Composites. J Int Soc Prev Community Dent. 2018;8(5):469-74.
Dahl BL, Krogstad O. The effect of a partial bite raising splint on the occlusal face height. An x-ray cephalometric study in human adults. Acta Odontol Scand. 1982;40(1):17-24.
Reis A, Higashi C, Loguercio AD. Re-anatomization of anterior eroded teeth by stratification with direct composite resin. J Esthet Restor Dent. 2009;21(5):304-16.
Dietschi D, Argente A. A comprehensive and conservative approach for the restoration of abrasion and erosion. part II: clinical procedures and case report. Eur J Esthet Dent. 2011;6(2):142-59.
Kalaykova SI, Sterenborg BAMM, Loomans BAC, Huysmans MDNJM. Impact of restorative treatment of tooth wear upon masticatory performance. J Dent. 2019;88:103159.
Bartlett D, Sundaram G. An up to 3-year randomized clinical study comparing indirect and direct resin composites used to restore worn posterior teeth. Int J Prosthodont. 2006;19(6):613-17.
Güth JF, Almeida E Silva JS, Ramberger M, Beuer F, Edelhoff D. Treatment concept with CAD/CAM-fabricated high-density polymer temporary restorations. J Esthet Restor Dent. 2012;24(5):310-18.
Hamburger JT, Opdam NJ, Bronkhorst EM, Kreulen CM, Roeters JJ, Huysmans MC. Clinical performance of direct composite restorations for treatment of severe tooth wear. J Adhes Dent. 2011;13(6):585-93
Johansson A, Johansson AK, Omar R, Carlsson GE. Rehabilitation of the worn dentition. J Oral Rehabil. 2008;35(7):548-66.
Opdam N, Skupien JA, Kreulen CM, Roeters J, Loomans B, Huysmans MD. Case Report: A Predictable Technique to Establish Occlusal Contact in Extensive Direct Composite Resin Restorations: The DSO-Technique. Oper Dent. 2016;41(S7):S96-S108.
Vailati F, Vaglio G, Belser UC. Full-mouth minimally invasive adhesive rehabilitation to treat severe dental erosion: a case report. J Adhes Dent. 2012;14(1):83-92.
Ramseyer ST, Helbling C, Lussi A. Posterior Vertical Bite Reconstructions of Erosively Worn Dentitions and the "Stamp Technique" - A Case Series with a Mean Observation Time of 40 Months. J Adhes Dent. 2015;17(3):283-89.
Perrin P, Zimmerli B, Jacky D, Lussi A, Helbling C, Ramseyer S. Die Stempeltechnik für direkte Kompositversorgungen [The stamp technique for direct composite restoration]. Schweiz Monatsschr Zahnmed. 2013;123(2):111-29.
Silva LD, de Lima VN, Faverani LP, de Mendonça MR, Okamoto R, Pellizzer EP. Maxillary sinus lift surgery-with or without graft material? A systematic review. Int J Oral Maxillofac Surg. 2016;45(12):1570-76.
Rizzo NSP, da Cunha LF, Sotelo BV, Gonzaga CC, Correr GM, Gaião U. Esthetic Rehabilitation with Direct Composite Resin in a Patient with Amelogenesis Imperfecta: A 2-Year Follow-Up. Case Rep Dent. 2019;2019:8407025.
Cogulu D, Becerik S, Emingil G, Hart PS, Hart TC. Oral rehabilitation of a patient with amelogenesis imperfecta. Pediatr Dent. 2009;31(7):523-27.
Reis B de O, Brogin FF, Catelan A, Briso ALF, Santos PH dos. Avaliação de diferentes procedimentos de acabamento e polimento sobre a rugosidade de superfície de resina composta submetida à escovação com dentifrício. Arch Health Invest. 2017 6(11):524-29
Sampaio CS, Pizarro PG, Atria PJ, Hirata R, Giannini M, Mahn E. Effect of Shortened Light-Curing Modes on Bulk-Fill Resin Composites. Oper Dent. 2020;45(5):496-505.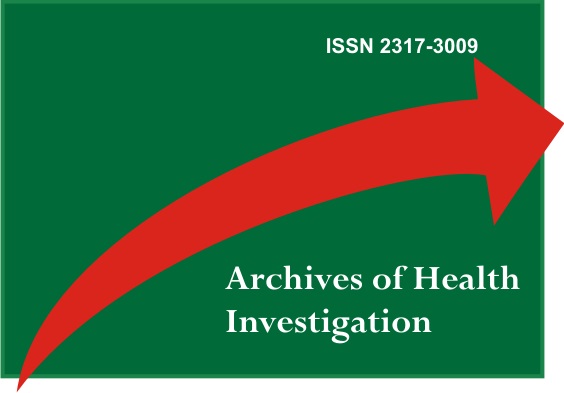 Downloads
Como Citar
Sousa, C. A., Magalhães, K. M. F. de ., Momesso, G. A. C., Esteves, L. M. B., Hoshino, I. A. E., Faverani, L. P. ., dos Santos, P. H., & Assunção, W. G. (2021). Tratamento conservador em reabilitação oral através da interação entre Odontologia Restauradora e Prótese Dentária. ARCHIVES OF HEALTH INVESTIGATION, 10(5), 709–712. https://doi.org/10.21270/archi.v10i5.4991