Chronic sclerosing sialadenitis: report of a rare and atypical case
Rafaela Savio Melzer

Department of Stomatology, Post Graduate Program in Dentistry, Pontifícia Universidade Católica do Paraná, Curitiba, Paraná, Brazil

Cintia Mussi Milani

Department of Stomatology, Faculty in Dentistry, Universidade Tuiuti do Paraná, Curitiba, Paraná, Brazil

Fernanda Noguez Sum

Department of Stomatology, Post Graduate Program in Dentistry, Pontifícia Universidade Católica do Paraná, Curitiba, Paraná, Brazil

Rui Cesar de Bittencourt Druszcz

Undergraduate Department, Faculty in Dentistry, Pontifícia Universidade Católica do Paraná, Curitiba, Paraná, Brazil

Juliana Lucena Schussel

Department of Stomatology, Post Graduate Program in Dentistry, Universidade Federal do Paraná, Curitiba, Paraná, Brazil
Palavras-chave:
Salivar Glands, Minor, Palate, Soft, Immunoglobulins
Resumo
A Chronic Sclerosing Sialodenitis is a rare and benign lesion that preferentially affects a submandibular gland of male patients. Although its etiology is considered unknown, it is suggested that the secretion of IgG4 immunoglobulin may be useful for its manifestation. This pathology has specific clinical characteristics for malignant neoplasms of the salivary glands, where the recommended treatment is a surgical excision. The present study presents an atypical case of chronic sclerosing sialodenitis that involves a woman's soft palate, where there was a complete resolution of the clinical case, in which the conservative treatment was chosen by the use of medications.
Downloads
Não há dados estatísticos.
Referências
Kundoor VKR, Thakur M, Guttikonda VR, Thummala R. Kuttner tumor involving minor salivary glands: A very rare case report. J Indian Acad Oral Med Radiol. 2014;26(1):89-91.
Nagpal B, Mittal P, Rahman T, Archana S, Nagpal A, Nagpal A. Chronic sclerosing sialadenitis: An under recognized entity for salivary gland swellings. Heal Talk. 2017;9(4):56-7.
Putra J, Ornstein DL. Küttner Tumor: IgG4-Related Disease of the Submandibular Gland. Head Neck Pathol. 2016;10(4):530-32.
Chang DH, Wu PS, Wang YC, Lin CH, Li WY, Ma H et al. Clinicopathology of Immunoglobulin G4-Related Chronic Sclerosing Sialadenitis: A Single-Center Study. Otolaryngol Head Neck Surg. 2016;155(6):974-81.
Adouly T, Adnane C, Housni Y, Rouadi S, Abada R, Roubal M et al. Uncommon situation and presentation of chronic sclerosing sialadenitis. Int J Pediatr Otorhinolaryngol. 2016;83:22-4.
Kiverniti E, Singh A, Clarke P. Küttner's tumour: an unusual cause of salivary gland enlargement. Hippokratia. 2008;12(1):56-8.
Aydin U, Karakoc O, Arslan F, Cicek AF, Gunhan O. Kuttner's Tumor of Bilateral Submandibular And Parotid Glands. J Otolaryngol Ent Res. 2015;2(2):00014.
Thomopoulos F, Nikitakis NG, Daskalopoulos A, Piperi E, Kolomvos N, Sklavounou A. Chronic sclerosing sialadenitis of the sublingual gland: case report and literature review. Stomatological Dis Sci 2018;2:8.
Melo JC, Kitsko D, Reyes-Múgica M. Pediatric chronic sclerosing sialadenitis: Küttner tumor. Pediatr Dev Pathol. 2012;15(2):165-69.
Poghosyan A, Misakyan M, Sargsyan A, Khachatryan P, Hakobyan G. Chronic sclerosing sialadenitis (Küttner's tumor) of the submandibular salivary gland: Our experience of one case report. Clin Case Rep. 2019;7(8):1600-604.
Kashyap RR, Nair RG, Kashyap RS. Ulcerative sialadenitis of minor salivary gland: A short case report. Indian J Dent. 2015;6(4):215-16.
Paul R, Shekar K, Singh M. Kuttner tumour: an unusual cause of enlargement of a minor salivary gland in the lip. Br J Oral Maxillofac Surg. 2010;48(2):152-53.
Sun L, Li HY, Brigstock DR, Gao RP. IgG4-related sclerosing cholangitis and chronic sclerosing sialadenitis mimicking cholangiocarcinoma and neck malignancy. Hepatobiliary Pancreat Dis Int. 2017;16(4):443-45.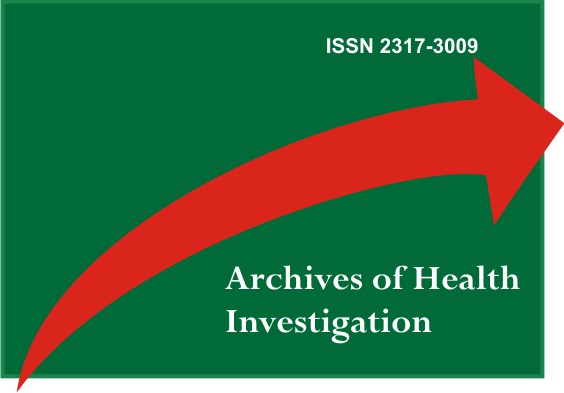 Como Citar
Melzer, R. S., Milani, C. M., Sum, F. N., Druszcz, R. C. de B., & Schussel, J. L. (2021). Chronic sclerosing sialadenitis: report of a rare and atypical case. ARCHIVES OF HEALTH INVESTIGATION, 10(6), 917-920. https://doi.org/10.21270/archi.v10i6.5020