Coronavirus (COVID-19): the potential contamination among dentistry professionals in Brazil
Gestter Willian Lattari Tessarin

Rodrigo Martins dos Santos
Resumo
The coronavirus (COVID-19) is considered a global pandemic with several respiratory syndrome caused by coronavirus 2 (SARS-CoV-2). The main symptoms of COVID-19 are fever, cough, and fatigue, while other symptoms include sputum production, diarrhea and alterations on the gastrointestinal system. The COVID-19 was recently identified in the saliva of infected patients and the transmission through of droplets and aerosols generated during clinical dental care is possible among dentists, oral health assistants and/or oral health technicians and others around the social cycle of the friendship of these health professionals, such as families and colleagues. Thus, there is very necessary to improve the several types of prevention to healthcare professionals that realize the liberation of aerosol during oral assistance. It's important to mention that these precautions are important to prevent human-to-human transmission and protect the global system of health. In addition, this care is essential to decrease the spread of COVID-19 in this moment. 
Descriptors: Coronavirus Infections; Dentistry; Occupational Diseases.
References
Li LY, Wu W, Chen S, Gu JW, Li XL, Song HJ et al. Digestive system involvement of novel coronavirus infection: Prevention and control infection from a gastroenterology perspective. J Dig Dis. 2020;21(4):199-204. 
Zhu N, Zhang D, Wang W, Li X, Yang B, Song J et al. A Novel Coronavirus from Patients with Pneumonia in China, 2019. N Engl J Med. 2020;382(8):727-33.
Pan L, Mu M, Yang P, Sun Y, Wang R, Yan J et al. Clinical Characteristics of COVID-19 Patients With Digestive Symptoms in Hubei, China: A Descriptive, Cross-Sectional, Multicenter Study. Am J Gastroenterol. 2020;115(5):766-73.
Gabutti G, d'Anchera E, Sandri F, Savio M, Stefanati A. Coronavirus: update related to the current outbreak of COVID-19. Infect Dis Ther. 2020;9(2):1-13.
Liu L, Wei Q, Alvarez X, Wang H, Du Y, Zhu H et al. Epithelial cells lining salivary gland ducts are early target cells of severe acute respiratory syndrome coronavirus infection in the upper respiratory tracts of rhesus macaques. J Virol. 2011;85(8):4025-30.
To KK, Tsang OT, Yip CC, Chan KH, Wu TC, Chan JMC et al. Consistent Detection of 2019 Novel Coronavirus in Saliva. Clin Infect Dis. 2020;71(15):841-43.
Sabino-Silva R, Jardim ACG, Siqueira WL. Coronavirus COVID-19 impacts to dentistry and potential salivary diagnosis. Clin Oral Investig. 2020;24(4):1619-21.
Wang D, Hu B, Hu C, Zhu F, Liu X, Zhang J et al. Clinical Characteristics of 138 Hospitalized Patients With 2019 Novel Coronavirus-Infected Pneumonia in Wuhan, China. JAMA. 2020;323(11):1061-69.
Brazilian Ministry of Health. https://saude.gov.br/
Brazilian Institute of Geography and Statistic. https://www.ibge.gov.br/
Lauc G, Sinclair D. Biomarkers of biological age as predictors of COVID-19 disease severity. Aging (Albany NY). 2020;12(8):6490-91.
Federal Council of Dentistry from Brazil. http://website.cfo.org.br/dados-estatisticos-de-profissionais-e-entidades-ativas-por-ano/
Regional Dentistry Council of the State of São Paulo. http://www.crosp.org.br/intranet/estatisticas/estMunicipios.php
Thompson RN. Novel Coronavirus Outbreak in Wuhan, China, 2020: Intense Surveillance Is Vital for Preventing Sustained Transmission in New Locations. J Clin Med. 2020;9(2):498.
Downloads
Não há dados estatísticos.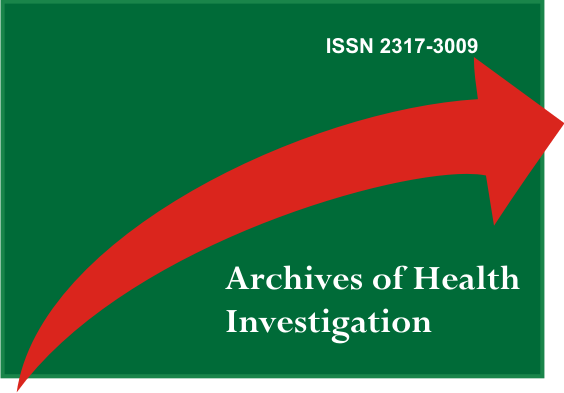 Como Citar
Tessarin, G. W. L., & Santos, R. M. dos. (2020). Coronavirus (COVID-19): the potential contamination among dentistry professionals in Brazil. ARCHIVES OF HEALTH INVESTIGATION, 9(4). https://doi.org/10.21270/archi.v9i4.5027