Periodontal phenotype modification therapy in a patient undergoing orthodontic treatment: a case report
Isabelle Silvério Tenório

Research Assistant, Department of Dentistry, Faculty of Dentistry, Federal University of Campina Grande, Patos – Paraíba, Brazil

Maria Vitória Calado Ramalho dos Santos

Research Assistant, Department of Dentistry, Faculty of Dentistry, Federal University of Campina Grande, Patos – Paraíba, Brazil

Ítalo de Macedo Bernardino

Research Assistant, Department of Dentistry, State University of Paraíba, Campina Grande – Paraíba, Brazil

Jamesson de Macedo Andrade

Research Assistant, Department of Dentistry, State University of Paraíba, Campina Grande – Paraíba, Brazil

Luana Samara Balduino de Sena

Research Assistant, Department of Dentistry, State University of Paraíba, Campina Grande – Paraíba, Brazil

http://orcid.org/0000-0001-5906-0858

Fátima Roneiva Alves Fonseca

Assistant Professor, Department of Dentistry, Faculty of Dentistry, Federal University of Campina Grande, Patos – Paraíba, Brazil

Rachel de Queiroz Ferreira Rodrigues

Assistant Professor, Department of Dentistry, Faculty of Dentistry, Federal University of Campina Grande, Patos – Paraíba, Brazil

João Nilton Lopes de Sousa

Assistant Professor, Department of Dentistry, Faculty of Dentistry, Federal University of Campina Grande, Patos – Paraíba, Brazil
Palavras-chave:
Gingival Recession, Periodontics, Orthodontics
Resumo
Introduction: Gingival recessions are mucogingival defects of multifactorial etiology that interfere with aesthetics and function; in many cases these defects require multidisciplinary treatment. Objective: To report a clinical case of gingival recession treatment using a periodontal and orthodontic approach. Case report: Patient a 20-year-old woman, sought the Extension Project of Clinical and Surgical Periodontics (PROEPECC/UFCG) complaining of developing gingival recession in tooth 31, which was poorly positioned in the arch after orthodontic movement. Periodontal examination revealed type 1 gingival recession associated with a prominent labial frenulum, with a gingival height of 3 mm, width of 2 mm, probing depth of 1 mm, and absence of attached gingiva. The root was covered using a subepithelial connective tissue graft removed from the palatal mucosa and coronally positioned flap; in addition, inferior labial frenectomy was performed. After 1 year and 6 months, tooth 31 was again moved to reposition it in the arch. One year and 10 months post-surgery, new periodontal examination was performed to evaluate the mucogingival characteristics of the treated area. The recession was completely covered and there was a 4-mm increase in the attached gingiva. Conclusion: Orthodontics may positively or negatively influence periodontal structures and periodontics may favor the prognosis of tooth movement in a risk area by modifying the periodontal phenotype, increasing its resistance to gingival recession.
Downloads
Não há dados estatísticos.
Referências
Chapple ILC, Mealey BL, Van Dyke TE, Bartold PM, Dommisch H, Eickholz P et al. Periodontal health and gingival diseases and conditions on an intact and a reduced periodontium: consensus report of workgroup 1 of the 2017 World Workshop on the Classification of Periodontal and Peri-Implant Diseases and Conditions. J Periodontol. 2018;89(Suppl 1):S74-S84.
Steffens JP, Marcantonio RAC. Classificação das doenças e condições periodontais e peri-implantares 2018: guia prático e pontos-chave. Rev Odontol UNESP. 2018;47(4):189-97.
Kassab MM, Cohen RE. The etiology and prevalence of gingival recession. J Am Dent Assoc. 2003;134(2):220-25.
Rodrigues DC, Alves R, Segundo TK. Emprego do enxerto de tecido conjuntivo subepitelial no recobrimento radicular. RGO. 2010;58(1):115-18.
Jati AS, Furquim LZ, Consolaro A. Gingival recession: its causes and types, and the importance of orthodontic treatment. Dental Press J Orthod. 2016;21(3):18-29.
Zucchelli G, Mounssif I. Periodontal plastic surgery. Periodontol 2000. 2015;68(1):333-68.
Thankkappan P, Roy S, Mandlik VB. Comparative evaluation of management of gingival recession using subepithelial connective tissue graft and collagen membrane by periodontal microsurgical technique: A clinical study of 40 cases. J Indian Soc Periodontol. 2016;20(2):189-94.
Rana TK, Phogat M, Sharma T, Prasad N, Singh S. Management of gingival recession associated with orthodontic treatment: a case report. J Clin Diagn Res: JCDR. 2014;8(7): ZD05-ZD07.
Kina JR, Suzuki TYU, Kina EFU, Kina M, Kina J. Tratamento de recessão gengival unitária. Arch. Health invest. 2015;4(6):25-30.
Bruscato JC, Yamamoto PS, Wuensch A, Sartorato FAS, Saba-Chujfi E. Movimento ortodôntico como auxiliar no tratamento periodontal cirúrgico: relato de caso. Braz J Periodontol. 2018;28(3):79-84.
Deo SD, Shetty SK, Kulloli A, Chayan R, Dholakia P, Ligade S, et al. Efficacy of free gingival graft in the treatment of Miller Class I and Class II localized gingival recessions: a systematic review. J Indian Soc Periodontol. 2010;23(2):93-9.
Caldato KMB, Luize DS, Nassar CA, Busato MA. Avaliação do biotipo periodontal em áreas acometidas por recessão gengival em acadêmicos de odontologia. Braz J Periodontol. 2018;28(1):19-27.
Wagner TP, Costa RS, Rios FS, Moura MS, Maltz M, Jardim JJ et al. Gingival recession and oral health-related quality of life: a population-based cross-sectional study in Brazil. Community Dent Oral Epidemiol. 2016;44(4):390-99.
Ribeiro LUR, Brunetto M, Medeiros CC, Derech CD, Locks A. Considerações sobre recessão gengival e sua resolução através da Ortodontia e Periodontia. Orthod Sci Pract. 2015; 8(31):415-21.
Gomes ZMR, Felipe LCS, Coura LR, Morais AMD, Honda R, Tiago, CM. Inter-relação ortodontia e periodontia: revisão de literatura. J Orofac Invest. 2017;4(1):30-40.
Kao RT, Curtis DA, Kim DM, Lin GH, Wang CW, Cobb CM et al. American Academy of Periodontology best evidence consensus statement on modifying periodontal phenotype in preparation for orthodontic and restorative treatment. J Periodontol. 2020;91(3):289-98.
Cairo F, Nieri M, Cincinelli S, Mervelt J, Pagliaro U. The interproximal clinical attachment level to classify gingival recessions and predict root coverage outcomes: an explorative and reliability study. J Clin Periodontol. 2011;38(7):661-66.
Cairo F, Nieri M, Pagliaro U. Efficacy of periodontal plastic surgery procedures in the treatment of localized facial gingival recessions. A systematic review. J Clin Periodontol. 2014; 41(Suppl 15):S44-62.
Santos ML, Junior JKO, Costa MJF, Rodrigues RQF. Retalho reposicionado coronalmente com a finalidade de recobrimento radicular. Rev Salusvita. 2017;36(1):65-76.
Dai A, Huang JP, Ding PH, Chen LL. Root coverage for single gingival recessions: systematic review and meta-analysis. J Clin Periodontol. 2019;46(5):572-85.
Cunha FA, Hickson AES, Azevedo MYG, Cruz BCV, Cunha MAGM, Costa FO. Decisão quanto à escolha da técnica de recobrimento radicular. Perionews. 2014;8(2):142-48
Sena LSB, Silva NS, Andrade JM, Sousa JNL. Associação de técnicas cirúrgicas periodontais para recobrimento de recessões múltiplas e controle da dor pós operatória com laserterapia: relato de caso. Braz J Periodontol. 2017;27(4):86-90.
De Melo PCC, Soares LG, Falabella MEV. Recobrimento radicular com enxerto de tecido conjuntivo. PerioNews. 2015;9(1):34-41.
Rosa PMM, Rosa PSM, Levi YLAS, Nogueira MC, Vieira FFSL, Silveira EMV et al. Diagnóstico e tratamento cirúrgico do freio labial com inserção marginal: relato de caso. Braz J Periodontol. 2018;28(1):56-60.
Novaes AB Jr, Palioto DB. Experimental and clinical studies on plastic periodontal procedures. Periodontol 2000. 2019;79(1):56-80.
Ishiyama M, Costa JV, Oliveira RCG. Fatores relacionados à recidiva ortodôntica. Uningá Review. 2015;24(3):72-8.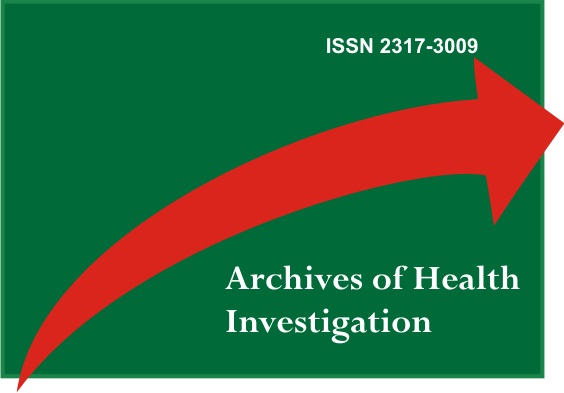 Como Citar
Tenório, I. S., Santos, M. V. C. R. dos, Bernardino, Ítalo de M., Andrade, J. de M., Sena, L. S. B. de, Fonseca, F. R. A., Rodrigues, R. de Q. F., & Sousa, J. N. L. de. (2021). Periodontal phenotype modification therapy in a patient undergoing orthodontic treatment: a case report. ARCHIVES OF HEALTH INVESTIGATION, 10(4), 667-673. https://doi.org/10.21270/archi.v10i4.5055