Talon cusps - functional solution: a case report
Alice Corrêa Silva-Sousa

School of Dentistry, University of Ribeirão Preto (UNAERP), RibeirãoPreto, SP, Brazil; Student (Doctoral Degree) of Department of Restorative Dentistry, School of Dentistry of Ribeirão Preto, University of São Paulo (FORP-USP), Ribeirão Preto, SP, Brazil

Yara Teresinha Corrêa Silva-Sousa

Titular Professor, School of Dentistry, University of Ribeirão Preto (UNAERP), 14096-900 Ribeirão Preto - SP, Brazil

Nathalia Cristina Tavella-Silva

Student, School of Dentistry, University of Ribeirão Preto (UNAERP), 14096-900 Ribeirão Preto - SP, Brazil

Marcelle Danelon

Department of Preventive and Restorative Dentistry, São Paulo State University (UNESP), School of Dentistry, Araçatuba – SP, Brazil, School of Dentistry, University of Ribeirão Preto (UNAERP), 14096-900 Ribeirão Preto - SP, Brazil
Palavras-chave:
Anormalidades Dentárias, Dentes Fusionados, Odontopediatria
Resumo
Talon cuspid is a rare dental anomaly that occurs more frequently in maxillary incisors and is defined as a projection in the area of the cincture of anterior teeth that extends from the cemento-enamel junction or the region of the cincture, following towards the incisal face. An eight-year-old female patient was referred to the University of Ribeirão Preto Pediatric Dentistry Clinic (UNAERP) with suspicion of a supernumerary tooth on the palatal surface of tooth 12. During clinical and radiographic examination she found the presence of a conical-shaped enamel projection that presented a communication with the tooth 12 cincture and was thus classified as a cusp talon. Initially, prophylaxis and removal of the accumulated bacterial plaque were performed, verification of premature contact with paper for the joint and wear with a spherical diamond tip. FluroShield sealant was then applied following an adhesive protocol indicated by the manufacturer. After the necessary occlusal adjustments were made. 30 days later, the patient returned for clinical follow-up, reconversion and repolishing of the sealant. The cuspid talon was diagnosed as Type I because it is morphologically well delineated and protrudes prominently from the palatal surface and extends at least halfway from the cemento-enamel junction to the incisal edge. It is recommended to seal the deep grooves to prevent caries. We can conclude that a rigorous clinical and radiographic examination leading to an early and accurate diagnosis is of extreme importance for the adoption of an adequate treatment.
Downloads
Não há dados estatísticos.
Referências
Nascimento BCS, Santos IMS, Fernandez MS, Viana VS. Cúspide em garra em paciente infantil com transtornos psicológicos: relato de caso. Arch Health Invest. 2021;10(1):134-39.
Coclete GA, Coclete GEG, Poi WR, Paulon SS, Pinto ZMPS, Salzedas LMP. Cúspide em garra. Arch Health Invest. 2015;4(2):5-8.
Gosselin ML, Doyle T, MacLellan J, Anderson RD, Dyment H. A Talon Cusp Mistaken for a Mesiodens: Case Report. J Can Dent Assoc. 2012;78:c6.
Tomazinho FS, Baratto-Filho F, Leonardi DP, Haragushiku GA, de Campos EA. Occurrence of talon cusp on a geminated maxillary central incisor: a case report. J Oral Sci. 2009; 51(2):297-300.
Hegde S, Shetty SR, Babu S. The reverse claw: Report of an extremely rare facial talon cusp. Dent Res J (Isfahan). 2012;9(5):638-39.
Oredugba FA. Mandibular facial talon cusp: case report. BMC Oral Health. 2005;5:9.
Sumer AP, Zengin AZ. An unusual presentation of talon cusp: a case report. Br Dent J. 2005;199(7):429-30.
Hattab FN, Yassin OM, al-Nimri KS. Talon cusp in permanent dentition associated with other dental anomalies: review of literature and reports of seven cases. ASDC J Dent Child. 1996;63(5):368-76.
Elmubarak NA. Genetic Risk of Talon Cusp: Talon Cusp in Five Siblings. Case Rep Dent. 2019;2019:3080769.
Sarraf-Shirazi A, Rezaiefar M, Forghani M. A rare case of multiple talon cusps in three siblings. Braz Dent J. 2010;21(5):463-66.
Gunduz K, Acikgoz A. An unusual case of talon cusp on a geminated tooth. Braz Dent J. 2006;17:343-46.
Siraci E, Gungor HC, Cehreli ZC. Dens invaginatus and talon cusp co-occurring in a mandibular central incisor: a case report. J Dent Child (Chic). 2008;75(2):177-80.
Solanki M, Patil SS, Baweja DK, Noorani H, Pk S. Talon cusps, macrodontia, and aberrant tooth morphology in Berardinelli-Seip syndrome. Oral Surg Oral Med Oral Pathol Oral Radiol Endod. 2008;105(1):e41-7.
Rayen R, Muthu MS, Sivakumar N. Aberrant talon cusps: report of two cases. J Indian Soc Pedod Prev Dent. 2006;24(Suppl 1):S7-10.
Özkan G, Toptaş A, Güneri P. The characteristics and occurrence of the talon cusps in Turkish population: a retrospective sample study. Surg Radiol Anat. 2016;38(9):1105-1110.
Sudhakar S, Madhavan A, Balasubramani S, Shreenivas S. A Rare Familial Presentation of Facial Talon Cusp. J Clin Diagn Res. 2017;11(1):ZD15-ZD17.
Kv S, C PR, Yadav SR, Kumar N, C D MK, Kumar SP. Multiple talon cusps on maxillary central incisor: A case report. J Dent Res Dent Clin Dent Prospects. 2017;11(2):127-30.
Dunn WJ. Unusual case of labial and lingual talon cusps. Mil Med. 2004;169(2):108-10.
Guven Y, Kasimoglu Y, Tuna EB, Gencay K, Aktoren O. Prevalence and characteristics of talon cusps in Turkish population. Dent Res J (Isfahan). 2016;13(2):145-50.
Raviraj J, Suman V, Suresh D, Kartik K. Achondroplasia with multiple supplemental supernumerary teeth and multiple talon cusps: A rare case report. Dent Res J (Isfahan). 2017;14(3):219-22.
Leith R, O'Connell AC. Selective Reduction of Talon Cusps- A Case Series. J Clin Pediatr Dent. 2018;42(1):1-5.
Tarım Ertaş E, Yırcalı Atıcı M, Arslan H, Yaşa B, Ertaş H. Endodontic treatment and esthetic management of a geminated central incisor bearing a talon cusp. Case Rep Dent. 2014;2014:123681.
Gunashekhar M, Hameed MS, Bokhari SK. Oral and dental manifestations in Rubinstein-Taybi syndrome: report of a rare case. Prim Dent Care. 2012;19(1):35-8.
Mader CL, Kellogg SL. Primary talon cusp. ASDC J Dent Child. 1985;52(3):223-26.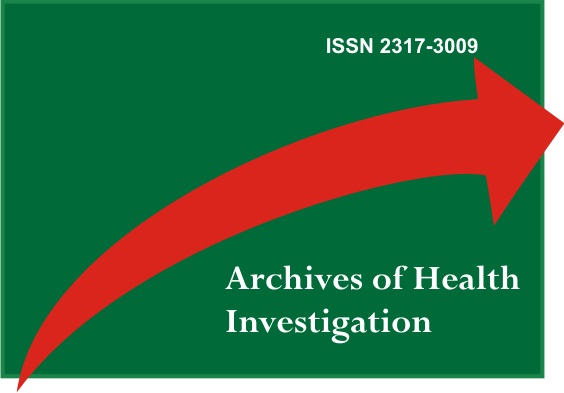 Como Citar
Silva-Sousa, A. C., Silva-Sousa, Y. T. C. ., Tavella-Silva, N. C., & Danelon, M. (2021). Talon cusps - functional solution: a case report. ARCHIVES OF HEALTH INVESTIGATION, 10(4), 570-574. https://doi.org/10.21270/archi.v10i4.5080