Microbiological and micro‐computed tomography analysis of natal teeth: a case report
Alice Corrêa Silva-Sousa

School of Dentistry, University of Ribeirão Preto (UNAERP), RibeirãoPreto, SP, Brazil; Student (Doctoral Degree) of Department of Restorative Dentistry, School of Dentistry of Ribeirão Preto, University of São Paulo (FORP-USP), Ribeirão Preto, SP, Brazil

Yara Teresinha Corrêa Silva-Sousa

Titular Professor, School of Dentistry, University of Ribeirão Preto (UNAERP), 14096-900 Ribeirão Preto - SP, Brazil

André Pitondo-Silva

Associate Professor, School of Dentistry, University of Ribeirão Preto (UNAERP), 14096-900 Ribeirão Preto - SP, Brazil

Rafael Nakamura-Silva

Ph.D Student of Graduate Program in Environmental Technology, University of Ribeirão Preto (UNAERP), Ribeirão Preto, SP, Brazil

Nathalia Cristina Tavella-Silva

Student, School of Dentistry, University of Ribeirão Preto (UNAERP), 14096-900 Ribeirão Preto - SP, Brazil

Marcelle Danelon

São Paulo State University (Unesp), School of Dentistry, Araçatuba Department of Pediatric Dentistry and Public Health
Palavras-chave:
Dentes Natais, Tomógrafos Computadorizados, Saúde Bucal, Odontopediatria
Resumo
The aim of this study was to report a clinical case of a natural tooth found in a 1-day-old newborn, its clinical implications and proper management. The female patient was referred by a pediatrician who contacted the University of Ribeirão Preto Pediatric Dentistry Clinic (UNAERP, Ribeirão Preto, Brazil), informing that the patient with 40 hours of life, still in the maternity ward, had a foreign body in the oral cavity since birth, which was bothering the mother at the time of breastfeeding. At clinical examination, the presence of a Christmas tooth with grade 3 mobility was observed. After one month of life, it was possible to perform a radiographic examination, which resulted in the definitive diagnosis of the Christmas tooth, and the proposed treatment was the surgical removal of the dental element and subsequent follow-up. Prior to surgical removal, the biofilm present on the coronary surface was aseptically collected for microbiological analysis consisting of isolating the bacteria in different culture media and identifying them by sequencing 16S rRNA. The extracted tooth was scanned in high-resolution microtomography, reconstructed, and qualitatively analyzed. Microbiological analyses showed the presence of two bacterial species Streptococcus salivarius and Staphylococcus hominis, both species considered saprophytes, being part of the oral microbiota. The knowledge of this anomaly and the training of dentists to perform an accurate diagnosis, as well as the importance of multidisciplinary work, are of extreme relevance.
Downloads
Não há dados estatísticos.
Referências
Agrawal NK, Khatry SK, LeClerq SC, Katz J, Mullany LC. Incidence of Natal Teeth in Sarlahi District of Nepal. J Nepal Health Res Counc. 2019 Apr 28;17(1):100-2.
Kalra N, Tyagi R, Khatri A, Kumar S, Mm A, Khandelwal D. Neonatal molar in a child with Langerhan cell histiocytosis. J Indian Soc Pedod Prev Dent. 2019;37(1):107-9.
Kana A, Markou L, Arhakis A, Kotsanos N. Natal and neonatal teeth: a systematic review of prevalence and management. Eur J Paediatr Dent. 2013;14(1):27-32.
Rocha JG, Sarmento LC, Gomes AMM, Valle MAS, Dadalto ECV. Natal tooth in preterm newborn: a case report. RGO - Rev Gaúcha Odontol. 2017;65(2):156-60.
Jamani NA, Ardini YD, Harun NA. Neonatal tooth with Riga-Fide disease affecting breastfeeding: a case report. Int Breastfeed J. 2018;13:35.
Kérourédan O, Smirani R, Thébaud NB, Devillard R. Diagnosis and Management of Natal and Neonatal Teeth: Case Report of Three Newborns. J Dent Child (Chic). 2018;85(2):79-82.
Bulut G, Bulut H, Ortac R. A comprehensive survey of natal and neonatal teeth in newborns. Niger J Clin Pract. 2019;22(11):1489-94.
Management Considerations for Pediatric Oral Surgery and Oral Pathology. Pediatr Dent. 2018;40(6):373-382.
Weisburg WG, Barns SM, Pelletier DA, Lane DJ. 16S ribosomal DNA amplification for phylogenetic study. J Bacteriol. 1991;173(2):697-703.
Samuel SS, Ross BJ, Rebekah G, Koshy S. Natal and Neonatal Teeth: A Tertiary Care Experience. Contemp Clin Dent. 2018;9(2):218-22.
Mendes Gouvêa CC, Danelon M, Cunha RF. Dente natal: diagnóstico e conduta clínica. Relato de caso. Arch Health Invest 2016; 5(Spec Iss 1):216.
Moura LF, Moura MS, Lima MD, Lima CC, Dantas-Neta NB, Lopes TS. Natal and neonatal teeth: a review of 23 cases. J Dent Child (Chic). 2014;81(2):107-11.
Park JS, Patel J, Seewoo BJ, King NM, Anthonappa RP. Literature review and micro-computed tomography analysis of natal teeth: A pilot study. J Investig Clin Dent. 2019;10(4):e12466.
Hurley E, Mullins D, Barrett MP, O'Shea CA, Kinirons M, Ryan CA, Stanton C, Whelton H, Harris HMB, O'Toole PW. The microbiota of the mother at birth and its influence on the emerging infant oral microbiota from birth to 1 year of age: a cohort study. J Oral Microbiol. 2019;11(1):1599652.
Tuominen H, Collado MC, Rautava J, Syrjänen S, Rautava S. Composition and maternal origin of the neonatal oral cavity microbiota. J Oral Microbiol. 2019;11(1):1663084.
Fantinato V, Camargo HR, Sousa ALOP de. Probiotics study with Streptococcus salivarius and its ability to produce bacteriocins and adherence to KB cells. Rev Odontol da UNESP. 2019;48:e20190029.
Pauer H, Glatthardt T, Ferreira NV, Ferreira RBR, Antunes LCM. Bioactive Molecules of the Human Microbiome. In: Microbiome and Metabolome in Diagnosis, Therapy, and Other Strategic Applications. Elsevier; 2019:115-125.
Mendoza-Olazarán S, Morfin-Otero R, Rodríguez-Noriega E, Llaca-Díaz J, Flores-Treviño S, González-González GM et al. Microbiological and molecular characterization of Staphylococcus hominis isolates from blood. PLoS One. 2013;8(4):e61161.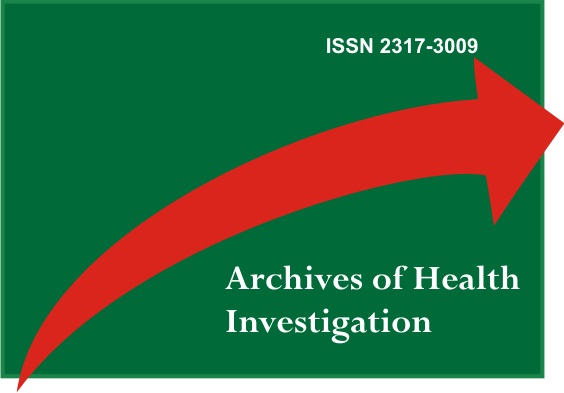 Como Citar
Silva-Sousa, A. C., Silva-Sousa, Y. T. C. ., Pitondo-Silva, A., Nakamura-Silva, R., Tavella-Silva, N. C., & Danelon, M. (2021). Microbiological and micro‐computed tomography analysis of natal teeth: a case report. ARCHIVES OF HEALTH INVESTIGATION, 10(4), 575-578. https://doi.org/10.21270/archi.v10i4.5081