The benefits of association of early diagnosis with bioactive materials for management of dental caries
Palavras-chave:
Biocompatible Materials, Dental Caries, Dentin, Diagnosis, Dental Cavity Preparation
Resumo
The concept of minimally invasive dentistry certainly promoted significant changes towards more conservative dental caries management, which allows for quality information regarding the diagnosis, prognosis, and clinical management of dental caries even regarding the maintenance of restorative procedures. This case report aimed to highlight the relevance and feasibility of a streamlined caries disease management based on caries-risk determination and minimal invasive concepts associated with bioactive materials. A 13-year-old female patient sought dental care. Clinically, active white spot lesion on the occlusal surface of right upper first premolar coming from the fissures was noteworthy under moist condition. Bitewing radiography confirmed an interproximal carious lesion involving dentin. The cavity preparation was performed as more conservative as possible, removing the carious tissue selectively and treated with bioactive materials. After 12-month follow-up, successful performance of the restoration was seen while the patient caries-risk condition seems to be under control. This clinical case demonstrates that a correct diagnosis associated with smart materials and appropriate restorative procedures can offer effective and conservative results. Evidence-based treatment benefits patient avoiding unnecessary dental compromising and the maintenance of oral health.
Downloads
Não há dados estatísticos.
Referências
Doméjean S, Banerjee A, Featherstone JDB. Caries risk/susceptibility assessment: Its value in minimum intervention oral healthcare. Br Dent J. 2017;223:191-97.
Askar H, Krois J, Göstemeyer G, Bottenberg P, Zero D, Banerjee A, et al. Secondary caries: what is it, and how it can be controlled, detected, and managed? Clin Oral Investig. 2020;24:1869-76
Ismail AI, Pitts NB, Tellez M, Benerjee A, Deery C, Douglas G, et al. The International Caries Classification and Management System (ICCMS™) an example of a caries management pathway. BMC Oral Health. 2015;15:S9.
Guedes RS, Piovesan C, Ardenghi TM, Emmanuelli B, Braga MM, Ekstrand KR, et al. Validation of visual caries activity assessment: a 2-yr cohort study. J Dent Res. 2014;93:101S-7S.
Hoefler V, Nagaoka H, Miller CS. Long-term survival and vitality outcomes of permanent teeth following deep caries treatment with step-wise and partial-caries-removal: A Systematic Review. J Dent. 2016;54:25-32.
Maltz M, Koppe B, Jardim JJ, Alves LS, de Paula LM, Yamaguti PM, et al. Partial caries removal in deep caries lesions: a 5-year multicenter randomized controlled trial. Clin Oral Investig. 2018;22:1337-43.
Schwendicke F, Frencken JE, Bjørndal L, Maltz M, Manton DJ, Ricketts D, et al. Managing carious lesions: consensus recommendations on carious tissue removal. Adv Dent Res. 2016;28:58-67.
Villat C, Attal JP, Brulat N, Decup F, Doméjean S, Dursun E, et al. One-step partial or complete caries removal and bonding with antibacterial or traditional self-etch adhesives: study protocol for a randomized controlled trial. Trials. 2016;17:404.
Vallittu PK, Boccaccini AR, Hupa L, Watts DC. Bioactive dental materials-Do they exist and what does bioactivity mean? Dent Mater. 2018;34:693-94.
Jandt KD, Sigusch BW. Future perspectives of resin-based dental materials. Dent Mater 2009;25:1001-6.
Braga MM, Lenzi TL, Ferreira FR, Mendes FM, Raggio DP, Imparato JC et al. Impact of a tutored theoretical-practical training to develop undergraduate students' skills for the detection of caries lesions: study protocol for a multicenter controlled randomized study. JMIR Res Protoc. 2017;6:e155.
Dikmen B. ICDAS II criteria (International Caries Detection and Assessment System). J Istanb Univ Fac Dent. 2015;49:63-72.
Bjørndal L, Fransson H, Bruun G, Markvart M, Kjældgaard M, Näsman P, et al. Randomized clinical trials on deep carious lesions: 5-Year Follow-up. J Dent Res. 2017;96:747-53.
Carvalho JC, Dige I, Machiulskiene V, Qvist V, Bakhshandeh A, Fatturi-Parolo C, et al. Occlusal caries: biological approach for its diagnosis and management. Caries Res. 2016;50:527-42.
Kaga M, Kakuda S, Ida Y, Toshima H, Hashimoto M, Endo K, et al. Inhibition of enamel demineralization by buffering effect of S-PRG filler-containing dental sealant. Eur J Oral Sci. 2013;122:78-83.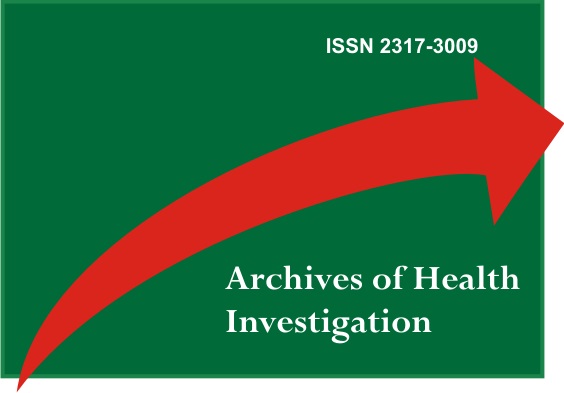 Downloads
Como Citar
dos Santos, A. F., Castelluccio, T. T., Foratori-Junior, G. A., Rios, D., Wang, L., & Bombonatti, J. F. S. (2021). The benefits of association of early diagnosis with bioactive materials for management of dental caries. ARCHIVES OF HEALTH INVESTIGATION, 10(5), 700–705. https://doi.org/10.21270/archi.v10i5.5099