Procedure time and patient perception for ceramic endocrowns or partial coverage ceramic restorations: a double-blind randomized clinical trial
Susana Morimoto

Master Program in Dentistry, Universidade Ibirapuera, 04661-100 São Paulo - SP, Brazil

Reinaldo Macedo Fraga

Master Program in Dentistry, Universidade Ibirapuera, 04661-100 São Paulo - SP, Brazil

Tamara Kerber Tedesco

Master Program in Dentistry, Universidade Ibirapuera, 04661-100 São Paulo - SP, Brazil

Mutlu Ozcan

Dental Materials Unit, University of Zürich, Zürich, Switzerland

Flavia Benali Werneck Rebello Sampaio

Master Program in Dentistry, Universidade Ibirapuera, 04661-100 São Paulo - SP, Brazil

Maria Stella Nunes Araújo Moreira

Master Program in Dentistry, Universidade Ibirapuera, 04661-100 São Paulo - SP, Brazil

Anuar Sadat Neres Santiago

Master Program in Dentistry, Universidade Ibirapuera, 04661-100 São Paulo - SP, Brazil

Dainela Procida Raggio

Program in Pediatric Dentistry, Universidade de São Paulo- FOUSP. 05508-000 São Paulo, Brazil
Palavras-chave:
Dental Cavity Preparation, Patient Reported Outcome Measures, Patient Satisfaction, Ceramic, Operative Time
Resumo
Objetive: This study aimed to compare procedure time and patient discomfort and satisfaction between endocrowns or partial coverage ceramic restorations with fiber post and filling (PCCR+Post). Materials and Methods: A double-blind RCT was carried out according to eligibility criteria: 1) Endodontic treatment; 2) Molars or premolars; 3) Minimum of one cusp with 3-mm thick; 4) Dental antagonists; 5) Supragingival margins; 6) Good oral hygiene; and 7) Minimum of 18 years. Patients were allocated to two groups: Endocrown or PCCR+Post. Each session was timed; discomfort and satisfaction were assessed. Poisson regression analysis and two-way repeated-measures analysis of variance were performed. Results: Forty patients were selected (20 per group). 90% and 82.5% of participants in the PCCR+Post and Endocrown group, respectively, reported little or no discomfort. There was no association between the explanatory variables and the discomfort reported by patients. The level of satisfaction was 100%. Procedure time in the Endocrown (129.7 min±29.78) was similar to PCCR+Post (134.1 min±29.64). Endocrown and PCCR+Post had similar procedure time and patient perception, however, endocrowns allow less clinical steps. Conclusions: Endocrown and PCCR+Post had similar procedure time and patient perception, however, endocrowns allow less clinical steps.
Downloads
Não há dados estatísticos.
Referências
Calvert M, Blazeby J, Altman DG, Revicki DA, Moher D, Brundage MD. Reporting of patient-reported outcomes in randomized trials. JAMA. 2013;309(8):814-22.
Hujoel PP. Levels of clinical significance. J Evid Based Dent Pract. 2004;4(1):32–6.
John MT. Health Outcomes reported by dental patients. J Evid Based Dent Pract 2018;18(4):332–5.
Ladewig NM, Camargo LB, Tedesco TK, Floriano I, Gimenez T, Imparato JCP et al. Management of dental caries among children: a look at the cost-effectiveness. Expert Rev Pharmacoecon Outcomes Res. 2018;18(2):127-34.
Griffin SO, Jones K. Quality of reporting in economic evaluations of interventions to prevent dental caries needs improvement. J Evid Based Dent Pract. 2013;13(3):109–10.
Haddadi Y, Bahrami G, Isidor F. Evaluation of operating time and patient perception using conventional impression taking and intraoral scanning for crown manufacture: a split-mouth randomized clinical study. Int J Prosthodont. 2018;31(1):55-9.
Bernhart J, Bräuning A, Altenburger M, Wrbas K. Cerec3D endocrowns- two-year clinical examination of CAD/CAM crowns for restoring endodontically treated molars. Int J Comput Dent. 2010;13(2):141-54.
Bindl A, Mormann WH. Clinical evaluation of adhesively placed Cerec endo-crowns after 2 years- preliminary results. J Adhes Dent. 1999; 1(3):255-65.
Decerle N, Bessadet M, Munoz-Sanchez ML, Eschevins C, Veyrune J NE. Evaluation of Cerec endocrowns: a preliminary cohort study. Eur J Prosthodont Restor Dent. 2014;22(2): 89-95.
Fokkinga WA, Kreulen CM, Bronkhorst EM, Creugers NHJ. Up to 17-year controlled clinical study on post-and-cores and covering crowns. J Dent. 2007;35(10):778-86.
Otto T, De Nisco S. Computer-aided direct ceramic restorations: a 10-year prospective clinical study of Cerec CAD/CAM inlays and onlays. Int J Prosthodont. 2002;15(2):122-28.
Ozyoney G, Yan Koğlu F, Tağtekin D, Hayran O. The efficacy of glass-ceramic onlays in the restoration of morphologically compromised and endodontically treated molars. Int J Prosthodont. 2013;26(3):230-34.
Peumans M, De Munck J, Van Landuyt K, Poitevin A, Lambrechts P, Van Meerbeek B. Two-year clinical evaluation of a self-adhesive luting agent for ceramic inlays. J Adhes Dent. 2010;12(2):151-61.
Sedrez-Porto JA, Rosa WL, da Silva AF, Münchow EA, Pereira-Cenci T. Endocrown restorations: A systematic review and meta-analysis. J Dent. 2016;52:8-14.
Moher D, Hopewell S, Schulz KF, Montori V, Gøtzsche PC, Devereaux PJ, Elbourne D, Egger M, Altman DG; CONSORT. CONSORT 2010 explanation and elaboration: updated guidelines for reporting parallel group randomised trials. Int J Surg. 2012;10(1):28-55.
Mattos-Silveira J, Floriano I, Ferreira FR, Viganó ME, Mendes FM, Braga MM. Children's discomfort may vary among different treatments for initial approximal caries lesions: preliminary findings of a randomized controlled clinical trial. Int J Paediatr Dent. 2015;25(4):300-4.
Fennis WM, Kuijs RH, Kreulen CM, Roeters FJ, Creugers NH, Burgersdijk RC. A survey of cusp fractures in a population of general dental practices. Int J Prosthodont. 2002;15(6):559-63.
Walsh LJ, Brostek AM. Minimum intervention dentistry principles and objectives. Aust Dent J. 2013;58 Suppl 1:3-16.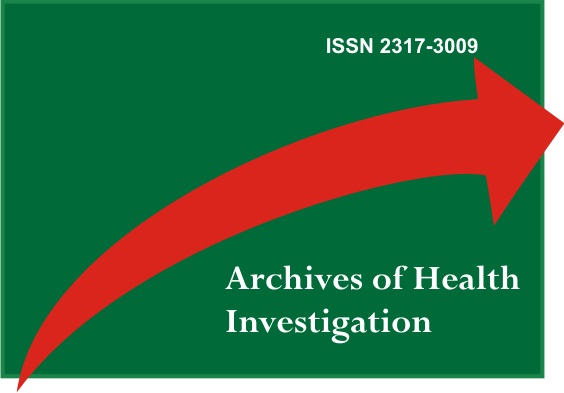 Como Citar
Morimoto, S., Fraga, R. M., Tedesco, T. K., Ozcan, M., Sampaio, F. B. W. R., Moreira, M. S. N. A., Neres Santiago, A. S., & Raggio, D. P. (2021). Procedure time and patient perception for ceramic endocrowns or partial coverage ceramic restorations: a double-blind randomized clinical trial. ARCHIVES OF HEALTH INVESTIGATION, 10(4), 536-541. https://doi.org/10.21270/archi.v10i4.5189