COVID-19 - Mouthwash in dental clinical practice: review
Palavras-chave:
Antissépticos Bucais, Vírus da SARS, Infecções por Coronavírus
Resumo
Severe acute respiratory syndrome (SARS-CoV-2) is a highly infectious respiratory disease. Dental surgeons perform various procedures that generate aerosolization, leading to the dissipation of saliva and drops of blood. The indication during the COVID-19 pandemic in clinical practice is the use of mouthwashes to reduce the viral load of SARS-CoV-2. The present work brings the main rinses indicated in the literature to minimize the viral load of SARS-CoV-2 in clinical practice.
Downloads
Não há dados estatísticos.
Referências
Lo Giudice R. The Severe Acute Respiratory Syndrome Coronavirus-2 (SARS CoV-2) in Dentistry. Management of Biological Risk in Dental Practice. Int J Environ Res Public Health. 2020;17(9):3067.
Weekly epidemiological update - 24 November 2020. Geneva; World Health Organization; 2020-11-24. ID: who-337127.
World Health Organization. Coronavirus Disease 2019 (Covid-19): Situation Report. 174. Available online: https://www.who.int/docs/default-source/coronaviruse/situation-reports/20200712-covid-19-sitrep-174.pdf (accessed June 9, 2020).
Bizzoca ME, Campisi G, Muzio LL. Covid-19 Pandemic: What Changes for Dentists and Oral Medicine Experts? A Narrative Review and Novel Approaches to Infection Containment. Int J Environ Res Public Health. 2020;17(11):3793.
Jamal M, Shah M, Almarzooqi SH, Aber H, Khawaja S, El Abed R, Alkhatib Z, Samaranayake LP. Overview of transnational recommendations for COVID-19 transmission control in dental care settings. Oral Dis. 2020:10.1111/odi.13431.
Peng X, Xu X, Li Y, Cheng L, Zhou X, Ren B. Transmission routes of 2019-nCoV and controls in dental practice. Int J Oral Sci. 2020;12(1):9.
Chen J. Pathogenicity and transmissibility of 2019-nCoV-A quick overview and comparison with other emerging viruses. Microbes Infect. 2020;22(2):69-71.
Rocca JAr What is the most effective mouthwash in patients infected with covid-19 to minimize possible transmission by saliva? Update. J Dent Maxillofacial Res. 2020;3(1):1-5.
Pattanshetty S, Narayana A, Radhakrishnan R. Povidone-iodine gargle as a prophylactic intervention to interrupt the transmission of SARS-CoV-2. Oral Dis.2020:10.1111/odi.13378.
Kampf G, Todt D, Pfaender S, Steinmann E. Persistence of coronaviruses on inanimate surfaces and their inactivation with biocidal agents. J Hosp Infect. 2020;104(3):246-51.
Sarfaraz S, Shabbir J, Mudasser MA, Khurshid Z, Al-Quraini AAA, Abbasi MS, Ratnayake J, Zafar MS. Knowledge and Attitude of Dental Practitioners Related to Disinfection during the COVID-19 Pandemic. Healthcare (Basel). 2020;8(3):232.
Modes of transmission of virus causing COVID-19: implications for IPC precaution recommendations: scientific brief. Geneva; World Health Organization; 2020. (WHO/2019-nCoV/Sci_Brief/Transmission_modes/2020.2). ID: who-331616.
Ahmed MA, Jouhar R, Ahmed N, Adnan S, Aftab M, Zafar MS, Khurshid Z. Fear and Practice Modifications among Dentists to Combat Novel Coronavirus Disease (COVID-19) Outbreak. Int J Environ Res Public Health. 2020;17(8):2821.
Marui VC, Souto MLS, Rovai ES, Romito GA, Chambrone L, Pannuti CM. Efficacy of preprocedural mouthrinses in the reduction of microorganisms in aerosol: A systematic review. J Am Dent Assoc. 2019;150(12):1015-26.e1.
Villani FA, Aiuto R, Paglia L, Re D. COVID-19 and Dentistry: Prevention in Dental Practice, a Literature Review. Int J Environ Res Public Health. 2020;17(12):4609.
Gansky SA, Banava S. Antiseptic Mouthwash / Pre-Procedural Rinse on SARS-CoV-2 Load 274 (COVID-19) (AMPoL). https://clinicaltrials.ucsf. edu/trial/NCT04409873 (accessed June 11, 2020)
McDonnell G, Russell AD. Antiseptics and disinfectants: activity, action, and resistance. Clin Microbiol Rev. 1999;12(1):147-79. Erratum in: Clin Microbiol Rev 2001;14(1):227.
Geller C, Fontanay S, Mourer M, Dibama HM, Regnouf-de-Vains JB, Finance C, Duval RE. Antiseptic properties of two calix[4]arenes derivatives on the human coronavirus 229E. Antiviral Res. 2010;88(3):343-46.
Yoon JG, Yoon J, Song JY, Yoon SY, Lim CS, Seong H, Noh JY, Cheong HJ, Kim WJ. Clinical Significance of a High SARS-CoV-2 Viral Load in the Saliva. J Korean Med Sci. 2020;35(20):e195.
Izzetti R, Nisi M, Gabriele M, Graziani F. COVID-19 Transmission in Dental Practice: Brief Review of Preventive Measures in Italy. J Dent Res. 2020;99(9):1030-38.
Fleischer W, Reimer K. Povidone-iodine in antisepsis--state of the art. Dermatology. 1997;195 Suppl 2:3-9.
Parhar HS, Tasche K, Brody RM, Weinstein GS, O'Malley BW Jr, Shanti RM, Newman JG. Topical preparations to reduce SARS-CoV-2 aerosolization in head and neck mucosal surgery. Head Neck. 2020;42(6):1268-72.
Kariwa H, Fujii N, Takashima I. Inactivation of SARS coronavirus by means of povidone-iodine, physical conditions and chemical reagents. Dermatology. 2006;212(Suppl 1):119-23.
Eggers M, Eickmann M, Zorn J. Rapid and Effective Virucidal Activity of Povidone-Iodine Products Against Middle East Respiratory Syndrome Coronavirus (MERS-CoV) and Modified Vaccinia Virus Ankara (MVA). Infect Dis Ther. 2015;4(4):491-501.
Eggers M, Koburger-Janssen T, Eickmann M, Zorn J. In Vitro Bactericidal and Virucidal Efficacy of Povidone-Iodine Gargle/Mouthwash Against Respiratory and Oral Tract Pathogens. Infect Dis Ther. 2018;7(2):249-59.
Kerawala C, Riva F. Aerosol-generating procedures in head and neck surgery - can we improve practice after COVID-19? Br J Oral Maxillofac Surg. 2020;58(6):704-7.
Farzan A, Firoozi P. Common mouthwashes for pre-procedural rinsing in dental practice: which one is appropriate for eliminating coronaviruses? A mini literature review. Triple R. 2020;5:e2
Arefin MK, Arafat MS, Talukder DC, Rumi SkNF, Islam MdN, Rahman SH et al. 'POLIDON' Approach-A Novel Solution for the ENT & Skull Base Surgeons in COVID-19 era, Indian J Otolaryngol Head Neck Surg. 2020;1-5.
Khan MM, Parab SR. Safety Guidelines for Sterility of Face Shields During COVID 19 Pandemic. Indian J Otolaryngol Head Neck Surg. 2020:1-2.
Meister TL, Brüggemann Y, Todt D, Conzelmann C, Müller JA, Groß R et al. Virucidal Efficacy of Different Oral Rinses Against Severe Acute Respiratory Syndrome Coronavirus 2. J Infect Dis. 2020;222(8):1289-92.
Imran E, Khurshid Z, M Al Qadhi AA, A Al-Quraini AA, Tariq K. Preprocedural Use of Povidone-Iodine Mouthwash during Dental Procedures in the COVID-19 Pandemic. Eur J Dent. 2020;14(S 01):S182-84.
Burton MJ, Clarkson JE, Goulao B, Glenny AM, McBain AJ, Schilder AG, Webster KE, Worthington HV. Antimicrobial mouthwashes (gargling) and nasal sprays administered to patients with suspected or confirmed COVID-19 infection to improve patient outcomes and to protect healthcare workers treating them. Cochrane Database Syst Rev. 2020;9:CD013627.
Ather A, Patel B, Ruparel NB, Diogenes A, Hargreaves KM. Coronavirus Disease 19 (COVID-19): Implications for Clinical Dental Care. J Endod. 2020;46(5):584-95.
O'Donnell VB, Thomas D, Stanton R, Maillard J-Y, Murphy RC, Jones SA et al. Potential role of oral rinses targeting the viral lipid envelope in SARS-CoV-2 infection. function. Function (Oxf). 2020;1(1):zqaa002.
Ortega KL, Rodrigues de Camargo A, Bertoldi Franco J, Mano Azul A, Pérez Sayáns M, Braz Silva PH. SARS-CoV-2 and dentistry. Clin Oral Investig. 2020;24(7):2541-42.
Cirillo N. COVID-19 outbreak: succinct advice for dentists and oral healthcare professionals. Clin Oral Investig. 2020;24(7):2529-35.
Gottsauner MJ, Michaelides I, Schmidt B, Scholz KJ, Buchalla W, Widbiller M et al. A prospective clinical pilot study on the effects of a hydrogen peroxide mouthrinse on the intraoral viral load of SARS-CoV-2. Clin Oral Investig. 2020;24(10):3707-13.
Herrera D, Serrano J, Roldán S, Sanz M. Is the oral cavity relevant in SARS-CoV-2 pandemic? Clin Oral Investig. 2020;24(8):2925-30.
Baker N, Williams AJ, Tropsha A, Ekins S. Repurposing Quaternary Ammonium Compounds as Potential Treatments for COVID-19. Pharm Res. 2020;37(6):104.
Shen L, Niu J, Wang C, Huang B, Wang W, Zhu N, Deng Y, Wang H, Ye F, Cen S, Tan W. High-Throughput Screening and Identification of Potent Broad-Spectrum Inhibitors of Coronaviruses. J Virol. 2019;93(12):e00023-19.
Vergara-Buenaventura A, Castro-Ruiz C. Use of mouthwashes against COVID-19 in dentistry. Br J Oral Maxillofac Surg. 2020;58(8):924-27.
Tahamtan S, Shirban F, Bagherniya M, Johnston TP, Sahebkar A. The effects of statins on dental and oral health: a review of preclinical and clinical studies. J Transl Med. 2020;18(1):155.
Abdulrab S, Alkadasi B, Al-Maweri S, Halboub E, Alhadainy H, Geerts G. Statins-based prophylactic mouthwash and nasal spray may protect against coronavirus disease 2019. New Microbes New Infect. 2020;37:100751.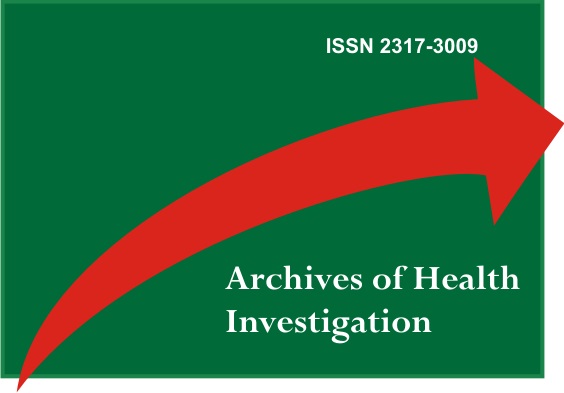 Downloads
Como Citar
Oliveira , M. M. M. ., Almeida , A. C. de ., Rodrigues, C. M. de C. ., Sol, I. ., & Meneses-Santos, D. (2021). COVID-19 - Mouthwash in dental clinical practice: review. ARCHIVES OF HEALTH INVESTIGATION, 10(1), 6–10. https://doi.org/10.21270/archi.v10i1.5283