Does Consumption of Coloring Substances during Tooth Whitening Treatment Influence the Final Outcome? A Systematic Review
Palavras-chave:
Tooth Bleaching, Coloring Agents, Systematic Review
Resumo
The purpose of this systematic review recorded in PROSPERO (CRD4201913125) was to test the hypothesis that dye substances during and / or immediately after treatment can affect the effectiveness of tooth whitening. Two independent reviewers performed a search was conducted in the PubMed / MEDLINE, Web of Science databases and Cochrane Library. Articles were selected based on the inclusion criteria: in vitro studies with direct comparisons between groups undergoing treatment with or without dying substances consumption during or immediately after bleaching treatment; reflectance spectrophotometry was used as evaluation method; studies in which any type of dye was used, studies in which treatment was performed on human and / or bovine teeth. Of the 8 studies selected, including 347 samples analyzed in vitro. The coffee does not appear to influence tooth whitening when consumed during tooth whitening sessions or immediately after treatment (up to 24 hours after treatment). However low-alcoholic beverages such as red wine and cola drinks may have the potential to change pigmentation and influence the change in tooth color.
Downloads
Não há dados estatísticos.
Referências
Briso AL, Fagundes TC, Gallinari MO, Moreira J, Almeida Lcag , Rahal V et al. An In Situ Study of the Influence of Staining Beverages on Color Alteration of Bleached Teeth. Oper Dent. 2016;41;627-33.
Correia AMO, Melo BED, Cedraz JSB, Rocha DM, Santos NB, Fragoso LSM. Influence of solutions with pigmentation potential on tooth color after bleaching using 22% carbamide peroxide. Biosci J. 2017;33(4):1106-12.
Araújo LSN, dos Santos PH, Anchieta RB, Catelan A, Briso ALF, Zaze ACSF et al. Mineral loss and color change of enamel after bleaching and staining solutions combination. J Biomed Opt. 2013;18(10):108004
Arruda AM, dos Santos PH, Sundfeld RH, Berger SB, Briso ALF. Effect of 35% hydrogen peroxide on enamel morphology and interference in de-remineralization process: An in situ study. Oper Dent. 2012;37:518-25.
Mondelli LRF, Garrido GTR, Piola RFA, Magalhães AC, Soares BJF, Ishikiriama SK. Do different bleaching protocols affect the enamel microhardness? Eur J Dent. 2015;9:25-30.
Polydorou O ,S ScheitzaS , M Spraul,K Vach,E Hellwig. The effect of long-term use of tooth bleaching products on the human enamel surface. Odontology. 2018;106:64-72.
Klaric E, Rakic M, Sever I, Milat O, Par M, Tarle Z. Enamel and dentin microhardness and chemical composition after experimental light-activated bleaching. Oper Dent. 2015;40:132-41.
Pirolo R, Mondelli RF, Correr GM, Gonzaga CC, Furuse AY. Effect of coffee and a cola-based soft drink on the color stability of bleached bovine incisors considering the time elapsed after bleaching. J Appl Oral Sci. 214;22;534-40.
Rezende M, Loguercio AD , Reis A, Kossatz S. Clinical effects of exposure to coffee during at-home vital bleaching. Oper Dent. 2013;38:229-36.
Moher D, Liberati A, Tetzlaff J, Altman DG. Preferred reporting items for systematic reviews and meta-analyses: the PRISMA statement. Int J Surg. 2010;8:336-41.
Slim K, Nini E, Forestier D, Kwiatkowski F, Panis Y, Chipponi J. Methodological index for non-randomized studies (minors): development and validation of a new instrument. ANZ J Surg. 2003;73:712-16.
Landis R, Koch GG. The measurement of observer agreement for categorical data. Biometria. 1977;33:159-74.
Attia ML, Aguiar FH, Mathias P, Ambrosano GM, Fontes CM, Liporoni PC. The effect of coffee solution on tooth color during home bleaching applications. Am J Dent. 2009;22:175-79.
Liporoni PC, Souto CM, Pazinatto RB, Cesar IC, Rego MA, Mathias P et al. Enamel susceptibility to coffee and red wine staining at different intervals elapsed from bleaching: a photoreflectance spectrophotometry analysis. Photomed Laser Surg. 2010;28:105-9.
Scaminaci RD, Viano M, Bambi C, Nieri M, Giachetti L. Color stability of bleached teeth over time: an in vitro study. Eur J Esthet Dent. 2010;5:300-10.
Côrtes G, Pini NP, Lima DA, Liporoni PC, Munin E, Ambrosano GM et al. Influence of coffee and red wine on tooth color during and after bleaching. Acta Odontol Scand. 2013;71:1475-80.
Azer SS, Hague AL, Johnston WM. Effect of bleaching on tooth discolouration from food colourant in vitro. J Dent. 2010;39:52-6.
Rodrigues JL, Rocha PS, Pardim SLS, Machado, ACV, Faria-e-Silva AL, Seraidarian PI. Association between in-office and at-home tooth bleaching: a single blind randomized clinical Trial. Braz Dent J. 2018;29(2):133-39.
Setien V, Roshan S, Cala C, Ramirez R. Pigmentation susceptibility of teeth after bleaching with 2 systems: an in vitro study. Quintessence Int. 2009;40:47-52.
Carlos N, Pinto A, do Amaral Flb, França FMG, Turssi CP, Basting RT. Influence of Staining Solutions on Color Change and Enamel Surface Properties During At-home and In-office Dental Bleaching: An In Situ Study. Oper Dent. 2019;44(6):595-608.
Attin T, Weiss K, Becker K, Buchalla W, Wiegand A. Impact of modified acid soft drinks on enamel erosion. Oral Dis. 2005;11:7-12.
Oliveira R, Basting RT, Rodrigues JA, Rodrigues Jr AL, Serra MC. Effects of a carbamide peroxide agent and desensitizing dentifrices on enamel microhardness. Am J Dent. 2003;16:42-6.
Gehrke P, Riekeberg U, Fackler O, Dhom G. Comparison of in vivo visual, spectrophotometric and colorimetric shade determination of teeth and implant-supported crowns. Int J Comput Dent. 2009;12(3):247-63.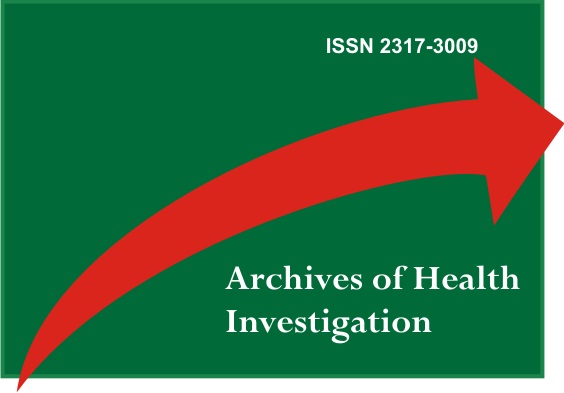 Downloads
Como Citar
Soares, M. de L., Carvalho, M. de V. ., Lemos, C. A. A. ., Souto Maior, J. R., Moraes, S. L. D. de ., Vasconcelos, B. C. do E. ., Rosa, C. D. D. R. D., & Pellizzer, E. P. (2021). Does Consumption of Coloring Substances during Tooth Whitening Treatment Influence the Final Outcome? A Systematic Review. ARCHIVES OF HEALTH INVESTIGATION, 11(1), 118–124. https://doi.org/10.21270/archi.v11i1.5327