Uso do Laser de Alta Intensidade como Alternativa à Cirurgia Convencional de Melanoplastia: Uma Revisão Sistemática
Palavras-chave:
Melanossomas, Hiperpigmentação, Gengiva, Terapia a Laser
Resumo
Objetivo: Avaliar as evidências científicas atuais sobre os resultados do laser de alta intensidade em comparação com as técnicas convencionais para correção da hiperpigmentação gengival. Métodos: Realizou-se uma revisão sistemática seguindo o checklist PRISMA. O protocolo de revisão sistemática foi registrado na base de dados PROSPERO CRD42020173752. Sete bases de dados eletrônicas foram acessadas como fontes primárias de estudo. A "literatura cinzenta" também foi incluída para evitar vieses de seleção e publicação. O risco de viés entre os estudos incluídos foi avaliado com a Ferramenta de Avaliação Crítica do Instituto Joanna Briggs para Revisões Sistemáticas. Resultados: Os lasers utilizados nos estudos foram laser diodo; laser Er, Cr: YSGG; laser Er: YAG e laser de Nd: YAG, sendo o de diodo o mais testados. Quando comparado o laser de diodo com raspagem utilizando bisturi, o uso do laser apresentou pouco ou ausência de sangramento durante o tratamento, menor dor durante e após a cirurgia, dor ausente ou leve no pós-operatório, cicatrização levemente mais demorada e procedimento mais aceito pelo paciente. Na comparação do laser de Nd: YAG e bisturi os resultados foram semelhantes ao laser de diodo. Conclusão: O uso do laser de alta intensidade apresenta resultados clínicos satisfatórios e constitui uma alternativa segura ao tratamento cirúrgico com lâmina de bisturi para despigmentação gengival. No entanto, os resultados precisam ser analisados com cautela, devido ao risco de viés moderado ou alto da maioria dos estudos elegíveis e da heterogeneidade em relação aos protocolos testados.
Downloads
Não há dados estatísticos.
Referências
Esen E, Haytac MC, Oz IA, Erdoğan O, Karsli ED. Gingival melanin pigmentation and its treatment with the CO2 laser. Oral Surg Oral Med Oral Pathol Oral Radiol Endod. 2004;98:522-27.
Hariati LT, Sunarto H, Sukardi I. Comparison between diamond bur and diode laser to treat gingival hyperpigmentation. J of Phys: Conf Ser. 2018;1073.
Simşek Kaya G, Yapici Yavuz G, Sümbüllü MA, Dayi E. A comparison of diode laser and Er:YAG lasers in the treatment of gingival melanin pigmentation. Oral Surg Oral Med Oral Pathol Oral Radiol. 2012;113:293-99.
Suryavanshi PP, Dhadse PV, Bhongade ML. Comparative evaluation of effectiveness of surgical blade, electrosurgery, free gingival graft, and diode laser for the management of gingival hyperpigmentation. J Datta Meghe Inst Med Sci Univ. 2017;12:133-37.
El Shenawy HM, Nasry SA, Zaky AA, Quriba MA. Treatment of Gingival Hyperpigmentation by Diode Laser for Esthetical Purposes. Open Access Maced J Med Sci. 2015;3:447-54.
Jha N, Ryu JJ, Wahab R, Al-Khedhairy AA, Choi EH, Kaushik NK. Treatment of oral hyperpigmentation and gummy smile using lasers and role of plasma as a novel treatment technique in dentistry: An introductory review. Oncotarget. 2017;8:20496-509.
Moher D, Liberati A, Tetzlaff J, Altman DG; PRISMA Group. Preferred reporting items for systematic reviews and meta-analyses: the PRISMA statement. PLoS Med. 2009; 6:e1000097.
Higgins JP, Green S. Cochrane Handbook For Systematic Reviews Of Interventions Version 5.1.0. The Cochrane Collaboration; 2011.
Aromataris E, Munn Z. Joanna Briggs Institute Reviewer's Manual. The Joanna Briggs Institute; 2017.
Chandra GB, VinayKumar MB, Walavalkar NN, Vandana KL, Vardhan PK. Evaluation of surgical scalpel versus semiconductor diode laser techniques in the management of gingival melanin hyperpigmentation: A split-mouth randomized clinical comparative study. J Indian Soc Periodontol. 2020;24:47-53.
Suragimath G, Lohana MH, Varma S. A Split Mouth Randomized Clinical Comparative Study to Evaluate the Efficacy of Gingival Depigmentation Procedure Using Conventional Scalpel Technique or Diode Laser. J Lasers Med Sci. 2016;7:227-32.
Basha MI, Hegde RV, Sumanth S, Sayyed S, Tiwari A, Muglikar S. Comparison of Nd:YAG Laser and Surgical Stripping for Treatment of Gingival Hyperpigmentation: A Clinical Trial. Photomed Laser Surg. 2015;33:424-36.
Gholami L, Moghaddam SA, Rigi Ladiz MA, Manesh ZM, Hashemzehi H, Fallah A, et al. Comparison of gingival depigmentation with Er,Cr:YSGG laser and surgical stripping, a 12-month follow-up. Lasers Med Sci. 2018;33:1647-56.
Alhabashneh R, Darawi O, Khader YS, Ashour L. Gingival depigmentation using Er:YAG laser and scalpel technique: A six-month prospective clinical study. Quintessence Int. 2018;49:113-22.
Ribeiro FV, Cavaller CP, Casarin RC, Casati MZ, Cirano FR, Dutra-Corrêa M, et al. Esthetic treatment of gingival hyperpigmentation with Nd:YAG laser or scalpel technique: a 6-month RCT of patient and professional assessment. Lasers Med Sci. 2014;29:537-44.
Lagdive SB, Lagdive SS, Marawar PP, Bhandari AJ, Darekar A, Saraf V. Surgical crown lengthening of the clinical tooth crown by using semiconductor Diode Laser: a case series. J Oral Laser Appl. 2010;10:53-57.
Lee KM, Lee DY, Shin SI, Kwon YH, Chung JH, Herr Y. A comparison of different gingival depigmentation techniques: ablation by erbium:yttrium-aluminum-garnet laser and abrasion by rotary instruments. J Periodontal Implant Sci. 2018;41:201-7.
Azzeh MM. Treatment of gingival hyperpigmentation by erbium-doped:yttrium, aluminum, and garnet laser for esthetic purposes. J Periodontol. 2007;78:177-84.
Ishikawa I, Aoki A, Takasaki AA. Potential applications of Erbium:YAG laser in periodontics. J Periodontal Res.2004;39:275-85.
Murthy MB, Kaur J, Das R. Treatment of gingival hyperpigmentation with rotary abrasive, scalpel, and laser techniques: A case series. J Indian Soc Periodontol. 2012;16:614-19.
Mojahedi SM, Bakhshi M, Babaei S, Mehdipour A, Asayesh H. Effect of 810 nm diode laser on physiologic gingival pigmentation. Laser Ther. 2018;27:99-104.
Mohan H. Inflammation and healing. Textbook of Pathology. In: Jaypee Publication, 4th edn. New Delhi, India. 2000;114-60.
Hegde R, Padhye A, Sumanth S, Jain AS, Thukral N. Comparison of surgical stripping; erbium-doped:yttrium, aluminum, and garnet laser; and carbon dioxide laser techniques for gingival depigmentation: a clinical and histologic study. J Periodontol. 2013;84:738-48.
Atsawasuwan P, Greethong K, Nimmanon V. Treatment of gingival hyperpigmentation for esthetic purposes by Nd:YAG laser: report of 4 cases. J Periodontol. 2000;71:315-21.
Ozbayrak S, Dumlu A, Ercalik-Yalcinkaya S. Treatment of melanin-pigmented gingiva and oral mucosa by CO2 laser. Oral Surg Oral Med Oral Pathol Oral Radiol Endod. 2000;90:14-15.
Elavarasu S, Naveen D, Thangavelu A. Lasers in Periodontics. J Pharm Bioall Sci.2012;4:260-63.
Gupta G. Management of gingival hyperpigmentation by semiconductor diode laser. J Cutan Aesthet Surg. 2011;4:208-10.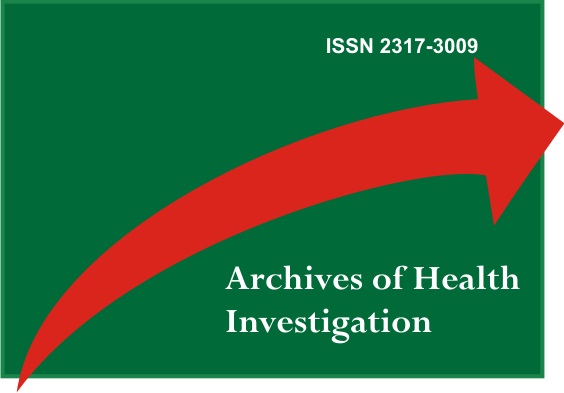 Downloads
Como Citar
Dantas, R. V. F., Rodrigues, R. de Q. F., Sousa, J. N. L. de, Costa Neto, R. E. da, Ferreira, I. J., & Bernardino, Ítalo de M. (2021). Uso do Laser de Alta Intensidade como Alternativa à Cirurgia Convencional de Melanoplastia: Uma Revisão Sistemática. ARCHIVES OF HEALTH INVESTIGATION, 11(2), 201–209. https://doi.org/10.21270/archi.v11i2.5341