Assimetria facial: um desafio para o Cirurgião Ortognata
Amanda Paino-Sant'Ana

Faculdade de Odontologia de Araçatuba, UNESP - Univ. Estadual Paulista, 16015-050 Araçatuba-SP, Brasil

Breno dos Reis Fernandes

Hospital Maicé, 89500-000 Caçador – SC, Brasil

Darah Ligia Marchiori

Universidade Alto Vale do Rio do Peixe, 89500-000 Caçador-SC, Brasil

Gabriel Mulinari dos Santos

Universidade Estadual do Norte do Paraná, UENP, 86400-000 Jacarezinho – PR, Brasil
Palavras-chave:
Assimetria Facial, Cirurgia Ortognática, Odontologia
Resumo
A cirurgia ortognática corrige as deformidades dento-esqueléticas devolvendo a harmonia facial e uma oclusão satisfatória. O diagnóstico das assimetrias faciais é fundamental para o tratamento, por isso o entendimento da análise facial e óssea se faz necessário. Dessa forma, o propósito deste trabalho é apresentar os parâmetros clínicos para o diagnóstico das assimetrias faciais e suas classificações no âmbito de atuação do cirurgião-dentista.
Downloads
Não há dados estatísticos.
Referências
Naran S, Steinbacher DM, Taylor JA. Current Concepts in Orthognathic Surgery. Plast Reconstr Surg. 2018;141(6):925e-36e.
Bell RB. A History of Orthognathic Surgery in North America. J Oral Maxillofac Surg. 2018; 76(12):2466-81.
Sundaram H, Liew S, Signorini M, Vieira Braz A, Fagien S, Swift A et al. Global Aesthetics Consensus: Hyaluronic Acid Fillers and Botulinum Toxin Type A-Recommendations for Combined Treatment and Optimizing Outcomes in Diverse Patient Populations. Plast Reconstr Surg. 2016;137(5):1410-23.
Sahu A, Lall R, Nezam S, Singh R, Kumar SB, Ayub FB. Comparative Assessment of Facial Asymmetry in Malocclusion using Posteroanterior View. J Contemp Dent Pract. 2018;19(6):712-18.
Olivieri P, Uribe FA, Quereshy FA. Aesthetic Facial Surgery and Orthodontics: Common Goals. Oral Maxillofac Surg Clin North Am. 2020;32(1):153-65.
Wang TT, Wessels L, Hussain G, Merten S. Discriminative Thresholds in Facial Asymmetry: A Review of the Literature. Aesthet Surg J. 2017;37(4):375-85.
Dong T, Ye NS, Yuan LJ, Wu SC, Xia LG, Fang B. [Assessing the influence of chin prominence on perceived facial aesthetics among three groups of observers]. Shanghai Kou Qiang Yi Xue. 2019;28(5):518-22.
Kang DH, Park KR, Chung KJ, Kim YH. The Relationship Between Facial Asymmetry and Nasal Septal Deviation. J Craniofac Surg. 2015;26(4):1273-76.
Lim YS, Chung DH, Lee JW, Lee SM. Reliability and validity of mandibular posterior vertical asymmetry index in panoramic radiography compared with cone-beam computed tomography. Am J Orthod Dentofacial Orthop. 2018;153(4):558-67.
Taub PJ. Cephalometry. J Craniofac Surg. 2007;18(4):811-17.
Elnagar MH, Aronovich S, Kusnoto B. Digital Workflow for Combined Orthodontics and Orthognathic Surgery. Oral Maxillofac Surg Clin North Am. 2020;32(1):1-14.
Berssenbrügge P, Berlin NF, Kebeck G, Runte C, Jung S, Kleinheinz J, Dirksen D. 2D and 3D analysis methods of facial asymmetry in comparison. J Craniomaxillofac Surg. 2014;42(6):e327-34.
Dolwick MF, Widmer CG. Orthognathic Surgery as a Treatment for Temporomandibular Disorders. Oral Maxillofac Surg Clin North Am. 2018;30(3):303-23.
Padwa BL, Kaiser MO, Kaban LB. Occlusal cant in the frontal plane as a reflection of facial asymmetry. J Oral Maxillofac Surg. 1997; 55(8):811-17.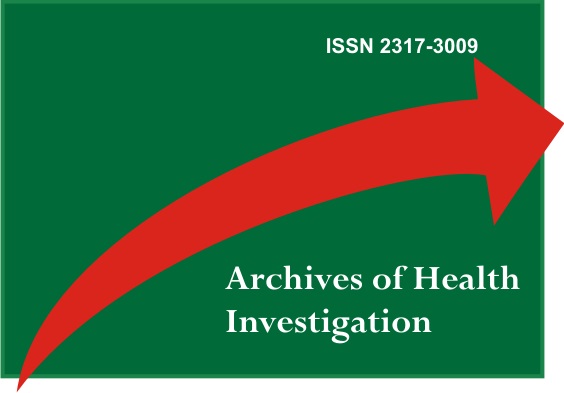 Como Citar
Paino-Sant'Ana, A. ., Fernandes, B. dos R., Marchiori, D. L., & Santos, G. M. dos. (2021). Assimetria facial: um desafio para o Cirurgião Ortognata. ARCHIVES OF HEALTH INVESTIGATION, 10(5), 848-850. https://doi.org/10.21270/archi.v10i5.5431