Violet LED in Bleaching Non-Vital Teeth: a Case Series
Palavras-chave:
Hydrogen Peroxide, Tooth Bleaching, Violet LED
Resumo
Objetive: The main of this study was to clinically evaluate the effectiveness of violet LED in bleaching non-vital teeth. Case series: three clinical cases were selected (1, 2 and 3), which showed changes in the colour of specific teeth to shades A2, C4 and B3, respectively. Bleaching was performed over three sessions (one session/week). Each session consisted of 20 applications of violet LED for 60 s, with a 30 s interval between them. After bleaching using violet LED, 35% hydrogen peroxide was applied for 15 min in clinical cases 2 and 3, with continuous irradiation with the violet LED in the last 5 min. The dental bleaching using violet LED resulted in teeth with shades A1, C3 and C2 in clinical cases 1, 2 and 3, respectively. The application of 35% hydrogen peroxide with the violet LED further changed the teeth to shades A2 and C1 in clinical cases 2 and 3, respectively. Conclusions: the protocol used in this case series showed that whitening with a violet LED alone should be restricted to cases requiring small colour changes.
Downloads
Não há dados estatísticos.
Referências
Brugnare AP, Nammour S, Rodrigues JA, Mayer-Santos E, De Freitas PM, Brugnera A et al. Clinical Evaluation of In-Office Dental Bleaching Using a Violet Light-Emitted Diode. Photobiomodul Photomed Laser Surg. 2020;38(2):98-104.
De Oliveira Gallinari M, Fagundes TC, Da Silva LMAV, De Almeida Souza MMB, De Souza Barboza AC, Briso ALF. A new approach for dental bleaching using violet light with or without the use of whitening gel: Study of bleaching effectiveness. Oper Dent. 2019;44(5):521-29.
Santos AECG Dos, Bussadori SK, Pinto MM, Pantano Junior DA, Brugnera A, Zanin FAA et al. Evaluation of in-office tooth whitening treatment with violet LED: Protocol for a randomised controlled clinical trial. BMJ Open. 2018;8(9):1-9.
De Almeida ENM, Bessegato JF, dos Santos DDL, de Souza Rastelli AN, Bagnato VS. Violet LED for non-vital tooth bleaching as a new approach. Photodiagnosis Photodyn Ther. 2019;28:234-37.
Greenwall-Cohen J, Greenwall LH. The single discoloured tooth: vital and non-vital bleaching techniques. Br Dent J. 2019;226(11):839-49.
Gallinari M de O, Cintra LTA, Souza MB de A, Barboza ACS, Esteves LMB, Fagundes TC et al. Clinical analysis of color change and tooth sensitivity to violet LED during bleaching treatment: A case series with split-mouth design. Photodiagnosis Photodyn Ther. 2019;27:59-65.
Kury M, Wada EE, Silva DP da, Tabchoury CPM, Giannini M, Cavalli V. Effect of violet LED light on in-office bleaching protocols: a randomized controlled clinical trial. J Appl Oral Sci. 2020;28:e20190720.
Lago ADN, Ferreira WDR, Furtado GS. Dental bleaching with the use of violet light only: Reality or Future? Photodiagnosis Photodyn Ther. 2017;17:124-26.
Gallinari M de O, Cintra LTA, Barboza ACS, da Silva LMAV, de Alcantara S, dos Santos PH, et al. Evaluation of the color change and tooth sensitivity in treatments that associate violet LED with carbamide peroxide 10 %: A randomized clinical trial of a split-mouth design. Photodiagnosis Photodyn Ther. 2020;30.
Rastelli AN de S, Dias HB, Carrera ET, de Barros ACP, dos Santos DDL, Panhóca VH et al. Violet LED with low concentration carbamide peroxide for dental bleaching: A case report. Photodiagnosis Photodyn Ther.2018;23:270-72.
Klaric E, Rakic M, Marcius M, Ristic M, Sever I, Tarle Z. Optical effects of experimental light-activated bleaching procedures. Photomed Laser Surg. 2014;32(3):160-67.
Kury M, Perches C, da Silva DP, André CB, Tabchoury CPM, Giannini M et al. Color change, diffusion of hydrogen peroxide, and enamel morphology after in-office bleaching with violet light or nonthermal atmospheric plasma: An in vitro study. J Esthet Restor Dent. 2020;32(1):102-12.
Bartlett DW. Bleaching Discoloured Teeth. Dent Update 2001;28(1):14-8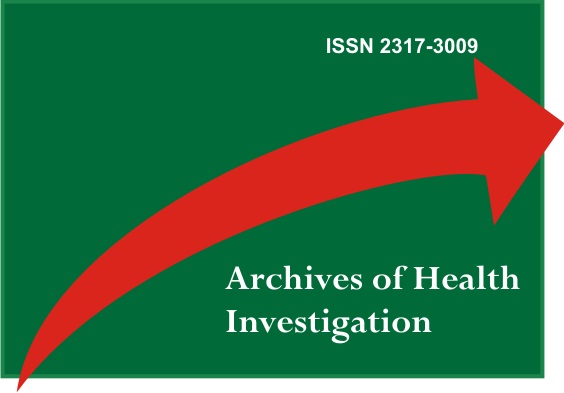 Downloads
Como Citar
Gontijo, S. M. de L., Arantes, F. N., Barreiros, I. D., Ferreira, J. A. N. D. ., Novaes Júnior, J. B., & Silami, F. D. J. (2022). Violet LED in Bleaching Non-Vital Teeth: a Case Series. ARCHIVES OF HEALTH INVESTIGATION, 11(1), 19–22. https://doi.org/10.21270/archi.v11i1.5445