Microdontia treatment with orthodontics and indirect restoration: clinical case
Palavras-chave:
Microdontia, Pre-Prosthetic Orthodontic Treatment, Ceramic, Indirect Restoration
Resumo
Objective: This case report aims to present the microdontia treatment of tooth 35 through pre-prosthetic orthodontics, followed by re-anatomization with an indirect restoration. Case report: A 21-year-old female patient presented with microdontia in tooth 35, with a distalized and vestibularized crown. In addition, tooth 34 was gyroverted with mesial diastema. Orthodontic mechanics with segmented arch were used to centralize tooth 35 in the alveolar ridge, close the diastema in the mesial of tooth 34, and correct its gyroversion. For lingualization of tooth 35, a first-order fold (in set) was performed, and for mesialization, an open-coil spring was used between teeth 35 and 36. A closed-coil spring was used to delimit the movement of tooth 35 to mesial. The force applied by the open spring for mesialization of tooth 35 was transmitted to tooth 34, through the closed spring, resulting in its mesialization; this, closed the diastema between teeth 33 and 34 and corrected the gyroversion. Subsequently, the coronary preparation was performed with diamond tips 1014 and 3146, and confection of the temporary crown in acrylic resin. For the ceramic system, IPS™ e.max Press was used. The ceramic crown was luting using the adhesive technique, followed by light curing for 40 seconds on each face of the tooth. Conclusion: It can be concluded that the re-anatomization of a small tooth should be the first treatment option. However, pre-prosthetic orthodontic treatment may be necessary.
Downloads
Não há dados estatísticos.
Referências
Ufomata D. Microdontia of a mandibular second premolar. Oral surg oral med oral pathol. 1988;655:637-38 .
Kaste SC, Hopkins KP, Jones D, Crom D, Greenwald CA, Santana VM. Dental abnormalities in children treated for acute lymphoblastic leukemia. Leukemia.1997;11(6): 792-96.
Pegoraro LF, Do Valle AL, Pegoraro TA, Corotti KMV, Vidotti HA. Resolution of complex esthetic problems in abnormal anterior teeth: A clinical report. J Prosthet Dent. 2014;112(2): 94-8.
Pedersen LB, Clausen N, Schrøder H, Schmidt M, Poulsen S. Microdontia and hypodontia of premolars and permanent molars in childhood cancer survivors after chemotherapy. Int J Paediatr Dent. 2012;22(4):239-43.
Brook A, Jernvall J, Smith R, Hughes T, Townsend G. The dentition: the outcomes of morphogenesis leading to variations of tooth number, size and shape. Aust Dent J. 2014;59(Suppl 1):131-42.
De Freitas Brianezzi LF, Brondino BM, De Campo Chaves G, Ishikiriama SK, Furuse AY. Interdental papilla formation after diastema closure. Gen Dent. 2017;65(6):e13.
Yassin SM. Prevalence and distribution of selected dental anomalies among saudi children in Abha, Saudi Arabia. J Clin Exp Dent. 2016;8(5):e485-90.
Saratti CM, Krejci I, Rocca GT. Multiple diastema closure in periodontally compromised teeth: How to achieve an enamel-like emergence profile. J Prosthet Dent. 2016;116(5):642-46.
Nihill P, Lin LY, Salzmann LB, Stevens S. Esthetic overdenture for a patient with possible Seckel syndrome. Spec Care Dent. 1996;16(5):210-13.
Morkmued S, Clauss F, Schuhbaur B, Fraulob V, Mathieu E, Hemmerlé J et al. Deficiency of the SMOC2 matricellular protein impairs bone healing and produces age-dependent bone loss. Sci Rep. 2020;10(1):14817.
Patroni S, Cocconi R. From orthodontic treatment plan to ultrathin no-prep CAD/CAM temporary veneers. Int J Esthet Dent. 2017; 12(4):504-22.
Meshram P, Meshram V, Palve D, Patil S, Gade V, Raut A. Comparative evaluation of microleakage around Class V cavities restored with alkasite restorative material with and without bonding agent and flowable composite resin: An in vitro study. Indian J Dent Res. 2019;30(3):403-7.
Kleverlaan CJ, Feilzer AJ. Polymerization shrinkage and contraction stress of dental resin composites. Dent Mater. 2005;21(12):1150-57.
Heintze SD, Rousson V, Hickel R. Clinical effectiveness of direct anterior restorations - A meta-analysis. Dent Mater. 2015;31(5):481-95.
Etman MK, Woolford MJ. Three-year clinical evaluation of two ceramic crown systems: A preliminary study. J Prosthet Dent. 2010; 103(2):80-90.
Heintze SD, Albrecht T, Cavalleri A, Steiner M. A new method to test the fracture probability of all-ceramic crowns with a dual-axis chewing simulator. Dent Mater 2011;27(2):e10-9.
Manso AP, Carvalho RM. Dental Cements for Luting and Bonding Restorations: Self-Adhesive Resin Cements. Vol. 61, Dent Clin North Am.2017;61(4):821-34.
Yoshida K, Tanagawa M, Atsuta M. In-vitro solubility of three types of resin and conventional luting cements. J Oral Rehabil. 1998;25(4):285-91.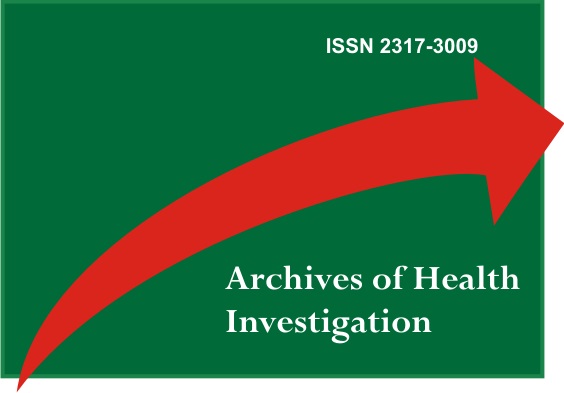 Downloads
Como Citar
Gontijo, S. M. de L., Gonçalves, L. C., Arantes, F. N., Silami, F. D. J., Novaes Júnior, J. B., & Barreiros, I. D. (2021). Microdontia treatment with orthodontics and indirect restoration: clinical case. ARCHIVES OF HEALTH INVESTIGATION, 10(8), 1277–1280. https://doi.org/10.21270/archi.v10i8.5447