The cloverleaf plate and proximal humerus fractures
Palavras-chave:
Humerus, Humeral Fractures, Wounds and Injuries
Resumo
Background: Fractures of the proximal humerus are challenging injuries. They have a functional impairment and can be managed by non-operative or operative methods. Surgical methods can be intramedullary nails, tension-band wiring, or plates and screws. Aim of the study: This study aims to show the outcomes of managing fractures of the proximal humerus using the trefoil plate method. Methods: Eight young patients with type 2 or 3 part proximal humerus fractures were retrospectively analyzed concerning the cloverleaf plate fixation and consolidation method. Patients with 4-part fractures were excluded. Results: We obtained 100% consolidation with a mean ROM of 109 degrees for abduction, 4.4 degrees for external rotation, and good internal rotation. Conclusion: the trefoil plate osteosynthesis method can be used in young patients with 2- or 3-part fractures of the proximal humerus.
Downloads
Não há dados estatísticos.
Referências
Palvanen M, Kannus P, Niemi S, Parkkari J. Update in the epidemiology of proximal humeral fractures. Clin Orthop Relat Res. 2006;(442): 87–92.
Cecere AB, Toro G, De Cicco A, Braile A, Paoletta M, Iolascon G et al. How to improve the outcomes of surgically treated proximal humeral osteoporotic fractures? A narrative review. Orthop Rev (Pavia). 2020;12(2):54-9.
Jaeger M, Izadpanah K, Maier D, Reising K, Strohm PC, Südkamp NP. [Fractures of the humerus head]. Chirurg. 2012;83(3):285-86.
Walsh S, Reindl R, Harvey E, Berry G, Beckman L, Steffen T. Biomechanical comparison of a unique locking plate versus a standard plate for internal fixation of proximal humerus fractures in a cadaveric model. Clin Biomech. 2006;21(10):1027-31.
Jabran A, Peach C, Ren L. Biomechanical analysis of plate systems for proximal humerus fractures: A systematic literature review. Biomed Eng Online. 2018;17(1):1-30.
Shulman BS, Egol KA. Open reduction internal fixation for proximal humerus fractures indications, techniques, and pitfalls. Bull Hosp Jt Dis. 2013;71(Suppl 2):54-9.
Hsu KL, Tai TW, Su WR, Lin CJ, Lee PY. Tension wiring to increase stability of conventional plating for proximal humeral fractures: An alternative to a locking plate. Tzu Chi Med J. 2017;29(1):37-40.
Handoll HH, Brorson S. Interventions for treating proximal humeral fractures in adults. Cochrane Database Syst Rev. 2015;(11):CD000434.
Giannoudis PV, Xypnitos FN, Dimitriou R, Manidakis N, Hackney R. "Internal fixation of proximal humeral fractures using the Polarus intramedullary nail: our institutional experience and review of the literature". J Orthop Surg Res. 2012;7:39.
Kontakis G, Koutras C, Tosounidis T, Giannoudis P. Early management of proximal humeral fractures with hemiarthroplasty: a systematic review. J Bone Joint Surg Br. 2008;90(11):1407-13.
Grönhagen CM, Abbaszadegan H, Révay SA, Adolphson PY. Medium-term results after primary hemiarthroplasty for comminute proximal humerus fractures: a study of 46 patients followed up for an average of 4.4 years. J Shoulder Elbow Surg. 2007;16(6):766-73.
Mariadoss A, Thacker J, Krishnanunni K, Ashraf M, Annamalai S, Sambandam S. The outcome of proximal humeral locking plates in the management of three and four part proximal humeral fractures in special cohort of young patients in high velocity trauma. Arch Bone Jt Surg. 2019;7(1):38-45.
Seide K, Triebe J, Faschingbauer M, Schulz AP, Püschel K, Mehrtens G, Jürgens Ch. Locked vs. unlocked plate osteosynthesis of the proximal humerus - a biomechanical study. Clin Biomech (Bristol, Avon). 2007;22(2):176-82.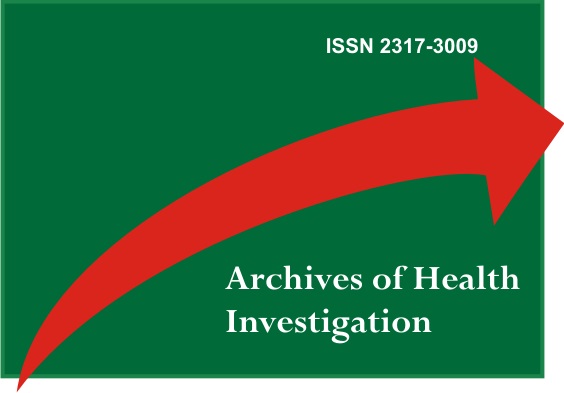 Downloads
Como Citar
Matiotti Neto, M. ., Rezende, L. G. R. A., Andrade, F. R. de, Shimaoka, F. J., Mandarano-Filho, L. G., Mazzer, N., & Barbieri, C. H. (2021). The cloverleaf plate and proximal humerus fractures. ARCHIVES OF HEALTH INVESTIGATION, 10(8), 1201–1204. https://doi.org/10.21270/archi.v10i8.5509