Efeitos da Combinação da Bebida Fermentada de Kefir com Extrato Hidroetanólico de Guaraná (Paullinia cupana) sobre os Parâmetros Bioquímicos e Histologia de Ratos Diabéticos
Palavras-chave:
Diabetes mellitus, Kefir, Paullinia cupana
Resumo
A associação do Kefir e o guaraná, ambos reconhecidos pelos seus efeitos convenientes para saúde poderiam resultar em propriedades benéficas para o tratamento da diabetes mellitus (DM). O objetivo desse trabalho foi avaliar os efeitos do Kefir de água e do extrato hidroetanólico de guaraná (Paullinia Cupana), utilizados individualmente ou associados, em melhorar os parâmetros bioquímicos e histologia de ratos diabéticos. Os animais foram divididos em 5 grupos experimentais. Grupo 1: ratos sem DM; grupo 2: ratos com DM; grupo 3: ratos com DM tratados com Kefir de água; grupo 4: ratos com DM tratados com extrato hidroetanólico de guaraná; grupo 5: ratos com DM tratados com Kefir de água e extrato hidroetanólico de guaraná. Após o tratamento foram avaliados os efeitos dessas formulações na glicemia de jejum, colesterol, triglicerídeos, creatinina e as enzimas alanina aminotransferase (ALT) e aspartato aminotransferase (AST). As dietas com Kefir, Guaraná e a combinação preveniram a hiperglicemia em ratos diabéticos (p <0,05) em comparação aos animais do grupo controle/diabético. O tratamento com Guaraná e Kefir com guaraná preveniu o aumento dos níveis séricos de AST, e tanto o tratamento com Kefir, guaraná ou a combinação deles preveniu o aumento de ALT, tendo maior significância nos dois últimos grupos. Além disso, os grupos tratados com Kefir e com guaraná apresentaram uma melhora nos níveis de creatinina. Conclui-se que as dietas apresentaram potencial para prevenir algumas complicações do DM, justificando melhores investigações.
Downloads
Não há dados estatísticos.
Referências
Abdullah KM, Alam MM, Iqbal Z, Naseem I. Therapeutic effect of vitamin B3 on hyperglycemia, oxidative stress and DNA damage in alloxan induced diabetic rat model. Biomed Pharmacother. 2018;105:1223-31.
Goldenberg R, Punthakee Z. Definition, classification and diagnosis of diabetes, prediabetes and metabolic syndrome. Can J diabetes. 2013;37:S8-11.
Maritim AC, Sanders A, Watkins Iii JB. Diabetes, oxidative stress, and antioxidants: a review. J Biochem Mol Toxicol. 2003;17(1): 24-38.
Miranda Filho AEF, Silva AB, Apolicauto E, Lopes GD, Rodrigues PR, Neves TV et al. Atividade do extrato hidroetanólico das folhas de Raphanus Sativus em glândulas submandibulares de ratos com diabetes mellitus. RSD. 2021;10(2).
Lee TW, Lee TI, Lin YK, Chen YC, Kao YH, Chen YJ. Effect of antidiabetic drugs on the risk of atrial fibrillation: mechanistic insights from clinical evidence and translational studies. Cell Mol Life Sci. 2021:78(3):923-34.
Abdelrazek H, Kilany OE, Muhammad MA, Tag HM, Abdelazim AM. Black seed thymoquinone improved insulin secretion, hepatic glycogen storage, and oxidative stress in streptozotocin-induced diabetic male wistar rats. Oxid Med Cell Longev. 2018;810465.
Bourrie BC, Richard C, Willing BP. Kefir in the Prevention and Treatment of Obesity and Metabolic Disorders. Curr Nutr Rep. 2020; 9(3):184-92.
Punaro GR, Maciel FR, Rodrigues AM, Rogero MM, Bogsan CS, Oliveira MN et al. Kefir administration reduced progression of renal injury in STZ-diabetic rats by lowering oxidative stress. Nitric Oxide. 2014;37:53-60.
Boasquívis PF, Silva GM, Paiva FA, Cavalcanti RM, Nunez CV, de Paula Oliveira R. Guarana (Paullinia cupana) extract protects Caenorhabditis elegans models for Alzheimer disease and Huntington disease through activation of antioxidant and protein degradation pathways. Oxi Med Cell Longev. 2018;9241308.
Zamberlan DC, Arantes LP, Machado ML, da Silveira TL, da Silva AF, da Cruz IB et al. Guarana (Paullinia cupana Mart.) protects against amyloid-β toxicity in Caenorhabditis elegans through heat shock protein response activation. Nutr Neurosci 2020;23(6):444-54.
Jascolka TL. Efeitos do Quefir no perfil lipídico, estresse oxidativo e aterosclerose de camundongos deficientes de apolipoproteína E. 2010;102.
Anfiteatro DN. Kefir, a probiotic gem cultured with probiotic jewels. South Australia:Tranmere North Post Office; 2000.
Bittencourt LS, Machado DC, Machado MM, Dos Santos GF, Algarve TD, Marinowic DR et al.. The protective effects of guaraná extract (Paullinia cupana) on fibroblast NIH-3T3 cells exposed to sodium nitroprusside. Food Chem Toxicol. 2013;53:119-25.
Scott AJ, Knott M. Cluster analysis method for grouping means in the analysis of variance. Biometrics. 1974;30:507-12.
Naseri R, Farzaei F, Fakhri S, El-Senduny FF, Altouhamy M, Bahramsoltani R et al. Polyphenols for diabetes associated neuropathy: Pharmacological targets and clinical perspective. DARU J Pharm Sci. 2019; 27(2):781-98.
Madić V, Petrović A, Jušković M, Jugović D, Djordjević L, Stojanović G et al. Polyherbal mixture ameliorates hyperglycemia, hyperlipidemia and histopathological changes of pancreas, kidney and liver in a rat model of type 1 diabetes. J Ethnopharmacol. 2021;265: 113210.
Chen M, Zheng H, Xu M, Zhao L, Zhang Q, Song J et al. Changes in hepatic metabolic profile during the evolution of STZ-induced diabetic rats via an 1H NMR-based metabonomic investigation. Biosci rep. 2019;39(4).
Fujita K, Iwama H, Miyoshi H, Tani J, Oura K, Tadokoro T et al. Diabetes mellitus and metformin in hepatocellular carcinoma. World J Gastroenterol. 2016;22(27):6100.
Victor P, Umapathy D, George L, Juttada U, Ganesh GV, Amin KN et al. Crosstalk between endoplasmic reticulum stress and oxidative stress in the progression of diabetic nephropathy. Cell Stress Chaperones. 2021;26(2):311-21.
Kapucu A. Crocin ameliorates oxidative stress and suppresses renal damage in streptozotocin induced diabetic male rats. Biotech Histochem. 2021;96(2):153-60.
Silva GS, Canuto KM, Ribeiro PR, de Brito ES, Nascimento MM, Zocolo GJ et al. Chemical profiling of guarana seeds (Paullinia cupana) from different geographical origins using UPLC-QTOF-MS combined with chemometrics. Food Res Int. 2017;102:700-9.
Ventura S, Rodrigues M, Falcão A, Alves G. Effects of Paullinia cupana extract on lamotrigine pharmacokinetics in rats: A herb-drug interaction on the gastrointestinal tract with potential clinical impact. Food Chem Toxicol. 2018;115:170-77.
Anversa AM, Rogalski F, Barbisan F, Assman CE, Azzolin VF, Seehaber AD et al. The in vitro effect of guaraná (Paullinia cupana) extract on human peripheral blood mononuclear cells exposed to a high glucose level. Diabetol Metab Syndr. 2015;7(1):A227.
Güven A, Güven A, Gülmez M. The effect of kefir on the activities of GSH‐Px, GST, CAT, GSH and LPO levels in carbon tetrachloride‐induced mice tissues. J Vet Med B Infect Dis Vet Public Health . 2003;50(8):412-16.
Sharifi M, Moridnia A, Mortazavi D, Salehi M, Bagheri M, Sheikhi A. Kefir: a powerful probiotics with anticancer properties. Med Oncol. 2017;34(11):1-7.
Kahraman M, Ertekin YH, Satman İ. The effects of kefir on kidney tissues and functions in diabetic rats. Probiotics Antimicrob Proteins. 2020:13(2):375-82.
Urdaneta E, Barrenetxe J, Aranguren P, Irigoyen A, Marzo F, Ibáñez FC. Intestinal beneficial effects of kefir-supplemented diet in rats. Nutr Res. 2007;27(10):653-58.
Friques AG, Arpini CM, Kalil IC, Gava AL, Leal MA, Porto ML et al. Chronic administration of the probiotic kefir improves the endothelial function in spontaneously hypertensive rats. J Transl Med. 2015;13:390.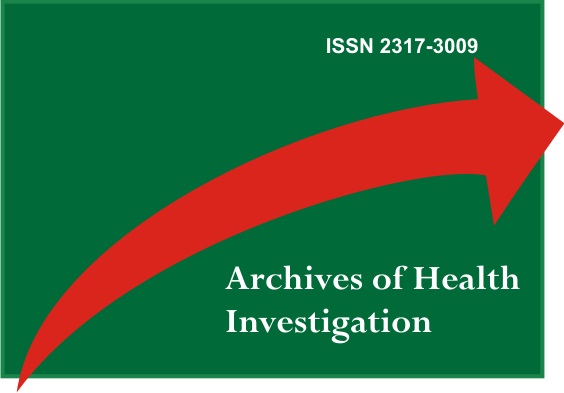 Downloads
Como Citar
Steffani, W. M. de C., Verola, D. C., Gonçalves, Y. M., Rosa, A. E., Santos, E. C. F. dos, Pieroni, M. R., Miranda Filho, A. E. de F., Mundim, F. G. L., Salles, B. C. C., & Barros, G. B. S. (2021). Efeitos da Combinação da Bebida Fermentada de Kefir com Extrato Hidroetanólico de Guaraná (Paullinia cupana) sobre os Parâmetros Bioquímicos e Histologia de Ratos Diabéticos. ARCHIVES OF HEALTH INVESTIGATION, 11(2), 352–360. https://doi.org/10.21270/archi.v11i2.5565