Periodontal Analysis of Teeth with Biological Space Invasion submitted to Root Extrusion and Prosthetic Rehabilitation: Literature Review
Palavras-chave:
Periodontium, Tooth Eruption, Orthodontic Extrusion, Crown Lengthening, Dental Prosthesis
Resumo
Aim: The purpose of this literature review was to identify whether root traction may maintain the periodontal health of teeth with invasion of supracrestal tissue attachment and prosthetically rehabilitated. Materials and Methods: A literature review was conducted, in which the periodontal effects of root traction provided on the ability to maintain teeth with invasion of supracrestal tissue attachment and prosthetically rehabilitated were searched in the electronic databases Scopus, PubMed, Web of Science, EMBASE, Scielo and Cochrane using the Mesh descriptors "orthodontic extrusions", "forced eruption" and "crown lengthening". The inclusion criteria considered studies published in English or Spanish that presented the relationship between root traction and the effect on periodontal health in prosthetically rehabilitated teeth. After collection of articles, they were evaluated by three reviewers, who selected the studies according to their relevance according to criteria as type of study, root traction present, rehabilitation with single fixed prosthesis and period of clinical follow-up. Results: A total of 644 references were identified and after exclusion according to eligibility criteria, 33 papers covered all parameters adopted and were included in the qualitative analysis. Satisfactory prosthetic rehabilitation, associated with periodontal health after root traction, could be observed in all studies, notably with variation only in the follow-up time observed up to the first six months, 1, 2, 3 and up to 4 years. Conclusions: Root traction is a conservative and effective tool in the maintenance of periodontal health in teeth with invasion of supracrestal tissue attachment and prosthetically rehabilitated.
Downloads
Não há dados estatísticos.
Referências
Parma-Benfenati S, Fugazzotto PA, Ruben MP. The effect of restorative margins on the postsurgical development and nature of the periodontium. Int J Periodont Rest Dent.1985; 5(6):30-52.
Wagenberg BD. Exposing adequate tooth structure for restorative dentistry. Int J Periodont Rest Dent. 1989;9(5):323-31.
Jepsen S, Caton JG, et al. Periodontal manifestations of systemic diseases and developmental and acquired conditions: consensus report of workgroup 3 of the 2017 World Workshop on the Classification of Periodontal and Peri‐Implant Diseases and Conditions. J Clin Periodontol. 2018;45(Suppl 20):S219-29.
Maynard G, Wilson RDK. Physiologic dimensions of the periodontium significant to the restorative dentistry. J Periodontol. 1979; 50(4):170-74.
Heithersay GS. Combined endodontic-orthodontic treatment of transverse root fractures in the region of the alveolar crest. Oral Surg Oral Med Oral Pathol. 1973;36(3):404-15.
Campbell M., et al. Synthesis without meta-analysis (SWiM) in systematic reviews: reporting guideline BMJ. 2020;368:l6890.
Ross S, Dorfman HS, Palcanis KG. Orthodontic extrusion: a multidisciplinary treatment approach. J Am Dent Assoc. 1981;102(2):189-91.
Zyskind K, Zyskind D, Aubrey Soskolne W, Harary D. Orthodontic forced eruption: Case report of an alternative treatment for subgingivally fractured young permanent incisors. Quintessence Int. 1992;23(6):393-99.
Ngan, P, Knobloch, L. Multidisciplinary and esthetic approach to clinical crown lengthening: Report of a case. Quintessence Int. 1993; 24(12):835-39.
Kocadereli I, Taşman F, Güner SB. Combined endodontic-orthodontic and prosthodontic treatment of fractured teeth. Case report. Aust Dent J.1998;43(1):28-31.
Jorgensen MG, Nowzari H. Aesthetic crown lengthening. Periodontol 2000. 2001;27(1):45-58.
Smidt A, Venezia E. The use of an existing cast post and core as an anchor for extrusive movement. Int J Prosthodont. 2003;16(3):225-28.
Felippe LA, Monteiro Jr S, Vieira LCC, Araujo E. Reestablishing biologic width with forced eruption. Quintessence Int. 2003;34(10):733-38.
Wehr C, Roth A, Gustav M, Diedrich P. Forced eruption for preservation of a deeply fractured molar. J Orofac Orthop. 2004;65(4):343-54.
Smidt A, Lachish-Tandlich M, Venezia E. Orthodontic extrusion of an extensively broken down anterior tooth: A clinical report. Quintessence Int. 2005;36(2):89-95.
Arhun N, Arman A, Ungor M, Erkut S. A conservative multidisciplinary approach for improved aesthetic results with traumatised anterior teeth. Br Dent J. 2006; 201(8):509-12.
Smidt A, Nuni E, Keinan D. Invasive cervical root resorption: Treatment rationale with an interdisciplinary approach. J Endod. 2007; 33(11):1383-87.
Mehl C, Wolfart S, Kern M. Orthodontic extrusion with magnets: A case report. Quintessence Int. 2008;39(5):371-79.
Türker SB, Köse KN. Multidisciplinary approach in the treatment of subgingivally fractured anterior teeth. Dent Traumatol. 2008;24(2): 239-43.
Kim SH, Tramontina VA, Papalexiou V, Luczyszyn SM, Grassi MB, De Fatima Scarpim M, Tanaka OM. Rapid orthodontic extrusion using an interocclusal appliance for the reestablishment of biologic width: A case report. Quintessence Int. 2011;42(3):201-4.
Goenka P, Marwah N, Dutta S. A multidisciplinary approach to the management of a subgingivally fractured tooth: A clinical report. J Prosthodont. 2011;20(3):218-23.
Fidel SR, Fidel-Junior RAS, Sassone LM, Murad CF, Fidel RAS. Clinical management of a complicated crown-root fracture: A case report. Braz Dent J. 2011;22(3):258-62.
Cesar-Neto JB, Martos J, Artifon L, Silveira LFM, Michelon D, Masotti AS, Silva JCM. Mandibular molar rehabilitation using orthodontic extrusion associated with odontoplasty. J Prosthodont. 2012;21(8):626-30.
Martos J, de Moraes A, Carlos C, Nova Cruz LE, Silveira LF. Orthodontic extrusion and biologic width realignment procedures for rehabilitation in a permanent premolar with an extensive dental fracture. J Interdiscip Dent. 2012;2(3):221-24.
Kumar R, Patil S. Forced orthodontic extrusion and use of CAD/CAM for reconstruction of grossly destructed crown: A multidisciplinary approach. J Conserv Dent. 2012;15(2):191-95.
Seshu MRK, Gash CL. Multidisciplinary management of a fractured premolar: A case report with follow-up. Case Rep Dent. 2012:1-4.
Sun YC, Li Y, Tong J, Gao P. An interdisciplinary approach to treat crown-root-fractured tooth. Niger Med J. 2013;54(4):274-7.
Shin JH, Kim JE, Kim RJ. Multidisciplinary approach in the management of a complicated crown root fracture. Europ J Paediatr Dent. 2013;14(2):150-52.
Jeon SM, Lee KH, Jung BY. An esthetic appliance for the management of crown-root fracture: a case report. Restor Dent Endod. 2014;39(3):226-29.
Patil PG, Nimbalkar-Patil SP, Karandikar AB. Multidisciplinary treatment approach to restore deep horizontally fractured maxillary central incisor. J Contemp Dent Pract 2014.15(1):112-15.
Ali S, Zoya A, Mian F. Forced eruption in the management of subgingival crown fracture - an interdisciplinary approach: Case reports. Dent Med Probl. 2015;52(3):371-76.
Bajaj P, Chordiya R, Rudagi K, Patil N. Multidisciplinary approach to the management of complicated crown-root fracture: a case report. J Int Oral Health. 2015;7(4):88-91.
Ansar J, Jain P, Bhattacharya P, Agarwal DK. Aesthetic rehabilitation of subgingival fractures with forced eruption: Case reports. J Clin Diagn Res. 2015;9(5):13-5.
Artieda-Estanga A, Castelo-Baz P, Bello-Castro A, Ramos-Barbosa I, Martin-Biedma B, Blanco-Carrion J. Management of a crown-root fracture: A novel technique with interdisciplinary approach. J Clin Exp Dent. 2018;10(6):620-23.
Lishen, W, In Meei, T, Marny Mohamed, A, Abdullah, D. An interdisciplinary approach for management of an extensive carious premolar. Iran Endod J. 2018;13(3):403-6.
Scholtes E, Suttorp CM, Loomans BA, Van Elsas PA, Schols JG. Combined orthodontic, surgical, and restorative approach to treat a complicated crown-root fracture in a maxillary central incisor. Am J Orthod Dentofacial Orthop. 2018;154(4):570-82.
Thakur A, Arora KS, Kaur K, Dahiya S. Management of subgingivally fractured maxillary anterior tooth: A multidisciplinary approach. BMJ Case Rep. 2019;12(7):10-2.
Alotaibi, B. Multidisciplinary approach to the treatment of a complicated crown-root fracture. Saudi Endod J. 2019;9(1):56-60.
Parthiban G, Nagesh S, Karale R, Reddy S. Multidisciplinary approach to the management of a subgingivally fractured anterior tooth using an aligner based esthetic orthodontic extrusion appliance - A case report. Saudi Endod J. 2020;10(2):157-61.
Oppermann RV, Gomes SC, Cavagni J, Cayana EG, Conceição EN. Response to proximal restorations placed either subgingivally or following crown lengthening in patients with no history of periodontal disease. Int J Periodontics Restorative Dent. 2016; 36(1):117-24.
Bourguignon C. et al. International Association of Dental Traumatology guidelines for the management of traumatic dental injuries: 1. Fractures and luxations. Dent Traumatol. 2020; 36(4):314-30.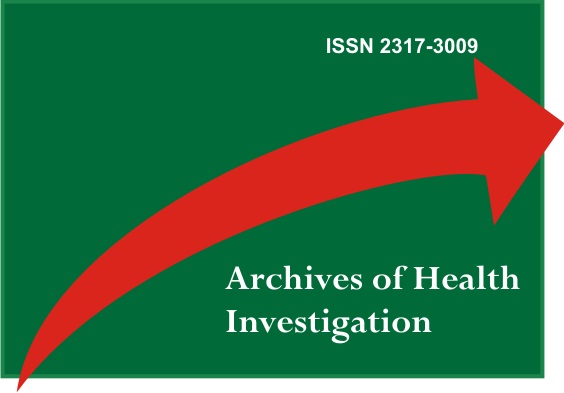 Downloads
Como Citar
Morel, L. L., Silva, L. J. da, Gomes, G., & Martos, J. (2021). Periodontal Analysis of Teeth with Biological Space Invasion submitted to Root Extrusion and Prosthetic Rehabilitation: Literature Review. ARCHIVES OF HEALTH INVESTIGATION, 11(1), 153–159. https://doi.org/10.21270/archi.v11i1.5605