Fibroma Ossificante Juvenil: Relato de 2 Casos
Palavras-chave:
Fibroma, Fibroma Ossificante, Mandíbula
Resumo
O Fibroma Ossificante Juvenil (FOJ) são lesões fibro-ósseas dos maxilares benignas de origem mesenquimal. Apresenta comportamento clínico mais agressivo e, comumente, acomete crianças e jovens na faixa etária de 5 à 15 anos e é mais comum em maxila.  As lesões necessitam de remoção cirúrgica como forma de tratamento. Histologicamente, essa lesão caracteriza-se por estroma fibroso densamente celularizado, exibindo depósitos de osteoide desprovido de margem osteoblástica, associados a trabéculas de osso imaturo mais típicas, no caso de FOJT, e ocasionais estruturas psamomatoides, evidenciadas em FOJP. Este artigo apresenta o tratamento cirúrgico de dois casos, de Fibroma Ossificante Juvenil sendo um Fibroma Ossificante Juvenil Trabecular e outro Fibroma Ossificante Juvenil Psamomatoide. Em um dos casos houve a necessidade de reconstrução com placa de titânio para devolver estética e função ao paciente.
Downloads
Não há dados estatísticos.
Referências
Wright JM, Vered M. Update fromthe 4th editionofthe world health organization classification of head and neck tumours: odonto genicand maxillofacial bone tumors. Head Neck Pathol. 2017;11(1):68-77.
Godt A, Gülicher D, Kalwitzki M, Kröber SM. Dislocation of anupperthird molar byanossifying fibroma e Case report. J Cranio Maxillofac Surg. 2008;36:360-64.
Pinos AJSP, Gaya MVO, Sanchez EP, Capilla MV. Juvenile ossifying fibroma: a case study. Med Oral Patol Oral Cir Bucal. 2004;9(5):454-58.
Jacobs JB, Berg HM. Destructive cemento-5. ossifying fibroma ofthemaxilla. Ear Nose Throat J. 1990;69(12):805-8.
Martín-Granizo R, Sanchez-Cuellar A, Falahat F. Cemento-ossifying fibroma of the upper gingivae. Otolaryngol Head Neck Surg. 2000;122(5):775
Reichart PA, Philipsen HP. Tumores Odontogênicos. In: Reichart PA, Philipsen HP. Atlas Colorido de Odontologia-Patologia Bucal. São Paulo: Artes Médicas;1999.p.245.
Williams HK, Mangham C, Speight PM. Juvenile ossifying fibroma. Ananalysis of eight cases and a comparison with other fibro-osseous lesions. J Oral Pathol Med 2000;29:13-18.
El-Mofty S. Psammomatoidand trabecular juvenileossifying fibroma ofthe craniofacial skeleton: twodistinctclinicopathologicentities. Oral Surg Oral Med Oral Pathol Oral Radiol Endod 2002;93:296-304.
Neville BW, Damm DD, Allen CM, Bouquot JE. Oral and Maxillofacial Pathology. 2.ed. Filadelfia: Saunders; 2002. p. 511-53.
Gurol M, Uckan S, Guler N, Yatmaz PI. Surgical and reconstructive treatment of a large ossifying fibroma of the mandible in a retrognathic patient. J Oral Maxillofac Surg. 2001;59(9):1097-100.
Vicente RJC, Gonzales MS, Santa MZJ, Madrigal RB. Tumores no odontogénicos de los maxilares: clasificación, clínica y diagnóstico. Medicina Oral. 1997;2(83):10.
Aguirre JM. Tumores de los maxilares. In: Bagán JV, Ceballos A, Bermejo A, Aguirre JM, Peñarrocha M. Medicina Oral. Barcelona: Masson; 1995. p. 507-8
Slootweg PJ. Maxillofacial fibro-osseous lesions: classification and differential diagnosis. Semin Diagn Pathol. 1996;13(2):104-12.
Han J, Hu L, Zhang C, et al. Juvenile ossifying fibroma of the jaw: a retrospective study of 15 cases. Int J Oral Maxillofac Surg. 2016;45(3):368-76.
Goulart-filho JAV, Montalli VAM, Santos FP, Soares AB, Araújo NS, Araújo VC. Microvessel density and cell proliferation in juvenile ossifying fibroma: a comparative study with central ossifying fibroma. Ann Diagn Pathol. 2018;36:44-9.
Canger EM et al. Familial ossifying fibromas: report of two cases. J Oral Sci. 2004;46:61-3.
Saiz-Pardo-Pinos AJ, Olmedo-Gaya M°V, Prados- Sáchez E, Vallecillo-Capillo M. Fibroma óseojuvenile: a propósito de un caso clinic. Med Oral Patol Oral Cir Bucal. 2004;9:454-8.
Eversole LR, Leider AS, Nelson K. Ossifying fibroma: A clinicopathologic study of sixty-four cases. Oral Surg Oral Med Oral Pathol. 1985;60:505-11
Sun G, Chen X, Tang E, Li Z, Li J. Juvenile ossifying fibroma of the maxilla. Int J Oral Maxillofac Surg. 2007;36:82-5.
Zama M, Gallo S, Santecchia L, Bertozzi E, De Stefano C. Juvenile active ossifying fibroma with massive involvement of the mandible. Plast Reconstr Surg. 2004;113:970-4.
Carrera Grano I, Berini Aytes L, Escoda CG. Péripheral ossifying fibroma: Report of a case and review of the literature. Med Oral. 2001;6:135-41.
Espinosa SA, Villanueva J, Hampel H, Reyes D. Spontaneous regeneration after juvenile ossifying fibroma resection: a case report. Oral Surg Oral Med Oral Pathol Oral RadiolEndod. 2006;102:e32-e35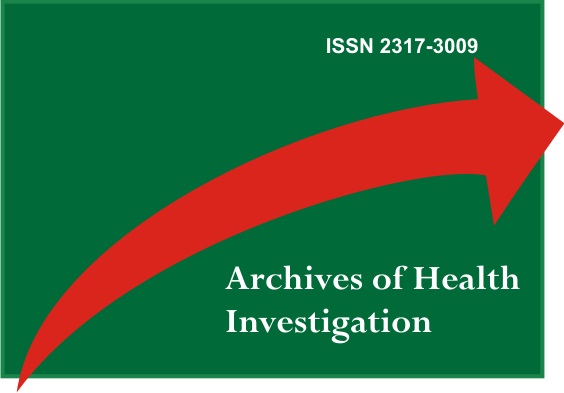 Downloads
Como Citar
Santos , A. S. dos, Pinheiro, T. N., & Fayad, F. T. (2021). Fibroma Ossificante Juvenil: Relato de 2 Casos. ARCHIVES OF HEALTH INVESTIGATION, 11(2), 337–341. https://doi.org/10.21270/archi.v11i2.5612