Isolated Scaphoid Dislocation: A Case-Report
Palavras-chave:
Scaphoid Bone , Dislocations, Hand Injuries
Resumo
Isolated dislocations of the scaphoid are rare conditions in orthopedic practice and can be underdiagnosed. Early diagnosis and treatment are established by the current literature. Despite the few case reports described in the literature, treatment standards are still not well established, with different management techniques for this condition. We present the case report of a 31-year-old patient, presenting isolated dislocation of the left scaphoid. He underwent surgical management with closed reduction and percutaneous fixation with Kirschner wires. After removing the wires, the patient underwent physical therapy. His functional outcomes showed good recovery of function and range of motion of the wrist.
Downloads
Não há dados estatísticos.
Referências
Higgs SL. Two Cases of Dislocation of Carpal Scaphoid. Proc R Soc Med. 1930;23(9): 1337-39.
Richards RS, Bennett JD, Roth JH. Scaphoid dislocation with radial-axial carpal disruption. AJR Am J Roentgenol. 1993;160(5):1075-76.
Leung YF, Wai YL, Kam WL, Ip PS. Solitary dislocation of the scaphoid. From case report to literature review. J Hand Surg Br. 1998;23(1):88-92.
Couto P, Chambriard C, Osório L, Sena N, Knackfuss I, Menegassi Z. Luxação Isolada do Escafóide Relato de Caso. Rev Bras Ortop. 1996;31(4):358-60.
Horton T, Shin AY, Cooney WP 3rd. Isolated scaphoid dislocation associated with axial carpal dissociation: an unusual injury report. J Hand Surg Am. 2004;29(6):1102-8.
Amaravati RS, Saji M, Rajagopal H, Gururaj. Neglected dorsal dislocation of the scaphoid. Indian J Orthop. 2009;43(2):213-215.
Baek JR, Cho SH, Lee YS, Roh YH. Neglected isolated scaphoid dislocation. Indian J Orthop. 2016;50(6):693-96.
Takami H, Takahashi S, Ando M. Dislocation of the carpal scaphoid associated with median nerve compression: case report. J Trauma. 1992;33(6):921-23.
Szabo RM, Newland CC, Johnson PG, Steinberg DR, Tortosa R. Spectrum of injury and treatment options for isolated dislocation of the scaphoid. A report of three cases. J Bone Joint Surg Am. 1995;77(4):608-15.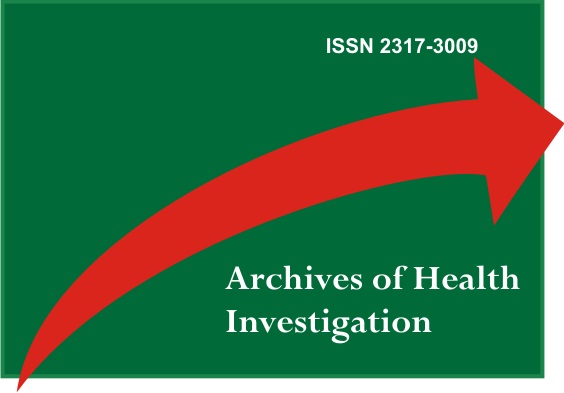 Downloads
Como Citar
Serrano, S. D. C., & Rezende, L. G. R. A. (2022). Isolated Scaphoid Dislocation: A Case-Report. ARCHIVES OF HEALTH INVESTIGATION, 11(1), 192–195. https://doi.org/10.21270/archi.v11i1.5617