Perfil de Segurança e Eficácia Clínica da Azitromicina no Tratamento da COVID-19: Revisão da Literatura
Palavras-chave:
Azitromicina, Infecções por Coronavírus, Revisão
Resumo
Os protocolos medicamentosos para o tratamento de uma doença são definidos com base em grandes estudos e comparações acerca de diferentes medicamentos e seu mecanismo de ação. A necessidade emergencial de um protocolo para o tratamento da Covid-19 instaurou divergências entre os pesquisadores na defesa ou não de se utilizar alguns antimicrobianos. Essa revisão de literatura se baseou em 37 artigos publicados no período de 2015 a 2021 a respeito do uso da Azitromicina e sobre a Covid-19. Apesar de apresentar boa atividade antiviral e imunomoduladora, a Azitromicina ainda não apresenta comprovações clínicas bem estabelecidas quanto ao sucesso no combate ao vírus Sars-CoV-2, e o risco-benefício deve ser melhor avaliado.
Downloads
Não há dados estatísticos.
Referências
Shereen MA, Khan S, Kazmi A, Bashir N, Siddique R. COVID-19 infection: Origin, transmission, and characteristics of human coronaviruses. J Adv Res.2020;24:91-8
Echeverría-Esnal D, Martin-Ontiyuelo C, Navarrete-Rouco ME, De-Antonio Cuscó M, Ferrández O, Horcajada JP et al. Azithromycin in the treatment of COVID-19: a review. Expert Rev Anti Infect Ther. 2021;19(2):147-63.
Sultana J, Cutroneo PM, Crisafulli S, Puglisi G, Caramori G, Trifirò G. Azithromycin in COVID-19 Patients: Pharmacological mechanism, clinical evidence and prescribing guidelines. Drug Saf. 2020;43(8)691-98.
Schwartz RA, Suskind RM. Azithromycin and COVID-19: Prompt early use at first signs of this infection in adults and children, an approach worthy of consideration. Dermatol Ther. 2020;e13785
Damle B, Vourvahis M, Wang E, Leaney J, Corrigan B. Clinical pharmacology perspectives on the antiviral activity of azithromycin and use in COVID-19. Clin Pharmacol Ther. 2020;108(2):201-11.
Lu ZK, Yuan J, Li M, Sutton SS, Rao GA, Jacob S et al. Cardiac risks associated with antibiotics: Azithromycin and levofloxacin. Expert Opin Drug Saf. 2105;14(2):295-303.
Food and Drug Administration. FDA drug safety communication: azithromycin (Zithromax or Zmax) and the risk of potentially fatal heart rhythms. Drug safety communications. 2013.
Bazett HC. An analysis of the time-relations of electrocardiograms. Ann Noninvasive Eletrocardiol. 1997;2(2):177-94.
Mazzanti A, Napolitano C, Priori SG. Risk Stratification in the Long QT Syndrome. Card Electrophysiol Clin. 2012;4(1):53-60.
Drew BJ, Ackerman MJ, Funk M, Gibler WB, Kligfield P, Menon V et al. Prevention of torsade de pointes in hospital settings: A scientific statement from the American heart association and the American college of cardiology foundation. Circulation. 2010;121(8):1047-60.
Nachimuthu S, Assar MD, Schussler JM. Therapeutic advances in drug safety review drug-induced QT interval prolongation: mechanisms and clinical management. Ther Adv Drug Saf. 2012;3(5):241-53.
Hache G, Rolain JM, Gautret P, Deharo JC, Brouqui P, Raoult D et al. Combination of hydroxychloroquine plus azithromycin as potential treatment for COVID-19 patients: safety profile, drug interactions, and management of toxicity. Microb Drug Resist. 2021;27(3):281-90.
Otter JA, Yezli S, Salkeld JAG, French GL. Evidence that contaminated surfaces contribute to the transmission of hospital pathogens and an overview of strategies to address contaminated surfaces in hospital settings. Am J Infect Control. 2013;41(5):S6-11.
Zhu N, Zhang D, Wang W, Li X, Yang B, Song J et al. A Novel Coronavirus from Patients with Pneumonia in China, 2019. New Engl J Med. 2020;382(8):727-33.
Lane JCE,Weaver J, Kostka K, Duarte-Salles T, Abrahao MTF, Alghoul H et al. Risk of hydroxychloroquine alone and in combination with azithromycin in the treatment of rheumatoid arthritis: a multinational, retrospective study. Lancet Rheumatol. 2020;2(11):e698-711.
Borba MGS, Val FFA, Sampaio VS, Alexandre MAA, Melo GC, Brito M et al. Effect of high vs low doses of chloroquine diphosphate as adjunctive therapy for patients hospitalized with severe acute respiratory syndrome coronavirus 2 (SARS-CoV-2) infection: a randomized clinical trial. JAMA. 2020;3(4):e208857.
Chang D, Saleh M, Gabriels J, Ismail H, Goldner B, Willner J et al. Inpatient use of ambulatory telemetry monitors for COVID-19 patients treated with hydroxychloroquine and/or azithromycin. J Am Coll Cardiol. 2020;75(23):2992-93.
Molina JM, Delaugerre C, Le Goff J, Mela-Lima B, Ponscarme D, Goldwirt L et al. No evidence of rapid antiviral clearance or clinical benefit with the combination of hydroxychloroquine and azithromycin in patients with severe COVID-19 infection. Med Mal Infect. 2020;50(4):384.
Ramireddy A, Chugh H, Reinier K, Ebinger J, Park E, Thompson M et al. Experience with hydroxychloroquine and azithromycin in the coronavirus disease 2019 pandemic: Implications for qt interval monitoring. J Am Heart Assoc. 2020;9(12):e017144.
Stein C, Falavigna M, Marcolin oMAZ, Pagano CGM, Gräf DD, Matuoka JY et al. Associação hidroxicloroquina/cloroquina e azitromicina para Covid-19. Revisão sistemática rápida. Disponível em: https://oxfordbrazilebm.com/index.php/2020/06/02/associacao-hidroxicloroquina-cloroquina-eazitromicina-para-covid-19-revisao-sistematica-rapida/.
Chorin E, Rozenbaum Z, Topilsky Y, Konigstein M, Ziv-Baran T, Richert E et al. Tricuspid regurgitation and long term clinical outcomes. Eur Heart J Cardiovasc Imaging. 2020;21(2):157-65.
Gabriels J, Saleh M, Chang D, Epstein LM. Inpatient use of mobile continuous telemetry for COVID-19 patients treated with hydroxychloroquine and azithromycin. Heart Rhythm Case Rep. 2020;6(5):241-43.
Gautret P, Lagier JC, Parola P, Hoang VT, Meddeb L, Mailhe M et al. Hydroxychloroquine and azithromycin as a treatment of COVID-19: results of an open-label non-randomized clinical trial. Int J Antimicrob Agents. 2020;56(1):105949.
Mortensen EM, Halm EA, Pugh MJ, Copeland LA, Metersky M, Fine MJ et al. Association of azithromycin with mortality and cardiovascular events among older patients hospitalized with pneumonia. JAMA. 2014;311(21):2199-208.
Bela M. Governo insiste em cloroquina e programa compra de dez toneladas de matéria-prima por R$ 30 milhões. [s.d.]. Disponível em: <https://blogs.oglobo.globo.com/bela-megale/post/governo-insiste-em-cloroquina-e-programa-compra-de-dez-toneladas-de-materia-prima-por-r-30-milhoes.html27.
Batista EL. Cientistas alertam para riscos ambientais de uso em excesso do "kit Covid". 2021. Disponível em: <https://www1.folha.uol.com.br/equilibrioesaude/2021/02/cientistas-alertam-para-riscos-ambientais-de-uso-em-excesso-do-kit-covid.shtml
Mégabarne B. Cloroquine and hydroxychloroquine to treat COVID-19: between hope and caution. Clin Toxicol (Phila). 2021;59(1):70-1.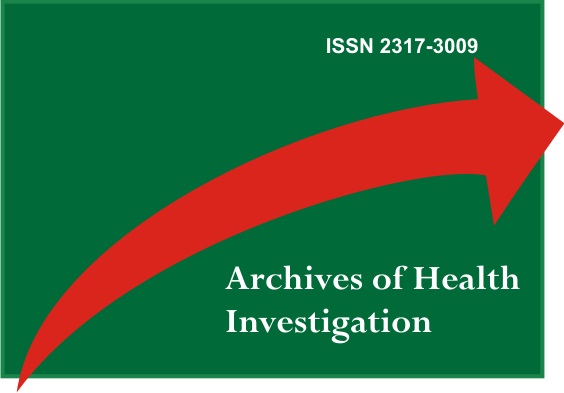 Downloads
Como Citar
Cachoni, A. C., Cadari, M. B., Vieira, G., Sant'Ana, A. P., Zorzi-Colete, J., Toledo Neto, J. L., & Mulinari-Santos, G. . (2022). Perfil de Segurança e Eficácia Clínica da Azitromicina no Tratamento da COVID-19: Revisão da Literatura. ARCHIVES OF HEALTH INVESTIGATION, 11(2), 332–336. https://doi.org/10.21270/archi.v11i2.5780